Posted on
Thu, Jan 5, 2012 : 5:58 a.m.
A plane crash couldn't 'Beat Pete', but you can by picking high school basketball winners
By Pete Cunningham
A belated happy New Year to everyone! Hopefully you were all able to enjoy some time off during the holidays and now you're ready to go full bore into the world of high school basketball.
We can't move on to 2012 without first taking care of some business from 2011.
Before whisking away to sunny Florida in the days before Christmas, I wrote my weekly "Beat Pete" column. My mind must have already been at the beach because I went a very average 4-2, allowing eight readers to "Beat Pete" with their picks (names listed below).
Consider the sub-par performance my Christmas present.
Winning the random drawing for the $20 Domino's Pizza gift card from that week was Bekah Makarewich of Ypsilanti. Congratulations, Bekah. Santa Claus will be delivering your prize shortly.
Also receiving a late Christmas present in the form of a $150 donation from AnnArbor.com will be the Big Booster Club of Pioneer High School. Santa can't take credit for that gift. It was Carolyn Hayman of Ann Arbor who was picked at random from our "Beat Pete" pool of participants and Carolyn pledged her allegiance to the Pioneers of Pioneer.
Every week we will continue to pick one "Beat Pete" participant at random for the Domino's gift card and every month AnnArbor.com will pick another participant at random and donate $150 to the school of their choice. (Official contest rules)
Pete's picks:
If you didn't beat me with your picks in 2011, I'm sorry to tell you, but I don't think it's going to happen in 2012.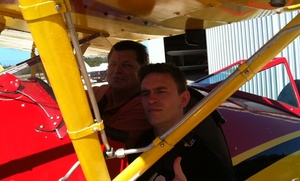 Despite my sub-par picks performance in my last outing before the New Year, I'm feeling particularly lucky heading into the 2012 portion of the season.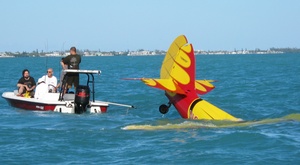 Photo courtesy of Florida Fish and Wildlife Conservation Commission
The reason I'm feeling so lucky is because during my vacation in sunny Florida (yes, I'm rubbing it in), my father-in-law, brother-in-law and I decided to take a break from the 80-degree heat (rubbing it in again) and take a tour of Marathon Key via an open-cockpit, single-engine Waco YMF airplane.
I almost puked, but it was fun, nonetheless.
Imagine our horror when we turned on the news two days later and the unmistakable mustard yellow and ketchup red paint job of the plane's tail was sticking out of the ocean following a crash.
Suddenly, my nausea had returned.
Thankfully, the pilot and passengers all escaped unscathed and the only obituary that ran in the Florida Keys Keynoter was for the plane. Seriously, a writer for the Keynoter told me the plane's owner paid for an obituary for the plane, which has (er… had) an estimated value of $395,000.
So let's review: I spent a week in Florida (third time rubbing it in, sorry), wasn't involved in a plane crash (always a plus) and didn't incur a loss of $395,000.
Like I said. I'm feeling lucky, so let's get into the picks.

Beat Pete Winners
Brenda Darwin
David Gilliam
Rebecca Luttrell
Anna McCaman
Beth Starkey
Scott Stine
Chris Tilton
Rodrick Wells

Pete's picks record: 18-4.
People who have "Beat Pete" so far: 10.
Contact Pete Cunningham at petercunningham@annarbor.com or by phone at 734-623-2561. Follow him on Twitter @petcunningham.