Posted on
Sat, Jun 19, 2010 : 10:43 p.m.
No longer the underdog, Pioneer brings home state baseball championship
By Rich Rezler
BATTLE CREEK -- Unbridled joy and unthinkable heartbreak.
When the high school baseball teams from Pioneer and Saline took the field at C.O. Brown Stadium on Saturday, one of them was guaranteed to bring a Division 1 state championship trophy back to Washtenaw County and the Southeastern Conference.
And things played out just as you'd expect a movie script might end.
In the first base dugout was a young Pioneer team that nobody expected to be here when they limped into the playoffs losing three of their last four games to finish tied for third in their own conference.
In the third base dugout was a veteran Saline team that handled Pioneer easily in two regular season games and was playing in its third straight Division 1 title game. After two straight runner-up finishes, they arrived in Battle Creek wearing T-shirts that read "Unfinished Business."
Who wins in Hollywood? The underdog, of course. In Battle Creek, that meant Pioneer. Final score: 4-1.
"It's pretty amazing. A bunch of young kids have grown up real quick and played great baseball," said Pioneer coach Jerry Holley, just before he was drenched by a cooler full of ice water by his players. "They worked really, really hard the last three weeks."
Junior pitcher Alex Kinch constantly fought off Saline scoring threats, the Pioneers generated enough runs and they played sound enough defense to be crowned state champions for the first time since 2004.
So what happened to these Pioneers during the postseason? Team chemistry turned things around, they insist.
"We've just bonded so well starting in the playoffs," said right fielder Justin Sherman, one of four juniors in a starting lineup that also included three sophomores. "We got together and started doing everything right. We just did the job."
It started with a pre-district win over their crosstown rival, Huron. It continued with a pair of extra-inning wins in district play. Then the upset of No. 2-ranked Grand Ledge in the regional round.
The ball was rolling. And picking up steam, fast.
"When we beat Grand Ledge, I think this team started to believe they can beat anybody," Holley said. "And with the arms we have, I started feeling confident we could get through."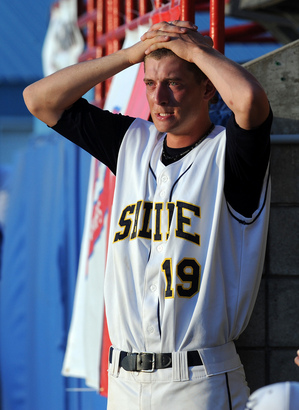 As the Pioneer players and coaches picked up their championship medals and a big, shiny trophy, Saline watched in stunned silence from the third-base dugout.
It's a scenario they've seen play out in front of them three times in three years. Cruel punishment. Particularly when No. 3 comes against a neighborhood rival.
"It's tough. The kids put a lot into what was a great season, so it's just tough to walk away being on the losing end," Saline coach Scott Theisen said. "We seem to run into a hot pitcher every time we're here."
Pioneer players unanimously agreed that beating Saline - the program that has been on top of the Washtenaw County baseball scene the past few seasons -- made this state championship twice as sweet.
But Pioneer coach Jerry Holley, who was on the losing end of a 2005 state title game, understands a little better what was happening in that Saline dugout.
Maybe, if Hollywood had a heart, this script would have ended differently.
"There's mixed emotions. I love my team winning, but I know that there's not a nicer guy in the state of Michigan who's been as successful as he's been who does not have a W in this final game," Holley said of Theisen.
"I think the world of him as a coach and a person. We're very intense rivals, but we're also very close friends. I'm glad that we won, but I feel sorry for Scott and his kids in that regard because they're good kids that work hard. And they'll be back here again. I guarantee."
And speaking of being back in Battle Creek, Holley finally answered a question he'd deftly avoided after the Pioneers' quarterfinal and semifinal wins.
How good can this Pioneer team be next year, when it returns most of its starting lineup and its top three pitchers?
"We want to be the first team in Division 1 to win back-to-back titles," Holley said.
Rich Rezler covers sports for AnnArbor.com. Contact him at richrezler@annarbor.com or 734-623-2565.