Posted on
Fri, Jan 25, 2013 : 5:30 a.m.
No sophomore slump for Skyline High School hockey program
By MLive Media Group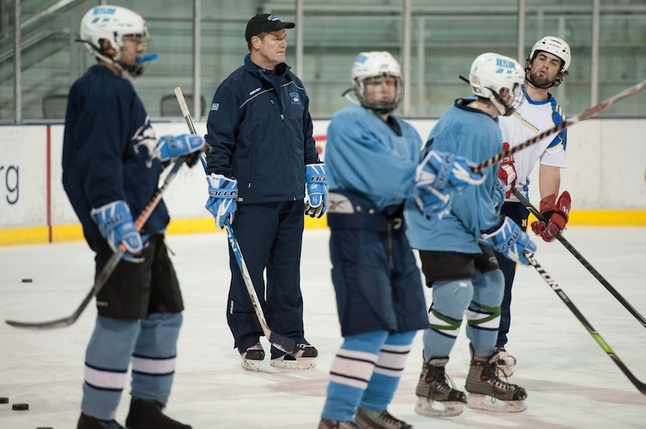 Courtney Sacco | AnnArbor.com
by Tom Mitsos for AnnArbor.com
The sophomore slump refers to a player's production falling off in the second season. The Skyline High School boys hockey team, in its second year as a varsity program (it competed against non-varsity competition and did not play in the postseason prior to last year) is hoping to avoid that slump.
After a 3-1 win over Allen Park Cabrini on Wednesday, the Eagles (5-10) already have surpassed their win total from last year (4-20).
"Biggest problem last year was experience," Skyline coach Mike Hagen said. "It took a while for these guys to get up to speed after not playing high school hockey. That's why I think we didn't win a game until the second half (of the season)."
Hagen said this year's team has a wide mix of talent. There are some who have played hockey for two years and some who have played many years on house teams and travel teams. Hagen, a coach of 18 years, has led teams in various leagues, including the Ann Arbor Amateur Hockey Association, Chelsea Hockey Association and Kensington Valley Hockey Association. Hagen has a Level 5 coaching certification from USA Hockey, the highest level available.
"You're getting into the serious hockey coaches," Hagen said of the Level 5 certification. "You're hanging out with guys who are college coaches, junior coaches."
Coaches are required to attend a week-long training seminar and write a paper to USA hockey in order to get the Level 5 certification.
Hagen said a Level 5 certification is voluntary and not required to coach high school hockey, but certainly has helped him coach a new program.
"It kind of affirmed that I was in the right direction," he said. "Doing a lot of the same things the top coaches are doing."
One of those things Hagen has implemented into this year's team is a "read and react" system. Rather than running set plays during a game, Hagen teaches his players to read what is happening on the ice and react accordingly.
"We don't run a lot of scripted stuff," he said. "Problem with that is teams will figure that out and shut it down. Then the players ask, 'Now, what do we do?'"
Hagen implemented the systems this year because he felt like his team last year wasn't ready for it.
"Last year was a lot of skill building," Hagen said. "It's hard to have systems until you have the skills to execute them."
One of Skyline's alternate captains, Yishai Ribon, said the systems Hagen has implemented gives the team more freedom.
"The new systems he has implemented give us a chance to stay in games," the sophomore center said. "The experience I gained from last year, it's meant everything to us. That's the reason why we have been able to improve drastically this season. That's why we have the same win total from last year.
"This season and last season aren't even comparable. Even though we lost a lot of our goal scoring and leadership (from last year), we are in a much better place this season."
In 14 games played, Ribon is leading the Eagles with 18 points (12 goals, six assists), including two hat tricks. He's not the biggest player on the ice at 5-foot-6, 135 pounds, but Hagen said his size doesn't deter him from outworking his opposition.
"Biggest thing about him is he has no quit," Hagen said. "It doesn't matter if we are down four or five goals, or we are winning. He never takes his foot off the accelerator. He's not a very big guy; he will take the punishment and go in front of the net."
While it would be easy to see Ribon as the most valuable asset to the Eagles, Ribon said his goalie, Ethan Hiltner, deserves the credit for every single win.
"Ethan is, in my mind, the top goalie in the (Southeastern Conference)," Ribon said, "One of the top-five goalies in the state. You have to give him credit for every single win we have this year."
It's hard to argue. The junior goaltender faces an average of 43 shots per game, yet has a save percentage of .907.
As Skyline's program continues to experience growing pains, Hagen said he always tries to keep a positive spin on things even when the team loses.
"Maybe we didn't win the game, but we did really well on faceoffs," he said. "We try to always focus on the positive. I've done this with a number of teams over the years. Focus on the things you can control and do well. When the team comes around and develops, the wins come around."
Hagen hopes those wins come around. Not only is he shooting for 10 to 12 this season, he hopes this team can compete for SEC championships in the coming years.
"Kids in the program are very positive," he said. "They are all working very hard to get to that goal."