Posted on
Tue, Oct 30, 2012 : 12:15 p.m.
Overnight push sends Milan vs. Tecumseh to top of AnnArbor.com Game of the Week poll
By Kyle Austin
Something got into Milan fans overnight.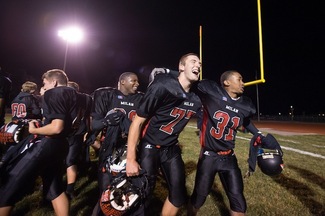 When we looked at our AnnArbor.com "Game of the Week" returns last night, it was a close race between Milan's game against Tecumseh and Saline's matchup with Pioneer.
By the time we checked again this morning, the Big Reds were pulling away, and they haven't slowed since.
As of noon Monday, Milan vs. Tecumseh had garnered 823 votes, more than 46 percent of the 1,757 votes cast. That's nearly 200 more than Saline vs. Pioneer, which had 642 votes.
Lake Fenton at Father Gabriel Richard had 243 votes, and Manchester at Grass Lake had 49 votes (although that game holds a large lead in Jackson's Game of the Week poll.)
Voting closes at 6 p.m. today.
The Big Reds finished their regular season undefeated at 9-0, but struggled to beat Carleton Airport in the district semifinals, pulling out a 14-7 win last Friday.
This Friday, they're going for their first district title since 2007 against a Tecumseh team that won its first playoff game since 1991 last week by beating Chelsea.
Game of the Week coverage:
AnnArbor.com will give the Game of the Week winner its Super Bowl treatment, which will include multiple stories from the game, a live chat that you can follow from your iPhone or Android device, and a photo gallery as well.