Posted on
Wed, Feb 29, 2012 : 11:29 p.m.
Saline girls advance to district final with overtime win; Ypsilanti, Lincoln eliminated
By Michael Florek
Usually, Kelsey Pelletier won't leave the Saline High School gym until she's hit 100 3-pointers.
On Wednesday, Pelletier only made four, but she still walked out smiling.
Pelletier hit a game-tying 3-pointer with just 2.5 seconds remaining in the Class A district semifinal against Lincoln to force overtime. The Hornets outscored the Railsplitters 10-3 in the extra session to win 49-32.
"I didn't want this to be the last play of my senior year," Pelletier said. "So I knew I had to make the shot. … It was just me and the basket in my mind."
The win puts the Hornets through to the district finals on Friday where they will face Temperance Bedford, a 42-32 winner over Ypsilanti in the early semifinal at Saline High School.
MLive.com: Saline vs. Lincoln Boxscore | Bedford vs. Ypsilanti Boxscore | Bracket
With the Hornets down three with 17 seconds left, Saline coach Jeff Waltz called a timeout and drew up a play for Pelletier.
When Pelletier -- who scored all of her team-high 12 points from beyond the arc -- got the ball she was bumped from a defender right on top of her, took two dribbles to her right and let a shot fly from the top of the arc as two defenders closed in. The ball swished through the net to tie the game at 39-39.
The play wasn't exactly how Waltz had drawn it up. The plan was to give Pelletier some separation off of a double screen. The dribbling for separation and finding the straight-on shot was all improvisation.
"She made a great move," Waltz said. "She pump faked, brought it down, and hit the biggest shot of her life. That was amazing. I mean that was incredible.
"Once I saw the ball in the air I thought there was a decent chance that sucker's going in."
After a close first half, Saline broke out to a seven point lead by the end of the third quarter. But Arielle Cargor brought the Railsplitters back, by driving the ball inside. Cargor scored eight points in the fourth, primarily on free throws and Lincoln led 38-36 with 1:18 left.
Cargor and teammate Katelyn Morris both had a game-high 17 points.
A couple of missed layups from Saline and one final free throw from Cargor left the 3-point deficit. The Hornets would score just five points in the fourth, but Waltz admitted those final three carried over into the extra period. Saline used a couple of offensive rebounds to score four of the first five points in overtime.
"We were kind of drained at that point anyways, so once we got to that point they kind of hung their heads a little bit," Lincoln coach Mike Hotchkiss said. "After that, it kind of went downhill."

Ypsilanti eliminated
While one basket kept the playoff dream alive for Saline, it was two negated ones that ultimately sunk Ypsilanti's hopes.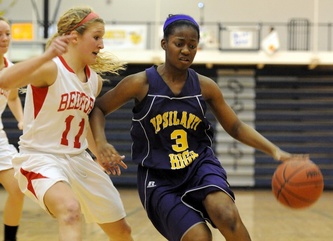 Angela J. Cesere | AnnArbor.com
After falling behind early on, the Phoenix came back and took the lead in the third, leading by as much as four points with three minutes to go.
"I needed some distance," Ypsilanti coach Chris Slater said.
But Bedford kept it close and ended the third quarter trailing just 25-24. Shortly after the fourth started, Ypsilanti's lead quickly evaporated.
Bedford went on a 7-0 run in the first four minutes of the fourth behind five points from Taylor Foster, who was the recipient of two quick passes from Nicole Rightnowar.
About a minute later, Ypsilanti had a chance to cut into the six-point deficit with a steal and a 2-on-1 fast-break the other way. Bedford's only player back, Ellen Hays, took the charge and got the ball back.
Hays had battled foul trouble all game, something that Bedford coach Bill Ryan said hampered his offense.
"I'm not sure that it was (a charge), but I'm glad he called it that way," Ryan said. "It was big because that's either three or four fouls for Ellen and it's probably an 'and-one' for them going the other way."
The Phoenix got the ball back with no damage done, came down the floor and hit a three from the corner, which would have cut the lead to three with 3:15 to go. But as the ball was in the air, the referee's whistle blew.
A technical foul was assessed on Slater, and the basket was waved off.
"He came down to me and said, 'I hope you're not insinuating that we're slanting the game," Slater said. "I'm calling the play out here on the floor and he's in my ear and I said, 'I'm not talking to you. Leave me alone.' … I'm guessing somebody in the crowd said something, but he's talking to me and I'm like 'I'm trying to call the play here.' "
Bedford made no mistake from then on.
"We could never just get that momentum back and get that fight back in us," Slater said. "It's so deflating."
Bedford and Saline will play for the district title in Saline at 7 p.m. Friday.
Contact Michael Florek at michaelflorek@annarbor.com.