beat pete:

Game between perennial powers Chelsea and Lumen Christi highlights Week 1 high school football pick 'em contest

Posted on Thu, Aug 23, 2012 : 5:59 a.m.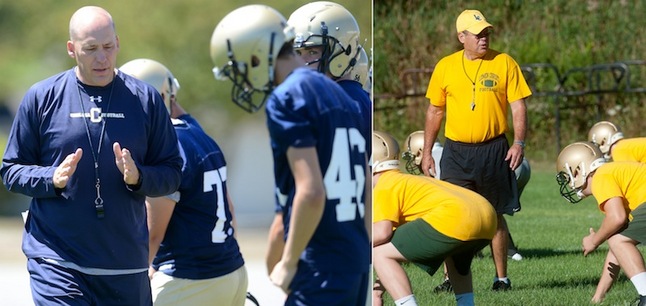 MLive Media Group file art

Welcome back. Did you miss me?

Wait, don't answer that. It doesn't matter if you missed me or not, the real question is did you miss football?

Of course you did. This is America, after all.

The season kicks off Thursday and with the unusually cool nighttime weather for this time of year, the feel of fall is already in the air. On that note, let's quit the small talk and get right into the football.

As far as Week 1 matchups across the state go, there aren't too many games that will feature the combined prestige of the teams at Jerry Niehaus Field when Chelsea hosts Jackson Lumen Christi on Friday night.
ANNARBOR.COM GAME OF THE WEEK

Pioneer will take on Warren De La Salle in AnnArbor.com's High School Game of the Week at Hollway Field on Friday.
Click here for an extensive preview on the game before picking a winner below.
Under coach
Brad Bush
over the past 15 years, Chelsea has won 75 percent of its games and made the playoffs 13-straight years. Or as Jackson Lumen Christi coach
Herb Brogan
would call it, a nice start.
In Brogan's 33 years at Lumen Christi, the Titans have won 80 percent of their games, and made the playoffs 14 years straight with seven state finals appearances and five Division 5 titles in that span.
"They're good, and (Brogan) it's not his first trip ride around the block, so we know what we're going to get from them," said Chelsea coach Brad Bush. "They're for real."
What fans should expect from both teams is a potent rushing attack led by siblings of former University of Michigan players.
Chelsea's backfield features senior Berkley Edwards (brother of Braylon Edwards) who last year ran for 1,520 yards and 18 touchdowns and gained an average of 5.65 yards per carry. Lumen Christi's backfield features Amani Bass (brother of Antonio Bass) who last year rushed for 965 yards and 14 touchdowns with a 5.51 average.
Bush hopes senior defensive lineman Michael Steinhauer (6-5, 265 lbs.), who was a force last year when healthy - when he was 25 pounds of muscle lighter and just 15 years old - can help in the efforts to stop Bass. Edwards' production, meanwhile, will heavily rely upon a senior-laden, but relatively inexperienced offensive line.
And Bush said all three of his quarterbacks - senior Manchester transfer, Nate Bossory, Logan Brown and Alex Maloney - will likely see time under center and at other positions as well. Bossory at tight end, Mahoney at defensive back and Brown at receiver.
"(The quarterback competition) it's an ongoing thing," Bush said. "I think we're in good position (depth wise) and they've got great attitudes and are all three good athletes."
The game should feature plenty of excitement, which is why it leads off this week's "Beat Pete" predictions contest.
All participants in the online contest are entered for a chance to win prizes, regardless of picks results, while those who actually "Beat Pete" will be recognized in next week's edition.