Posted on
Fri, Sep 6, 2013 : 2:44 p.m.
Personal touch from Louisville's Rick Pitino won over Ypsilanti's Jaylen Johnson
By Kyle Austin
In early April, the Louisville Cardinals cut down the nets and celebrated the 2013 National Championship.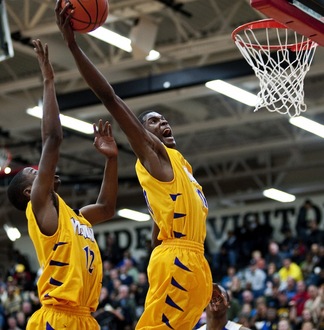 And in mid-June, its coaching staff -- including head coach Rick Pitino -- started showing up to watch Ypsilanti's Jaylen Johnson play on the summer basketball circuit.
And as the months went on and Pitino continued to call and continued to show up, Jaylen's mother, Janetta Johnson, couldn't believe the amount of attention a program of that caliber was showing her son.
"I was like 'Wow, this is a national championship team, and they're treating my son like he's top 10 in the country,'" Johnson said. "They really really worked hard to develop that relationship."
The relationship that developed over a three-month span, plus a good fit style-wise and a shared vision for development, are why Johnson decided to commit to the Cardinals on Friday.
Johnson called Pitino Friday morning before school to tell him he would be accepting a scholarship offer. And it just so happened that Johnson made his call at the beginning of the induction weekend for the National Basketball Hall of Fame, where Pitino is one of the inductees.
The soon-to-be hall of famer spent the summer ingratiating himself with the Johnson and his inner circle -- he always answered phone calls, and spoke to everyone Janetta could think of who is important in Johnson's life. He was also regular presence on the sidelines and Johnson made a name for himself with a standout summer on the AAU circuit.
The Louisville coaching staff also broke down the 6-foot-9 Johnson's game, and provided a clear plan for developing him. While some schools saw Johnson's height and envisioned bulking him up and turning him into a post-up threat, Louisville saw his strengths as a passer in the open floor.
For Janetta Johnson -- an Ann Arbor native who played for Wisconsin and professionally, who still holds the Baders' single-season blocks record with 130 -- that was important.
"I didn't want anybody putting Jaylen in a box because Jaylen can do multiple things and I was looking for someone that could develop the things that he can do as well as add to them," Janetta Johnson said. "That's the program they have, and they assured me that that's what they want to do with Jaylen."
Johnson had originally planned to take his five official visits throughout the fall, and wait at least another month to make a commitment.
But after the recruiting process started getting more heated -- and ugly, according to Janetta -- and with the school year getting underway, mother and son sat down this week to have a frank discussion about where things stood.
It was then that Jaylen realized that he was ready to commit.
"Jaylen got to the point where he said he really wants to go to Louisville," Janetta Johnson said.
The early September commitment allows him to focus solely on school and the upcoming basketball season, after Janetta decided to cancel the official visits.
Johnson chose Louisville over a host of other schools, among them Michigan State and Tom Izzo.
"I personally love him and look up to him and he made a great impact on Jay," Janetta Johnson said of Izzo. "I just think Jaylen felt like Louisville was a better fit for him, and he wanted to experience going out of state."
Michigan had also showed interest in recent weeks, and Johnson took an unofficial visit to the school last month. But Janetta Johnson said the Wolverines were unable to offer him a scholarship.
Kyle Austin covers sports for AnnArbor.com. He can be reached at kyleaustin@annarbor.com or 734-623-2535. Follow him on Twitter @KAustin_AA.