Posted on
Sun, Apr 14, 2013 : 5:30 a.m.
Pioneer and Skyline lacrosse teams honor game and programs' history with Gil Leaf trophy
By Kyle Austin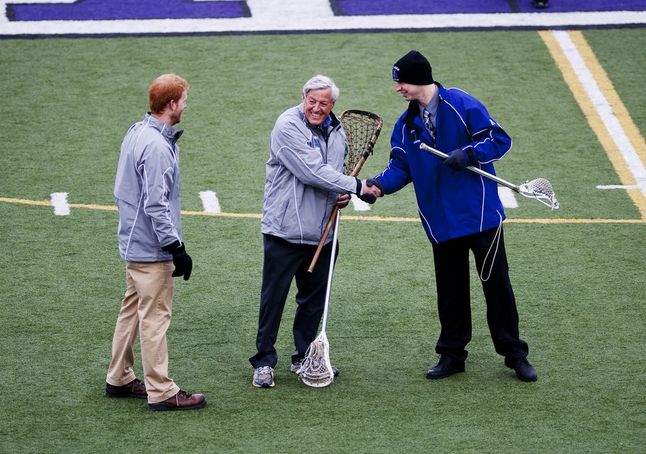 Daniel Brenner | AnnArbor.com
The lacrosse stick is made of hickory, woven with cord and string, and stamped "Lally's Extra Special." It dates back to the 1920's, when it was used by Munro Leaf at the University of Maryland.
Leaf went on to fame as a children's author -- he wrote the bestseller "The Story of Ferdinand," which was later made into the movie "Ferdinand the Bull" -- and eventually passed his lacrosse stick on to his son.
James "Gil" Leaf fell in love with the game, and played goalie for Harvard from 1961-1963. When the younger Leaf's career in education took him and the lacrosse stick to Ann Arbor, he started the area's first middle school lacrosse program in the 1980's, before going on to coach at Pioneer High School and the University of Michigan.
And along the way, he developed a coaching tree. Among the hundreds of players who he helped teach lacrosse to were Smith Atwood and Jack Robenalt, who faced off against one another for the first time as Pioneer and Skyline's coaches Friday night.
A few days before the anticipated matchup, Leaf wanted to add a little something extra to the rivalry. So he decided to donate his father's lacrosse stick to become the traveling trophy, to be kept by the winner of each matchup until the next one.
After Pioneer topped Skyline, 7-3 on Friday, Leaf presented the Pioneers with the stick -- now named the Gil Leaf Lacrosse Trophy -- and a short speech about respecting the game that the Native Americans invented to honor the Creator.
That the trophy to be shared between the two teams is named after Leaf couldn't be more fitting to the teams' two coaches.
"I and many people who are on this field and on the sideline owe him everything," Atwood said.
Leaf is also well known by players on both sides. He helped out at Pioneer for years, and when the head coaching job there was vacated during the offseason he lobbied for Atwood to be hired. When Atwood, a former goalie, was named the coach, Leaf decided his services as a goalie coach would be of more use at Skyline.
"I think it's really cool that he gets an opportunity to give something surrounding this game," Robenalt said. "I know it really means a lot to Smitty and I because he's helped us get to where we are right now."
Atwood's relationship with Leaf started when he was a seldom-used junior goaltender at Pioneer in 2005. In the summer after that season, Leaf took Atwood under his wing and told him he would become a first-team All-State goalkeeper as a senior.
"I laughed in his face, because I wasn't very good," Atwood said.
But sure enough, Atwood earned first-team All-State honors in 2006, and went on to start for Michigan State's club team. When the Spartans played Michigan, Leaf would be on the other sideline, coaching the Michigan goalies.
"It was kind of fun because I had goalies on both ends of the field," Leaf said.
The two have remained close, and Atwood said he considers him a good friend and a mentor.
"I owe him everything," Atwood said. "I owe my playing and my coaching career all to that man. The stick idea that we came up with in the last two days, I couldn't be happier."
It's fitting that Leaf's name is on the traveling trophy of an Ann Arbor lacrosse rivalry, since he was one of the first to bring the sport to the area's youth.
After starting the first elementary program in New England, in West Newton, Mass., in 1964, Leaf started an Ann Arbor middle school program when the area's only other youth program was in Birmingham.
"I just invited any middle school kid that wanted to play to come," Leaf said. "It didn't matter what school. That's how we got youth lacrosse going here."
And it turns out he was a pretty good goalie in his day, too. Atwood was recently in Florida, and struck up a conversation with a stranger who had happened to see Leaf play lacrosse. The stranger called Leaf "the best athlete he's ever seen on a field."
"To say Gil Leaf is a legend is putting it lightly," Atwood said.
Kyle Austin covers sports for AnnArbor.com.