Posted on
Sat, Nov 12, 2011 : 10:16 p.m.
Pioneer comes from behind to beat Huron in water polo state final
By Matt Durr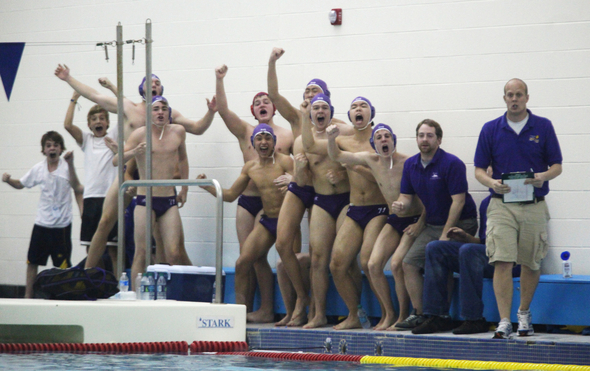 Trailing 5-3 entering the fourth quarter of the Michigan Water Polo Associations championship game, Pioneer High School coach Will Hart preached defense to his team, not offense.
"We had to get back to what we do best," Hart said. "Our intensity picked up and it was fueled by our defense."
The Pioneers used that fuel to score three goals in the final frame and shock Huron with a 6-5 win.
As the final buzzer sounded, Pioneer players and coaches all jumped into the pool. Except for Hart, who sat with his head in his hands on the bench.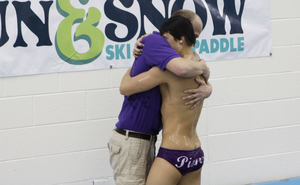 Jeff Sainlar | AnnArbor.com
"That is easily the best win of my career. The way we were able to comeback made me so proud," said Hart. "To fight and claw and get back into it, I'm speechless."
Pioneer swarmed the ball and forced numerous turnovers by Huron in the fourth quarter. As the momentum swung in favor of the Pioneers, Huron's composure faded. The River Rats were called for two fouls forcing a six-on-five advantage for Pioneer. On both occasions Pioneer converted and was able to tie the game with 2:33 left in the game.
It was a stark contrast to earlier in the day when Pioneer failed to convert numerous advantages against Hudsonville.
"We have to put those balls in the net. They know they have to play better," Hart said after the first game, a 5-3 win.
Senior Seiji Osawa took the ball with 1:07 left and fired a shot past Huron goalie Atolo Tuinukuafe to put Pioneer ahead. Osawa, finished with two goals and an assist on the night and never felt his team was out of the game, even when they trailed late.
"We thought he had a chance, we knew what we had to do," Osawa said. "All the hard work you put in early in the game all starts to pay off."
Although Pioneer had taken the lead, Huron still had a chance and freshman Holden Tamblyn nearly converted. As Huron marched towards the goal Tamblyn sent a laser on net that hit the crossbar with 57 seconds left in the game. Pioneer would recover the loose ball and hold on for the victory.
Hart credited his cross-town rivals for a well-played match.
"They played a phenomenal game," Hart said.
Playing in their third game in two days, both teams were playing on strained legs, but Huron seemed to fade as the game went on. Earlier in the day, Huron played an extremely physical matchup against Rockford that may have caught up to the River Rats late in championship game.
After a 1-1 first quarter, Huron scored three straight goals in the second, to put Pioneer on the ropes.
"There were some preventable turnovers and I was pretty upset about that. But it all came together in the second half," said Pioneer goalie Max Benson. The senior had 12 saves on the night and was named 1st-team all-tournament and all-state goalie.
"He's the best goalie in the state and we're happy to have him," Osawa said with a smile.
And it may take a while for that smile to fade from the faces of the Pioneers, because as Osawa put it, "nothing beats a state championship."
Final standings:
Pioneer
Huron
Rockford
Hudsonville
East Kentwood
Dexter
Grandville
Skyline
All-State 1st team:
Max Benson - Pioneer
Mark Brown - Dexter
Kody Brinks - Hudsonville
Eric Chisholm - Rockford
Seiji Osawa - Pioneer
Aleksandar Petrovich - Huron
Justin Hulsebus - Rockford
Matt Durr can be reached at mattdurr@annarbor.com.