Posted on
Thu, Dec 27, 2012 : 11:25 p.m.
Pioneer boys basketball to play Salem in final after win, Chelsea loss in Chelsea Holiday Tournament
By Pete Cunningham
Courtney Sacco | AnnArbor.com
Editor's note:There was an error in reporting Chelsea's leading scorer when the article originally ran. It has since been corrected. We apologize for the mistake.
When Rex Stanczak coached the boys basketball team at Walled Lake Western, a regular opponent on his schedule was Salem, coached by Bob Brodie. As Stanczak remembers it, Brodie's Rocks were one of the only schools his team had a losing record against.
Stanczak has now been the coach at Pioneer for eight years, and will finally get the opportunity on Friday to face Brodie and the Rocks again in the finals of the Chelsea Holiday Tournament.
Pioneer defeated Pinckney 65-37 on Thursday to advance to the final, while Salem was just as dominant in its 71-47 win over the host Bulldogs.
"I haven't seen his team play in eight years, so I 'm looking forward to seeing that," said Stanczak on Friday.
"He and I had some great battles. He had some good teams back then and I had some good teams so it'll be fun to coach against him," Brodie said.
Though both Salem and Pioneer struggled in spurts offensively in their wins, neither ever seemed in danger of losing its leads. Both teams led for the entirety of their respective contests.
Pioneer (4-2) didn't come out of the gate firing on all cylinders offensively, but it benefitted from Pinckney being ice-cold. The Pirates started 0-for-8 from the field with three turnovers and didn't score their first points until five minutes, 47 seconds into the first quarter as Pioneer jumped out to a 12-0 lead.
More coverage: Boxscore | Photo gallery | Basketball roundup
After making a pair of baskets to end the first quarter, Pinckney (2-2) would go another 6:43 before scoring again.
But Pioneer didn't exactly take advantage of the Pirates' struggles, having a 3:58 scoring drought of their own and led 26-13 at halftime.
"I really thought that the way we were defending in the first half we really could have had a much better lead at halftime, but we were just a little funky offensively," Stanczak said. "But I thought our energy was great."
That energy carried over into the second half and shots finally started falling for the Pioneers as they went 8-of-13 (61.5 percent) from the field in the third quarter.
Of course, it's easier to make shots when creating opportunities for high percentage baskets off of turnovers, and Pioneer forced 11 turnovers - including on Pinkney's first six possessions of the half - to help its cause.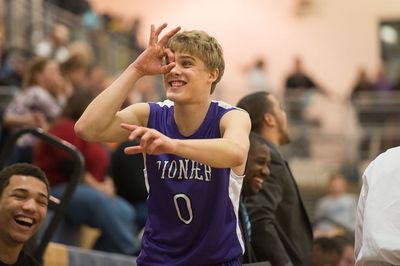 Courtney Sacco | AnnArbor.com
"You sometimes don't get offense, but you can always get defense and you can always play good defense even if your shots aren't falling," said
Cal Kirchen
, wo led all scorers with 11 points.
Pioneer's reserve players played the majority of the third and fourth quarters, which was actually when the offense was most productive, particularly the fourth when they put up 23 points.
Eleven players scored for Pioneer on the night, including seven with six or more points.
"It shows our depth, our team has some good guys. Everyone makes everyone better in practice because we have guys that can come out and do the job for us," Kirchen said.
Just as Pioneer had in the early game, Salem (4-1) used a strong third quarter to pull away in the nightcap.
Salem outscored Chelsea 15-9 in the first quarter in a slower paced start that fit the Bulldogs' style. Chelsea saw its deficit double by the half, but was managing to keep pace with the bigger Salem squad in a back-and-forth 23-17 second quarter.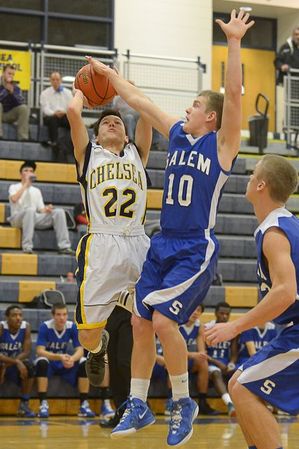 Courtney Sacco | AnnArbor.com
Salem came out of the break as if the second quarter had never ended and put up 24 while Chelsea (1-4) could only manage nine.
Logan Brown hit one of his six 3-pointers of the night for the Bulldogs to cut the lead to 45-34 with 5:08 left in the third quarter and it looked like Chelsea just might stick around, but then Salem ended the quarter on a 17-1 run and never looked back.
More coverage: Boxscore
Brown led all scorers with 22 points on the night.
Salem's Chris Dierker had a team-high 15, while teammate Kevin Mack's 14 seemed to really ignite the offense.
Mack had 10 of his points in the second quarter and nine in a two-minute span including a pair of 3-pointers. Brodie thinks getting Mack going again will be key for his team to have success against Pioneer on Friday.
"It's pretty important, he's a good shooter, but we haven't got him on track this year," Brodie said. "That was the first time he started making shots.
"He starts doing that for us it's going to open up our inside game because we have some forces inside," said Brodie in reference to Dierker and Ahmad Khalid, who had six points on Thursday. "Hopefully it just continues."
Pioneer plays Salem at 8 p.m. at Chelsea High School while Chelsea and Pinckney will face each other in the consolation game at 6:30 p.m.
Pete Cunningham covers sports for AnnArbor.com. He can be reached at petercunningham@annarbor.com. Follow him on Twitter @petcunningham.