Posted on
Wed, Oct 26, 2011 : 10:30 p.m.
Pioneer boys soccer team advances to Division 1 regional final
By Jason Idalski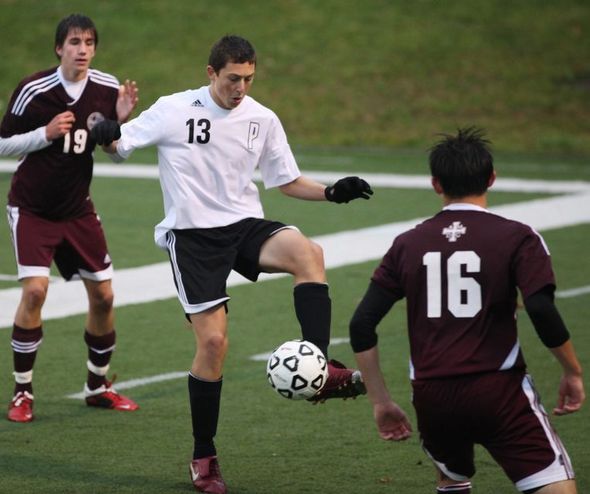 Jeff Sainlar | AnnArbor.com
The Pioneer High School soccer team ended the University of Detroit Jesuit's Cinderella run in the state soccer playoffs on Wednesday night. Jesuit -- which only had two regular season wins -- fell to Pioneer 5-1 in a Division 1 regional semifinal at Saline High School.
"Their team played well," Pioneer (17-1-4) coach Lumumba Shabazz said. "But we've got some players."
Jesuit coach Kevin Tuite wasn't in complete agreement, saying his team "could definitely play better." But he and Shabazz were impressed with Pioneer's play.
"The team played well; it was one of those days where everybody contributed," Shabazz said.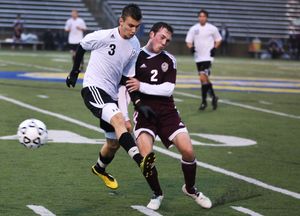 Jeff Sainlar | AnnArbor.com
Pioneer led 1-0 at the half but scored three goals in a 15-minute span early in the second half to make it 4-0 and put the game out of reach.
"The second goal was huge," Tuite said. "The second goal hurt."
Shabazz was unimpressed with the scoring outburst, saying he really didn't care about his team's domination.
"At this point you don't care how you win, as long as you do," Shabazz said.
Pioneer's next opportunity to advance is at 1 p.m. Saturday against Canton, which beat Dearborn 2-0 in the regional semifinal following Pioneer's game.
Canton was ranked No. 2 in the state in the latest MHSSCA rankings and handed Pioneer its only loss this season.
"It's going to be a tough game regardless of the opponent," Shabazz said.
Jesuit was simply outclassed, but avoided the shutout by scoring in the final 10 minutes.
"Pioneer came to play," Tuite said. "We couldn't stop them offensively. They had a ton of opportunities. They could've scored more."