Posted on
Sat, Oct 27, 2012 : 7 p.m.
Pioneer defeats Huron in penalty strokes to win field hockey state championship
By Matt Durr
It was only fitting that the state's two best teams over the last half-decade had to decide the 2012 Michigan High School Field Hockey Association championship by going to a penalty stroke shootout.
After 70 minutes of regulation play, Huron and Pioneer were deadlocked at 0-0, forcing the penalty stroke period. With her team up 3-2 in strokes, Pioneer's Charlotte Rivard steeped up and ripped a shot passed Huron goalie Tulin Babbitt giving the Pioneers their first state championship since 2009 with a 1-0 win.
"We said it before 'just channel all of your energy.' The entire season, we all worked so hard for it and I knew I had my teammates with me right there," Rivard said about her championship-winning shot. "It was just so important for our seniors to win, because they deserve more than anyone in the world."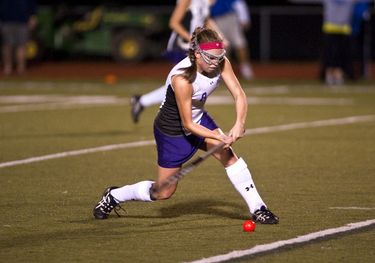 AnnArbor.com file photo
With about 12:30 left to play, it appeared Pioneer had taken the lead on a tipped shot, but the referee ruled the ball was lifted and disallowed the goal.
The game marked the fifth consecutive time the two teams met in the state final, with Huron winning the last two meetings. For Huron head coach Tia Sutton, the loss was tough, but she was proud of her team.
"Strokes are kind of a crapshoot when it all comes down to it. That part is of course frustrating, but the fact that we got here is impressive," Sutton said. "We had a really young team, we graduated a lot of seniors.
"We can't more proud of these girls for how they played. Obviously my hat's off to them (Pioneer). Jane's teams are always good, that's why I've looked up to her for probably 20 years."
Pioneer senior Eliza Stein was thrilled to cap off her high school career with her second state championship.
"It was definitely pretty crazy, you got expect the unexpected, but that's why he love this game," Stein said. "We've been fighting for so long for this. It's pretty dang amazing.
"We won it my freshman year and I was the only one to experience it. Being able to be such a part of it, with such an amazing team, I'm just so excited."
The championship capped off an unbeaten season for Pioneer, as the Pioneers finished the season 16-0-2 on the year. After the celebration, head coach Jane Nixon reflected on her team's remarkable season.
"Our senior leadership is phenomenal because each one of them truly believed in the team," Nixon said. "They led the way the whole time. Nothing fancy, nothing special, just good, hard work and playing together."
After losing the last two finals to Huron, Nixon said it felt good to be on the winning end, but said its important to be a great sport no matter which way it goes.
"Its really special when you get to finish out this way, especially for the seniors," Nixon said. "Of course it feels great when you win and I'm so proud of these guys."
Matt Durr.