Posted on
Fri, Oct 26, 2012 : 11 p.m.
Pioneer defense, Marquise Thomas send Pioneer to district final with 34-0 win over Monroe
By Matt Durr
For the second week in a row, the Pioneer High School football team responded to not having head coach Paul Test on its sidelines with a convincing win, as the Pioneers defeated Monroe 34-0 Friday night to advance in the MHSAA playoffs.
"We had a plan and the kids believed in it and we practiced it all week and did a great job," interim head coach Tom Barbeiri said. "That's a tribute to what Paul did this week, I mean he led us during the week of practice knowing he couldn't be here tonight."
Test was serving his second game of a two-game suspension because of the fight that occurred involving players and coaches following Pioneer's game withHuron two weeks ago.
It didn't take long for Dewan Olive-Abinojar to make an impact in his first game since being suspended for his role in the brawl.
More coverage: Boxscore | Bracket | Football roundup
On back-to-back plays late in the first quarter, Olive-Abinojar broke up a deep pass and then intercepted Monroe quarterback Thomas West.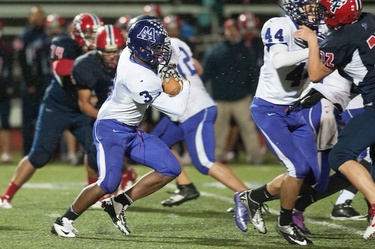 AnnArbor.com file photo
"It felt good that we're all back. We needed everyone who contributed to this win to come together and make plays," Said Olive-Abinojar.
The Pioneer defense looked rejuvenated with the return of Olvie-Abinojar, Darius Sanderford, and Tyrone Miller who also missed last week's contest against Livonia Franklin.
"It (the returning players impact) solidifies the back end of our defense. Now you can do some stuff up front knowing that they can cover for you in the back end," Barbeiri said.
Sanderford scored on a fumble recovery late in the fourth quarter once Pioneer had the game in hand, and Miller followed it up with an interception return for a score 33 seconds later.
Known for it's ground attack, Monroe managed just 87 yards rushing for the contest and 165 yards as a team.
After forcing a turnover on downs at their own five-yard line, the Pioneers turned to Marquise Thomas. Then they turned to him again and again. Thomas carried the ball eight times on the drive for 95 yards, capped off by a 14-yard touchdown run to put Pioneer up 13-0. The Pioneers carried that lead into the break.
"It felt pretty good to move the ball and once we started to move the ball, we got the momentum and the offense opened up the holes and I found the cut-back lanes," Thomas said.
Pioneer had twice worked its way into Monroe territory in the first half, but stalled in the red zone both times, leading to field goals of 30 and 43 yards from Eric Kristensen.
Thomas picked up where he left off on Pioneer's second drive of the second half. On the first play, Thomas took a handoff up the middle turned it to the outside and sprinted 60 yards for his second score of the game. Thomas finished the game with 27 carries for 213 yards and 2 touchdowns.
"What he did to night was he freed us. If you notice our passing game was a little bit better tonight, because he was able to get free on some runs," Barbeiri said. "Bertoia because of that was able to get some time to throw the ball and Bertoia made some great decisions."
Brandon Bertoia was efficient for the Pioneers going 9-of-14 passing for 73 yards. But once Pioneer got ahead, the passing game was abandoned.
Since taking over for the injured Aedan York two weeks ago, Bertoia has been able to expand the passing attack for the Pioneers.
"We've emphasized it a little more and actually simplified it a little bit more," Barbeiri said. "Making it simpler, made it a little easier on everyone involved."
Monroe was led by senior Gaetano Paolino who ran for 67 yards on 12 carries.
Pioneer moves on to face Saline next week in a rematch of a Week 4 contest where Pioneer defeated the Hornets 7-6. Saline defeated Bedford to advance.
Test is expected to be back on the sidelines for next week's game.
For Olive-Abinojar, he's looking forward to playing Saline again.
Matt Durr.
"We're definitely looking forward to playing them. Our offense has got better, our defense has got better and they want us and we want them," he said.