Posted on
Sat, Mar 9, 2013 : 6:32 p.m.
Chris Klein's two state titles lead Pioneer to 2nd-place finish at D2 swimming finals
By MLive Media Group
Adam Bouton | For AnnArbor.com
ROCHESTER -- Pioneer High School senior Chris Klein capped off a stellar prep swimming career by winning two individual state titles, leading the Pioneers to a second-place finish at the Division 2 state championship.
Pioneer, competing in Division 2 for the first time, exceeded expectations, according to coach Dennis Hill. The Pioneers finished with 280 points. Holland won the D2 state title with 323 points.
"We are excited," Hill said. "We came in with about 200 seeded points and came out with 280, so the kids swam really well and that's what we wanted to see today. We ended the season on a good note and I couldn't be prouder of the kids. This is the first time at Division 2 and it was a fast meet."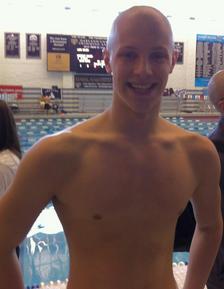 Jake Thielen | MLive.com
Klein, who will swim at the University of Michigan next year, was aiming at the all-divisions record in the 100 breaststroke (55.36), set by Saline's Josh Ehrman in 2012.
After swimming a Division 2-record time of 55.47 seconds during the 100 breaststroke preliminaries, Klein won the Saturday final in a time of 55.53. He also was victorious in the 200 individual medley, posting a time of 1:48.79.
He won both events by more than one second and set new Pioneer varsity records in each event as well.
"We're all really happy," Klein said of his team's finish. "We came in a little underestimated and we all did great. I'm proud to be a captain of this team."
More coverage: Results | Statewide coverage
Pioneer was within striking distance of Holland throughout the meet, but ultimately couldn't overcome the points hurdle.
"I think all of us were hoping to get first," Klein said. "At some points in the meet, I think we thought it was possible. But we are excited with the finish."
The Pioneers had several other outstanding performers at the state meet.
The 200 medley relay team of Matthew Erickson, Klein, Kai Williams and Thad Stalmack finished second with a time of 1:34.83.
Pioneer senior Tyler Leach finished second in the diving competition, finishing with 415 points. St. Johns' Jared Gregory won the event with a score of 484.15.
"He dove for the first time last year," Hill said of Leach. "He has the school record in the pole vault and he just came a long way and did a really nice job for us."
Williams and Max Cornblath finished second and third in the 100 butterfly for Pioneer. Williams rallied from sixth place at the halfway point to touch the wall at 51.25. Cornblath had a time of 51.44.
Also for Pioneer, Jiaming Shen placed fourth in the 100 breaststroke (58.13), Andrew Heise was fifth in the 100 freestyle (47.41) and Davis Argersinger finished sixth in the 500 freestyle (4:43.02). Pioneer finished fifth in the 400 freestyle relay and sixth in the 200 freestyle relay.

Dexter, Skyline finish in the top six

Dexter entered the Division 2 state meet as the defending champions, but knew entering Saturday's finals that capturing a second straight title would be a tall order.
"We knew that being in the top three was going to be tough," Dexter coach Michael McHugh said. "Our goal was fourth. That was a goal that we thought we could accomplish."
Dexter finished with 196.5 points, which was good for fourth overall out of 32 teams.
The Dreadnaughts were strong all day in the freestyle, whether it was in the relays or individually. Senior co-captains, Brennan Maisch and Jonathan Zofchak each placed in the top three in two events.
Maisch finished in a tie for second in the 50 free finals (21.37) and third in the 100 freestyle (46.55). Zofchak placed third in the 200 freestyle (1:41.79) and was second in the 500 freestyle (4:36.74).
"Robbie Zofchak bounced back today with a great meet," McHugh said the freshman brother to Jonathan. "We had a lot of contributors and the relays were key."
The 200 freestyle relay of Maisch, Paul Ruble, Max Merriman and Jonathan Zofchak finished third with a time of 1:25.62. Maisch, Merriman and the Zofchak brothers teamed up for a fourth-place finish in the 400 freestyle relay, posting a time of 3:08.02. Dexter's 200 medley relay finished sixth.
"I'm proud of these guys," McHugh said. "To have a three-year run like we've had is special."
Skyline placed sixth overall, finishing with 142 points.
The Eagles had three finalists in the 500 freestyle event. Matt Orringer finished third (4:36.90), Dennis Dahlmann placed fourth (4:41.34) and Ryan Vander Meulen was fifth (4:42.73) for Skyline.
Orringer, a sophomore, also earned a fourth-place finish in the 200 IM, posting a time of 1:55.55.
The Skyline relay team of Daniel Schorin, Gabe Solomon, Vander Meulen and Dahlmann were seventh in the 200 freestyle relay (1:28.50). The Eagle quartet of Dahlmann, Solomon, Vander Meulen and Orringer also finished in eighth in the 400 freestyle relay finals (3:13.08).