Posted on
Sat, Dec 29, 2012 : 1:35 a.m.
Pioneer gets past Salem, 53-49, to win Chelsea holiday tournament with fifth straight win
By Kyle Austin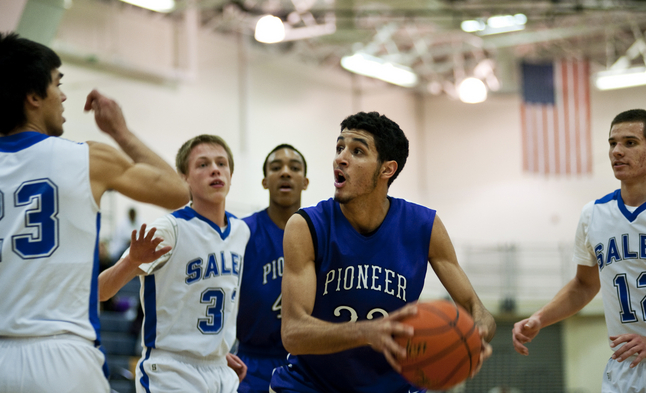 Daniel Brenner | AnnArbor.com
In a 53-49 win over Salem Friday night in the final of the Chelsea Holiday Tournament, the Pioneer High School boys basketball team saw both the good and the bad of having a highly competitive, intense group of players.
The good came late, when the group hit clutch shots late to fend off a comeback attempt from a resilient Salem team.
The bad came early, when emotions got the best of them, fouls piled up and Pioneer missed a chance to pull away in the first half.
"This is a highly intense group of boys that I've got here, particularly this senior class," Pioneer coach Rex Stanczak said. "They're very competitive, and that is what I love about them. They're tough as nails and they're competitive, but we're trying to learn lessons along the way."
The win wasn't Pioneer's prettiest of the season -- Stanczak reminded his team afterward that basketball is not figure skating -- but it counted as the team's fifth straight, as it heads into Southeastern Conference play with a 5-2 record.
More coverage: Boxscore | Photo gallery
At the center of that was senior Aedan York. York was warned by the referee to calm down after having words with a Salem player, and when he spoke again seconds later he was issued a technical foul late in the first quarter.
York came to the bench visibly frustrated and got an earful from Stanczak.
"I gave it to Aedan pretty good when he chirped and kept going when he was coming off," Stanczak said. "What I had to be sure he understood was that if you get another one, you're not only out of this one, you're out of our next one out of the break. You can't do that."
But after sitting most of the second quarter, York finished with a team-high 12 points. That included a 3-pointer with two minutes to go after Salem had cut the deficit to one, and a late free throw to help Pioneer ice the game.
"You have to get your emotions under control, and I thought for the most part he did that after that," Stanczak said. "I thought he kept it in check and he made a huge 3 at the end of the game."
York's triple put Pioneer up by four with two minutes left. Pinckney got within one point with 40 seconds left before Cal Kirchen hit a bucket in transition and York scored the final point of the game.
The Pioneers jumped out to a quick 12-3 lead, only to give it all back late in the first quarter and early in the second. The Rocks went on a 14-4 run to take a lead with five minutes left in the half, with 12 of those points coming at the foul line.
But Pioneer took a five-point lead into halftime by getting to the rim late in the second quarter, and never trailed after halftime.
Jibreel Hussein also finished in double figures for the Pioneers with 10, and Tevis Robinson had nine points and 10 rebounds.
Chris Dierker led Salem with 15.
Chelsea gives up second half run to Pinckney
Chelsea got to within one point early in the third quarter against Pinckney in the consolation game of its own tournament before giving up a 17-5 run the rest of the third quarter to go down by 13 entering the fourth.
The Bulldogs would never recover and fell 58-46 to Pinckney to finish in last place in the tournament
More coverage: Boxscore
Bulldogs coach Rourke Skelton said the Pinckney run coincided with when the game got chippy and players from both side were told by the refs to back off the physicality.
"We were confused by that, and it really got to us, and it got under our skin and affected how we play defense the rest of the way," Skelton said.
Logan Brown of Chelsea (1-5) hit five 3's and finished with a team-high 17 points. Nate Bossory and Luke Hollandsworth also finished in double figures with 10 apiece.
Brown's 3's were part of a seven 3-pointer performance for the Bulldogs, but Skelton said he wants to see his team mix more of an inside game with its outside shooting for more balance.
"We can shoot the basketball from the outside," Skelton said. "We need to do a better job of going inside then out, as opposed to outside first."
Kyle Austin covers sports for AnnArbor.com. He can be reached at kyleaustin@annarbor.com or 734-623-2535. Follow him on Twitter @KAustin_AA.