Posted on
Sat, Jun 4, 2011 : 5:41 p.m.
Pioneer runner-up at Division 1 tennis state finals, No. 4 doubles wins title
By Pete Cunningham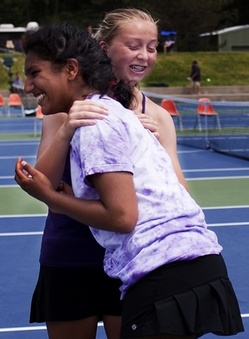 Jeffrey Smith | for AnnArbor.com
MIDLAND -- Pioneer High School girls tennis coach Tom "Brick" Pullen paced the stands at the outdoor courts at the Midland Dow Community Tennis Center.
During the No. 4 doubles championship match at Saturday's Division 1 tennis state finals, Pullen appeared nervous, restless, distraught even.
The sophomore team of Shreya Bahl and Anna Borowicz hadn't lost a match all year, and had yet to trail in their finals match. Yet Pullen could not be still, and saw nothing but room for improvement.
He'd mumble under his breath after every missed shot. He'd sit, then stand, walk around. Then repeat it all again, still mumbling advice under his breath.
"You gotta calm down Brick," Pioneer senior captain Courtney Lymburner assured her coach. "He's always finding something wrong with something."
Reinforcing that Pullen had nothing to be worried about, Bala and Borowicz defeated Novi's Meng Meng Jie and Amy Zhou 6-3, 6-3. By then their coach's nerves had quelled.
More at MLive.com: Statewide Coverage
The only advice Pullen had for the state champions on the court after their win, which capped a perfect season, was which way to look for their celebratory photos.

"It just motivates me to work harder," Bala said of her coach constantly demanding more.
Bala and Borowicz's No. 4 doubles title would be the only flight championship for Pioneer. The defending state champions entered the final day of play tied with Clarkston for first place with 21 points. Clarkston won championships at No. 2, 3 and 4 singles to finish the day with a state title-clinching 27 points.
Pioneer finished in second place with 24 points. Midland Dow was third with 21.
Even the perfectionist Pullen could find no fault with his team's performance on Saturday, or for the weekend. Pioneer played to its seeds in six flights and exceeded them at No. 1 singles (where Lymburner defeated an opponent seeded above her on day one) and at No. 3 doubles (the third-seeded team of Maya Fields Jacobs and Azba Gurm advanced to the finals.
"I couldn't be more proud of these girls. They all fought hard," Pullen said. "Nobody gave up. The matches we lost they were great matches. We got more points than what we thought we should have.
"We came in second place and were the third-ranked team coming in. I couldn't be happier with the performance"
Pioneer and Clarkston each had seven flights alive to start the day, but the Pioneers were unable to advance any singles players out of the semifinal round.
Pioneer nearly equaled Clarkston's finalists, but the No. 1 doubles team of Alexa Arvidson and Julia Rampton fell 6-3 in the third set of their semifinal match with Julie Wittwer and Emma Hyde of Grosse Pointe South.
Fields Jacobs and Gurm upset the second-seeded Clarkston team of Olivia Dunn and Annie Wilson in three sets in the semifinals and looked primed to do the same their against Alana Dickson and Amelia Boccaccio of Grosse Pointe South in the finals.
But after winning the first set 6-3, Fields Jacobs and Gurm dropped the next two 3-6, 3-6. By the time their third set was being decided, Clarkston had already wrapped up the team title.
"We could have done it," Pullen said. "But we would have had to win all three of those matches and that's a lot to ask…These girls played their hearts out and I am very proud of this effort."
Saline and Huron had all of their flights eliminated from competition on Friday. Saline finished in a three-way tie for sixth place with 13 points. Huron finished in 12th with seven points.
DIVISION 4
After outplaying its seeds on day one of the Division 4 state championships and advancing to the semifinals of their respective flights, the three remaining singles players for Father Gabriel Richard bowed out in the semifinals on Saturday morning at Holly High School.
Molly Geppner lost to Meika Ashby of Kalamazoo Hackett in straight sets at No. 1 singles, 6-0, 6-1. At No. 2 singles, Anjali Sood -- who was unseeded and defeated two seeded opponents on Friday -- fell to Kelsi Black of St. Mary's Catholic Central 6-3, 6-2. Natalie Ring lost to Emilee Belk of Grand Rapids North Pointe Christian at No. 4 singles 6-1, 6-1.
Ashby, Black and Belk all went on to win their respective flights.
Gabriel Richard finished seventh as a team with 12 points. Grand Rapids North Pointe Christian took first with 25.
Pete Cunningham covers sports for AnnArbor.com. He can be reached at petercunningham@annarborcom or by phone at 734-623-2561. Follow him on Twitter @petcunningham.