Posted on
Fri, Dec 14, 2012 : 10:50 p.m.
Pioneer girls improve to 4-0 and more Friday night girls basketball results
By Matt Durr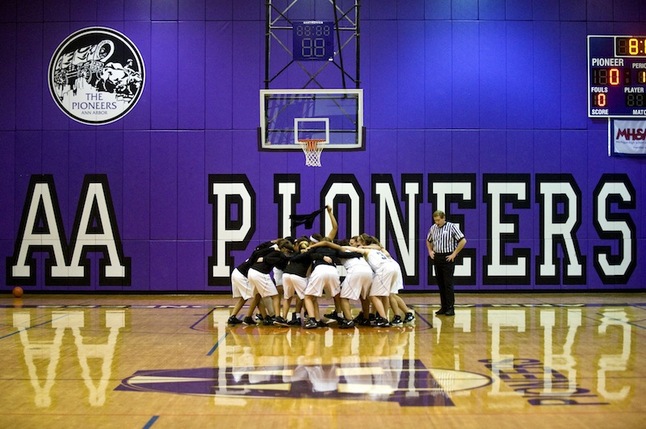 Annarbor.com file photo
This file will be updated
Ann Arbor Pioneer took a 30-15 halftime lead, and added 30 points in the second half to secure its fourth win of the season, beating Flint Northern 60-28.
Desiree Cougill led Pioneer (4-0), scoring 17 points, and recording 14 rebounds. Jennifer Fichera scored 15 points, and recorded eight rebounds and five assists. Sydney Heinrich scored 10 points.
Related coverage: Story | Boxscore
Dynasia Walker led Flint Northern (0-3), scoring nine points.
"This is our fourth time playing Flint Northern in my 22 years here, and it's always been a really big game for us to play them before conference play kicks off," Ann Arbor Pioneer coach Crystal Westfield said. "We try to play them before we start playing conference games because it helps prepare us for our tough conference slate."
Ann Arbor Pioneer will travel to Ann Arbor Skyline (3-2) on Tuesday at 7 p.m.
Annarbor.com Washtenaw County scoreboard
Saline 33, Monroe St. Mary CC 22
Story | Boxscore
Saline's Emily Reyst recorded a career high of 13 points, including two 3-pointers. Caitlin Ellis added six points, and Melanie Moeller came off the bench to score seven points in the second half.
"We had players step up today in huge ways," Saline coach Jeff Waltz said. "Our post play was solid, but we wouldn't have won tonight without Melanie Moeller. She was clutch hitting three hug buckets in the second half."
Saline (4-1) hosts Temperance Bedford in its conference opener at 7 p.m. on Tuesday.
Lansing Christian 46, Chelsea 43
Story | Boxscore
Lansing Christian jumped out to a 15-8 lead in the first quarter and held off Chelsea (1-3) the rest of the way.
"They made a good run in the first and took control. We came back in the second quarter and took a one-point halftime lead. They jumped up in the third and we had to claw back in the fourth," Chelsea coach Todd Blomquist said.
Riley Singleton finished with 14 points and 12 rebounds for Chelsea, and Bailey Darwin had 12 points.
Dexter 34, Bedford 19
Story | Boxscore
Dexter's Emma Kill had 12 points and Riley McDonald added 10.
"We've been relatively consistent all year with scoring," Dexter coach Mike Bavineau said. "We can always count on someone to have eight, 10 or even 12 points each game, so we've done a nice job with that."
Dexter gave up just two points in the second quarter and led 17-8 at halftime. The Dreads are unbeaten on the season at 4-0.
Manchester 47, Addison 30
Story | Boxscore
McKenna Erkfritz became the first Manchester girl to break the 1,000-point barrier, as she scored a team-high 13 in the Flying Dutchmen's Cascades Conference win.
Erkfritz, who broke the program's scoring record last season, also added seven rebounds and a Manchester-best five steals. The Flying Dutchmen (5-1, 2-0 Cascades) racked up 17 team steals while holding Addison in single digits in every quarter.
Taylor Manders scored 12 for Manchester, while Jesse Coltre and Jessie Manders put in 10 apiece. Coltre and Jessie Manders each dished out four assists.
Washtenaw Christian 40, Ypsilanti Calvary Christian 24
Story | Boxscore
Saline Washtenaw Christian (1-3) picked up the defense in the second quarter of their game against Ypsilanti Calvary Christian, as they outscored Calvary 16-0 in the quarter.
The big second quarter allowed Washtenaw Christian to take a 20-point lead into the locker room at halftime.
Michaela Donat led Washtenaw Christian with 17 points, and Becca Hughes added 10 points and seven rebounds.
Calvary Christian is now 0-1 on the season.
Rudolf Steiner 55, Hillsdale WCA 30
Story | Boxscore
Ann Arbor Rudolf Steiner's defense limited Hillsdale Will Carleton Academy to just one double-digit scoring quarter. The Rudolf Steiner offense produced consistently, as well.
"Our game plan was to come out and pressure them right away to see if we could get a few quick, easy baskets," Rudolf Steiner coach Jim Belanger said. "We forced a lot of turnovers from the press."
Abby Andrews led the way for the Storm (3-0) with 18 points, eight rebounds, six blocks and two assists. Tessa Belanger added 17 points, eight rebounds, five steals and four assists.
River Rouge 56, Willow Run 12
Story | Boxscore
Star Harris led River Rouge with 16 points as the Panthers jumped out to a 38-10 halftime lead.
Shamaria Canada led Ypsilanti Willow Run with seven points.
"I'm a little disappointed," Willow Run coach Cliff Russell said. "We were lacking in energy and enthusiasm."
Willow Run, lacking in experience, is attempting to rebound after losing a number of key pieces last season, Russell said.
The Flyers fall to 1-4 this season.
Detroit Henry Ford ASCS 58, Greenhills 48
Story | Boxscore
Henry Ford Academy withstood a 30-point, 15-rebound effort from Jackie Oestreich to prevail.
Oestreich also had three blocks and three steals.
Henry Ford Academy outscored Ann Arbor Greenhills 22-5 in the third quarter, erasing Greenhills' 21-20 halftime edge. Greenhills is now 2-2 this season.
Ottawa Lake-Whitford 39, Whitmore Lake 32
Details not available
Whitmore Lake is 1-5 on the season.
Annarbor.com Coverage: