Posted on
Wed, May 15, 2013 : 12:20 p.m.
Pioneer girls soccer scores big win over Dexter and more Tuesday results
By Kyle Austin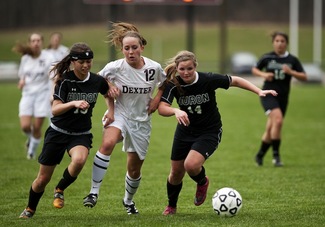 Daniel Brenner | AnnArbor.com
Girls Soccer
Pioneer 4, Dexter 2
Story | Boxscore
Pioneer scored three goals in the second half, after taking a 1-0 halftime lead, to record a 4-2 win over host Dexter in girls soccer action on Tuesday.
Mckenzie Sapp recorded one goal and one assist to lead Pioneer (7-3-1), while Katie Matton, Emily Turner, and Sarah Starman each added one goal.
Jennifer Fichera added two assists, while Sofia Gambini made four saves to record the win.
"We played with great energy in the first half, and we scored late in the half to take a lead right before halftime," Pioneer coach Chris Coleman said. "I thought we actually played better in the first half than we did in the second, but we created more scoring chances in the second half.
"The energy trailed off a little bit in the second half until we picked up that second goal, and give Dexter credit because they really pushed us that whole game. We need to work on focusing from start to finish, and that will dictate how far we go this post season."
Olivia Vollmers scored two goals to lead Dexter (9-4-4), while Lindsey Llyod and Bethany Shiguango each added one assist. Stephanie Misevich made six saves.
Saline 2, Lincoln 0
Story | Boxscore
The Saline girls soccer team scored two goals in the second half to break a 0-0 tie and grab a 2-0 win over Ypsilanti Lincoln on Tuesday.
Ypsilanti Lincoln goalkeeper Rachel Simonds had ten saves.
Boys Golf
SEC White Jamboree
Story | Boxscore
Skyline performed well at the SEC Jamboree, taking first place with a score of 147 on Tuesday and earning a team score record for the school.
Skyline had all five of its golfers post scores under 40, led by Connor Lang's even score at the par 35 Pine View Golf Club.
"We still have a couple of tournaments left, but we are definitely improving as the season goes on," Skyline coach Ashley Mantha said.
Lang shot two birdies and a bogey to help earn his round of 35.
Girls Lacrosse
Pioneer 17, Bloomfield Hills Sacred Heart 9
Story | Boxscore
Pioneer's Mercedes Reyes scored five goals and assisted on two others to help the Pioneer lacrosse team defeat visiting Bloomfield Hills Academy of the Sacred Heart 17-9 on Tuesday. Juliette Killough and Andrea Martin each netted hat tricks, and Caroline Hurd, Stephanie Terrell, and Claire Hughes each scored twice.
"(It was the) last home game of the season for us," Pioneer coach Zachary Maghes said. "Our goal is to win every game, but that starts again on Thursday against Huron."
Girls Tennis
Father Gabriel Richard 4, Williamston 4
Story | Boxscore
The Father Gabriel Richard girls tennis team tied visiting Williamston 4-4 on Tuesday.
Williamston's Caroline Rising edged Gabriel Richard's Colleen O'Brien 6-0, 6-0 in No. 1 singles, and Gabriel Richard's Anjali Sood defeated Marisa Ellsworth 6-1, 6-0 in No. 2 singles.
Gabriel Richard plays in the Division 4 regional at Ann Arbor Greenhills at noon Thursday, while Williamston plays in the Division 4 regional at Portland at noon Friday.
Kyle Austin covers sports for AnnArbor.com.