Posted on
Wed, Jun 8, 2011 : 11:18 a.m.
Pioneer tennis coach Tom Pullen tolerates his team's quirky traditions and more notes
By Pete Cunningham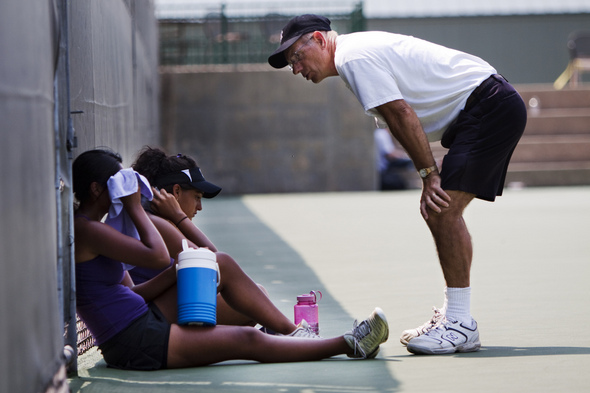 Jeffrey Smith | for AnnArbor.com
Tom "Brick" Pullen puts on a facade as rough as his nickname indicates, but he also has a soft spot for the girls on the Pioneer High School tennis team he coaches.
For instance, he doesn't call the cops on them.
As Pullen complained under his breath, critiqued during timeouts and nervously paced at Saturday's Division 1 state championships at the Midland Tennis Center, senior captain Courtney Lymburner did her best to calm her longtime coach.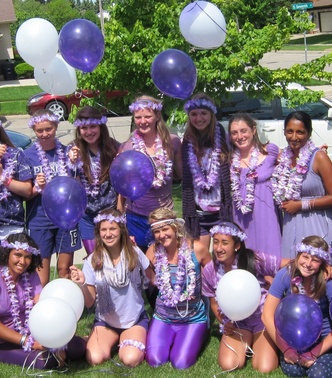 Photo courtesy of Frank Rampton
She called him a "grouch" and "grumpy," which immediately deflected Pullen's critiques away from the court and toward Lymburner's tights.
There's a humorous side to Pullen, which Lymburner said is tough to notice at times. But it's there, nonetheless.
"He's tough to read," said Lymburner, who will play at California-Santa Cruz next year. "But we can tell deep down he loves us."
An indication that Pullen does appreciate the spirit of his team is implied by the fact that he doesn't have them arrested. It's a team tradition to toilet paper his house prior to leaving for the state championships.
And that makes it an annual affair, considering last weekend's second-place finish marked the 12th consecutive season a Pullen-led team has finished in the top two in the state. There are three championships scattered in that time frame.
As the team hoists rolls, Lymburner said Pullen watches through the window with the same surly look he normally has courtside.
"I think he gets annoyed that some of our traditions may interfere with tennis," Lymburner said. "But his wife loves us and so do his neighbors."
Of course it's easier to love them once the team completes the final part of the tradition: They clean it all up.

MVP SWEEP
Huron's Kelcy Barott was named most valuable player of last weekend's Michigan Water Polo Association state tournament and was also named player of the year for the season.
David Hasegan received the same honors during the boys season last fall, giving the Huron water polo program a sweep of the highest individual accolades.
Fourth-place Huron wasn't the only local team to receive acclaim at the Zeeland Natatorium.
Skyline's Kim Graziano was named first team all-tournament and joined teammate Stassia McGlothlin on the all-state first team. The Eagles beat Huron in the tournament's third-place game.

ROW, ROW, ROW YOUR BOAT
In most sports, teams compete for state championships. The Pioneer crew team took that a step further this past weekend, traveling to St. Catherine's, Ontario, for the 66th Canadian Secondary Schools Rowing Championships. Pioneer had 11 boats compete, three of which made the finals of the three-day, single-elimination event.
The Pioneers' women's senior varsity eight boat had the team's best result with a runner up finish in the 2,000-meter course. The women's senior four took fifth place in its race while the senior men's lightweight boat took fourth.

RULES ARE RULES
With many spring sports seasons already wrapped up and others dwindling down, it's time to start looking ahead to next year. When athletes do take the field (or track, court, mat, etc.) several rule changes will be in place.
Here is a breakdown of what was ruled on at the MHSAA representative council's annual spring meeting:
Ejection enforcement: If a coach or player is ejected from a competition, he or she must miss the next day of competition. If the ejection occurs during an MHSAA tournament, the player or coach must miss the next day of tournament competition, and the next day of non-tournament action if an event is scheduled between the two tournament dates. This was changed to prevent schools from scheduling a day of competition between two tournament dates to get someone eligible for tournament play.
Track and cross country: Watches will now be allowed to be worn by competitors in cross country and track. Currently, watches fall under the "no jewelry" rule.
Golf: A student may participate in the two qualifying stages of the U.S. Open Tournament conducted by the United States Golf Association without counting against his or her allowed two non-school competitions during the season.
Hockey: With advance approval by the competing teams or by league adoption, a shootout may be used when regulation play ends in a tie in hockey. Three shooters from each team will be selected for the first round, and three different shooters for a second round if necessary. After that, single shots will be taken.
Soccer: Minimum length of a playoff game for soccer was increased from 40 to 60 minutes. Also, vuvuzela horns have been banned at tournament games.
Tennis: A team point may now be deducted after a flagrant unsportsmanlike violation committed by a non-playing member of a team at any time during an MHSAA Tournament.
Wrestling: The MHSAA will NOT adopt the weight class changes announced by the National Federation of State High School Associations. The federations new weight classes are as follows (MHSAA weight classes in parentheses): 106 (103), 113 (112), 120 (119), 126 (125), 132 (130), 138 (135), 145 (140), 152 (145), 160 (152), 170 (160), 182 (171), 195 (189), 220 (215) and 285 (285).
Diving: A diver doing a legal dive list that is judged but not scored in the team results to earn a "win" towards qualifying for MHSAA regionals.

Have a story to tell about a local high school athlete or team? Email petercunningham@annarbor.com or call the prep sports desk at 734-623-2565.