Posted on
Thu, Oct 11, 2012 : 5:59 a.m.
Pioneer, Huron and other one-sided rivalries a theme in Week 8 of 'Beat Pete' pick 'em contest
By Pete Cunningham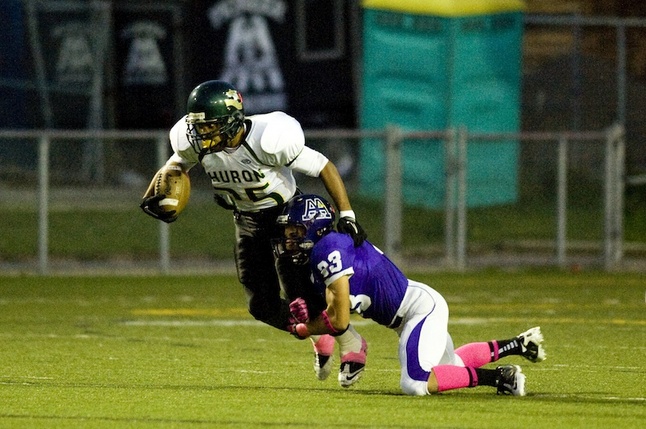 AnnArbor.com file photo
It's hard for me to tell whether I'm fading down the stretch or if the readers are just getting smarter.
WEEK 8 "BEAT PETE" WINNERS
Dave Rodriguez
Jack Byrne
Fred Anstead
Robert Pacheco
Frank Rozsa
Greg Garrison
Rob White
Mike Cramer
Justin Aceves
Jeff Armbrustmacher
Clifford Russell
Randy Dunny
Gene Smith
David Evanski
Jim Kessler
William Chrysan
John Czyrka
Brandon Brown
Beth Starkey
Brenda Darwin
Scott Sprow
Tony Bertoia
Jason Anderson
James Hunt
Scott Platt
Tony Wisniewski
Gary Dosey
Willy Baker
Mark Hanselman
Nancy Crosbie
Michael Walsh
Bekah Makarewich
Terry Etchison
Terry Breneman
Rick Anderson
Mike Books
Brad Kokmeyer
Jbub Hendro
Bruce Szcodronski
David Holden
Jason Idalski
Jon Straub
Paul Oshanski
Dennis Colligan
Tim Blackburn
Kevin Hendrickson
Mike Olson
Todd Ortbring
Ben Freed
Julie Harkema
Joey Zakrajsek
Gregg V. Burg
Brent Kelly
Chuck Fuller
Josh Tropea
Jeff Frank
Steve Pontoni
Mark Majeske
Julia Sawicki
Tony Love
Mike Mioduszewski
Hal Dotson
Brian Puffer
Lorraine Hergenreder
Greg Hathaway
Josh Winn
Steve Vinson
Doug Kreager
Bayete Mitchell
Richard Ernst
Chris Kussurelis
David Smith
Jeff Olson
Chris Tilton
Jeffrey Waltz
Joe Heath
Gabe Burdette
Aaron Ward
Julian Robinson
Doug Schumann
Greg Sommers
Christopher Kuhn
Doug Pichlik
Karen Smith
Brian Hogg
Donald Shipley
Ed Michowski
Pam Miller
Brent Elliott
Jim Maynard
Jasen King
Darren Shelcusky
Matt Hall
Mike Kurcz
Peter Ten Broeck
Mike Korzuck
Jim Sweigart
Willy Clark
Lisa Petersmark
Shrikar Thodla
Tim Breen
Robert Hehr
Bill MacInnes
Greg Diedrich
Lance Cadmus
Tracy Pratt
Tim Mammel
Austin Hoover
Nick Bertoia
Al Fellhauer
Ted Fortner
C Taylor
Cherisa Allen
Ron Kerns
Taylor Morgan
Tom Kaas
Lori Kintz
John Hubbard
Chris Caris


For the sake of return business and my own ego, I'll go with the latter and assume 119 people doing better than my pedestrian 8-3 record in last week's 'Beat Pete' contest is a result of the readers' infinite genius rather than my own stupidity.
I'm not just trying to butter you up. Along with the amount of contest winners topping triple digits for the second time in three weeks, a record nine people went 11-0 with their picks in Week 7.
Very impressive.
Speaking of saving face, that's exactly the opportunity Lincoln and Pioneer have in the next two weeks. Though both lost heartbreakers last week, but at 4-3 both of their playoff hopes are still very much alive.
Both teams need to take care of business against lesser talented crosstown rivals on Friday night to set up Week 9 win-or-go-home scenarios.
Pioneer heads to winless Huron on Friday and it's no secret that the Pioneers are the far superior team. If Pioneer plays anywhere close to its best football, Huron simply doesn't have the talent to keep up.
Pioneer coach Paul Test tries to keep those types of thoughts as far from his players' minds as possible.
"(Huron) have everything to gain and nothing to lose and we have everything to lose," Test said. "They have a wide stable of confident receivers and backs, that's the strength of their team and they can put up some points if we're not on our game."
Test doesn't discount the crosstown rivalry factor perhaps shrinking the talent gap between the sides.
"It's usually the most emotional game of the year, that's been my experience," Test said. "We expect nothing but a dogfight."
Lincoln, meanwhile, hosts crosstown rival Ypsilanti in its homecoming game and will try to avoid its fourth loss in five weeks.
Lincoln suffered a heartbreaking 26-25 loss to Adrian last week in which the Railsplitters failed to take the lead twice in the final four minutes on a muffed field goal attempt and failed two-point conversion.
Coach Chris Westfall said it was an emotionally draining loss, making its homecoming date with crosstown rival Ypsilanti all the more important.
Lincoln shouldn't have any trouble against 1-6 Ypsilanti, which would make the Week 9 game versus undefeated Milan for a playoff berth.
"Our kids know a lot of Ypsi kids and its important to them. Are there guys looking to Milan? Sure, but I don't think it will get in our way on Friday," Westfall said.
Though Westfall admitted there's a tendency to look ahead to Milan, he doesn't think his players are necessarily looking past Ypsilanti.
"We don't want to take anything for granted and its homecoming. We really want to get one at home," said Westfall, pointing out that all Lincoln's wins have been on the road.
These crosstown rivalries aren't likely to be close, but emotions will be running high, and they lead off this week's picks:
Beat Pete Winners
People who have "Beat Pete" so far: This week: 119; Overall: 372.
Pete's overall picks record: 59-17 (.776); Last week: 8-3 (.727).