Posted on
Fri, Aug 23, 2013 : 5:30 a.m.
Pioneer, Lincoln football teams tune up in four-way scrimmage at Pioneer
By Kyle Austin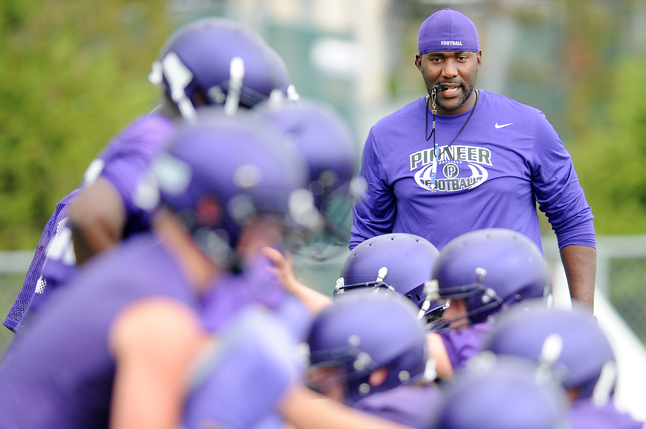 Melanie Maxwell | AnnArbor.com file
With season openers just a week away, it's time to turn up the speed and contact for the area's high school football teams.
Pioneer and Lincoln were among five teams at Pioneer's Hollway Field Thursday afternoon, rotating in and out of 40-minute, 50-yard scrimmages near the end of the second week fo fall practices.
"It's definitely better when you can go against a different color of jersey," Pioneer coach Jari Brown said. "It was good to see that."
Brown said he plans to watch the team's Week 1 opponent, Birmingham Seaholm, later Thursday, before reviewing film of both teams and starting to prepare for the season opener next Thursday.
Among the standouts for Pioneer Thursday were senior Brad Koenig, who broke off some big runs as a fullback and got to the quarterback several times from his linebacker position. Koenig stood out on the SEC's top defense as a junior with 21 tackles, 36 assists, 14 tackles for loss, 3.5 sacks, two interceptions, four pass breakups, a forced fumble, two blocked kicks and a safety
Koenig is returning after winning team MVP honors and first-team All-SEC as a junior.
"When we started to evaluate the film from last year, he really stood out," Brown, in his first year as coach, said. "We think he's going to have a great senior year."
Koenig is part of a senior class that's small in both numbers and size for the Pioneers.
"Sometimes size isn't always the key, I think our guys do a great job of playing fast," Brown said.
Lincoln unveiled a new-look offense Thursday, starting with 6-foot-3 junior quarterback Eugene Smith. Smith started on junior varsity as a sophomore last year, and Railsplitters coach Chris Westfall said he was happy to see him finish the day with no turnovers.
"The fact that he took care of the ball was good," Lincoln coach Chris Westfall said. "We're pretty happy with him so far."
And it helps that of the Railsplitters' three starting wide receivers -- Tyler Mabry, Lazon Hicks and KJ Osborn -- all are 6-foot-3 or taller, and are all three juniors
Thursday marked Lincoln's second scrimmage, after it held an intrasquad one Saturday. And as the start of the season draws closer, Lincoln's speed of competition grows faster.
"We're a heck of a lot faster today than we were last Saturday, so that's good," Westfall said.
Kyle Austin covers sports for AnnArbor.com. He can be reached at kyleaustin@annarbor.com or 734-623-2535. Follow him on Twitter @KAustin_AA.