Posted on
Tue, Dec 11, 2012 : 10:43 p.m.
Pioneer, Lincoln stay unbeaten and other Tuesday night results
By Kyle Austin
This file will be updated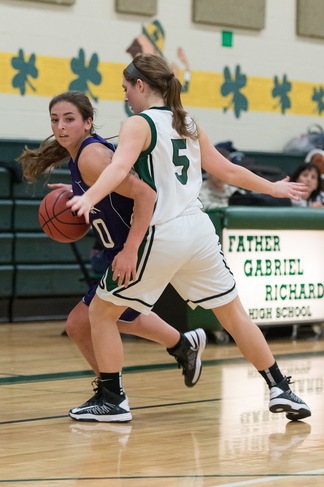 Courtney Sacco | AnnArbor.com
AnnArbor.com Washtenaw County Scoreboard
Greenhills 63, Novi Franklin Road Christian 61 (OT)
Story | Boxscore
Greenhills' (2-2) Jackie Oestreich helped bring the win home with 42 points, 24 rebounds and three blocked shots. She overshadowed a similar dominant effort from Novi's Kristen Massey, who came up with 37 points in the loss.
Oestreich is committed to volleyball at Division II Lake Superior State.
A 3-point basket by Elisia Ceballo-Countryman with three seconds remaining in overtime was the difference as Greenhills won a wild thriller.
"This was just such an emotional game for us to play," Greenhills coach Rachel Cortis said. "Elisia honestly just made that while we were in transition on a fastbreak."
The overtime win was especially sweet for Greenhills, as Hajra Bhurgri made a basket to send the game to an extra session.
"They made a good run on us in the first quarter. We just had to get through it," Cortis said. Novi Franklin Road Christian outscored Greenhills 15-7 in the first quarter.
"Jackie's just been doing a phenomenal job," Cortis said. "She's averaged 30 points a game for us this season."
Lincoln 68, Dearborn Henry Ford 31
Story | Boxscore
Ypsilanti Lincoln's Jaslynn Rollins led the Railsplitters with a double-double, 16 points and 14 rebounds. Arie Cargor and Dominique Foley scored 17 and 14 points, respectively, adding to Rollins' 16.
"Our senior leadership has been great," Ypsilanti Lincoln coach Mike Foley said. "Arie Cargor, Katelyn Morris and Jaslynn Rollins have done a great job stepping up and Dominique Foley has followed suit."
Ypsilanti Lincoln (5-0) remains undefeated going into week three, but Foley said there is still room for improvement.
"This is definitely a great way to start the season," he said. "We've been pretty well rounded in our offensive strategy. We need to get better executing offensively under pressure."
Pioneer 64, Belleville 22
Story | Boxscore
Three scorers reached double digits for Ann Arbor Pioneer (3-0): Jennifer Fichera scored 13 points, Desiree Cougill scored 11, and Brianna Worthing scored 10.
Pioneer moved the ball up the court successfully against Bellville, and the team did well with its shot selection.
"We played very unselfish," Pioneer coach Crystal Westfield said of her team's 21 assists. "They work really well together, and they have a good chemistry going."
Westfield said that her team's biggest test will be against its next opponent.
"We play Flint Northern at home on Friday," Westfield added. "We may have beaten them three times in the past 22 years. They are going to be a challenge."
Saline 56, Milan 9
Story | Boxscore
Caitlin Eillis led Saline (3-1) with 11 points, followed by Samantha Blozits, Alana Hollis and Amanda Zylstra with eight apiece, topping Milan (1-2).
"We executed much better tonight which was good to see," said Saline coach Jeff Waltz, whose team improved to 3-1 overall. "We also got some shots to fall which helped our confidence all night."
Adrian Madison 53, Whitmore Lake 18
Story | Boxscore
Maddie McNeil led Adrian Madison with 16 points scored, and Brittany Kelly scored nine.
Whitmore Lake's (1-4) Abby Salata scored six points.
As a team, Whitmore Lake only had seven fouls, and that attributed to the team's lack of aggressiveness.
"It was one of those slow nights," Whitmore Lake coach Jen Taylor said. "Hopefully, we can try to get our players intensity up in practice (this week). We need to try to get them moving around; they need to be more intense."
Howell Association of Christian Homeschoolers 38, Saline Washtenaw Christian 26
Story | Boxscore
Saline Washtenaw Christian (0-3) was led by Rachel Ballantyne, Michaela Donat and Kara Doss with seven points each.
"We had 20 steals, but our turnovers were once again a problem," Saline Washtenaw Christian coach Bob Trevino said.
In the fourth quarter, Saline Washtenaw Christian closed a 17-point HAACH lead to 12 points.
Flat Rock 50, Chelsea 43

Chelsea falls to 1-2 on the year. Further details not available.
AnnArbor.com Coverage:
Dexter 47, Manchester 35
Story/Photos | Boxscore | Dexter starters pivotal