Posted on
Fri, Nov 9, 2012 : 5:14 a.m.
Pioneer out to defend water polo state title, but goes into tournament as underdog
By Kyle Austin
The Pioneer High School water polo team enters the state tournament this weekend as the defending champion, having swept through six district and regional tournament games without a loss.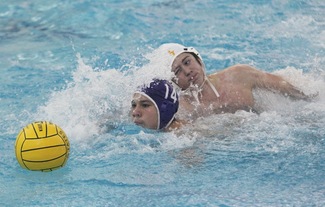 AnnArbor.com file
But few would consider them a favorite to repeat this year.
The Pioneers have one of two No. 1 tournament seeds, as a regional champion. The other belongs to Rockford, which comes into the tournament at a perfect 47-0.
Pioneer is 28-11 on the year. Four of those 11 losses came against Rockford, each by six goals or more.
Taking down Rockford is the challenge for Pioneer and the two other Washtenaw County teams to qualify for the state tournament, Huron and Dexter.
The state tournament starts Friday at East Grand Rapids High School with quarterfinals with semifinals and finals to be played on Saturday.
The Pioneers wouldn't face Rockford until the tournament finals. They open with Zeeland at 6:30 p.m. Friday. Pioneer beat Zeeland, 6-5, in their only matchup this year.
HURON
Record: 32-8.
State Ranking: 7.
Regional Result: Beat Dexter, 13-5 in third-place game.
First-round matchup: Hudsonville, 7:45 p.m. Friday.
Overview: The River Rats lost by narrow margins in district and regional play, falling to Skyline in overtime in the district finals and to Pioneer by one in the regional semifinals. Hudsonville won, 10-7, when the two teams played Sept. 14.
DEXTER
Record: 15-21.
State Ranking: 8.
Regional Result: Fourth place, lost to Huron, 13-5 in third-place game.
First-round matchup: Rockford, 4 p.m. Friday.
Overview: The Dreadnaughts scored an upset win over Skyline in the opening round of regionals to secure their state finals spot. Skyline had won two regular-season matchups and one tournament matchup between the two teams.
"It's a tough task to say the least," Dexter coach Brian Semple said. "They're a strong team with a ton of depth. Obviously, they play a lot together. They have a lot of experience and that shows."