Posted on
Fri, Sep 7, 2012 : 11:46 p.m.
Pioneer rallies behind fired Dexter coach Tom Barbieri in 69-0 win over Dreadnaughts
By AnnArbor.com Freelance Journalist
Daniel Brenner | AnnArbor.com
by Phil Lozen for AnnArbor.com
Forgive Pioneer assistant coach Tom Barbieri if he instinctively headed toward the west sideline Friday night at Al Ritt Field in Dexter.
Barbieri spent ten years on the sidelines for the Dreadnaughts before being fired following the 2010 season, and some habits die hard.
Barbieri, who remains a physical education teacher in Dexter, greeted the Dexter student section before the game prior to taking up his post on the Pioneer sideline and watching his new team pound the Dreadnaughts 69-0.
"(Barbieri) loves this community," Pioneer coach Paul Test said of his assistant's former coaching home. "He gave his heart and soul to the Dexter community for ten years, and he's giving his heart and soul right now to Pioneer football. I'm excited for him."
More coverage: Boxscore at MLive.com | Photo Gallery | Friday night football roundup
And while Barbieri downplayed during the week any notion of his Pioneer players "winning one for Tom", the Pioneers (1-2, 1-0 SEC Red) certainly made their mark early, and often.
The game was the Southeastern Conference opener between cross-division opponents, but it was clear the players were motivated to perform on behalf of Barbieri.
"It was on our minds," admitted Bradley Koenig, who blocked two punts for Pioneer, returning one for a touchdown. "(Barbieri) wanted us to play our best tonight. He reminded us during the week that Dexter wanted to come out and beat us, too, so it was nice to get the win."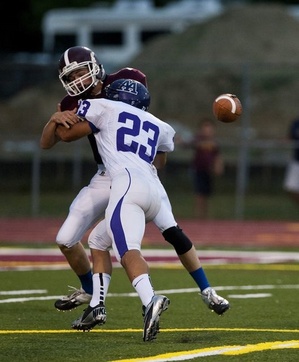 Daniel Brenner | AnnArbor.com
"It's different looking at the field from this side," Barbieri said after the game. "A couple times I was yelling at the Dexter kids 'Keep playing, you're alright'. It was just a situation where the Pioneer kids were like 'We've got your back coach' and they played with motivation tonight and you know it just makes you feel good to know someone would dedicate their performance to you."
The game wasn't even nine minutes old and Pioneer had only run ten offensive plays yet they already led 21-0. In that time Koenig got his blocks and a touchdown. By the time Zak Davis scored his second touchdown of the night, on a 33-yard sprint with 3:09 still to go in the first quarter, Pioneer had already gained more yards (87) than Dexter would all night (53).
Koenig was a defensive star for Pioneer, sacking Dexter quarterback Andy McWilliams and forcing a fumble that guard Thad Stalmack returned for a score in the second quarter, and then on one of the final plays of the game, storming the Dexter backfield and stealing a pitch meant for a Dexter running back and carrying that 49 yards for the final Pioneer score.
"My job was to make sure the punter kicked it on time, "Koenig said of his pair of blocks. "In both cases I saw the opening and I just got them. We pride ourselves on our "D" and to play like this tonight feels good."
Davis scored three touchdowns for Pioneer while backfield mate Marquise Thomas added two and Anthony Radu and Darius Sanderford added one each. Quarterback Aedan York only attempted two passes the entire night.
Dexter, meanwhile, couldn't recover from the early hole. The Dreadnaughts (0-3, 0-1 SEC White) first seven possessions ended with four punts and three fumbles. Defensively, meanwhile, Dexter never forced Pioneer into a punt or a turnover.
The Dreadnaughts couldn't even get a break in the kick return game, as Pioneer kicker Eric Kristensen boomed kickoff after kickoff into the endzone for five touchbacks.
And the wild ride for Pioneer continues next week when they play at Saline, where current Pioneer offensive coordinator Mike Glennie coached for ten years before resigning last season. Though Test expects Glennie to downplay that aspect.
"He just wants to win, he knows Saline will be hungry for that one," Test said.
"We needed something for confidence, but we're mature enough to know we have a lot more work to do," Test said, looking to his team opening the SEC Red slate next week against the 3-0 Hornets. "The SEC Red games, they'll all be tough."
Phil Lozen is a freelance sports writer for AnnArbor.com.