Posted on
Sat, Nov 3, 2012 : 6:49 p.m.
Pioneer, Saline, Dexter, Chelsea all make top ten in boys cross country state finals
By Kyle Austin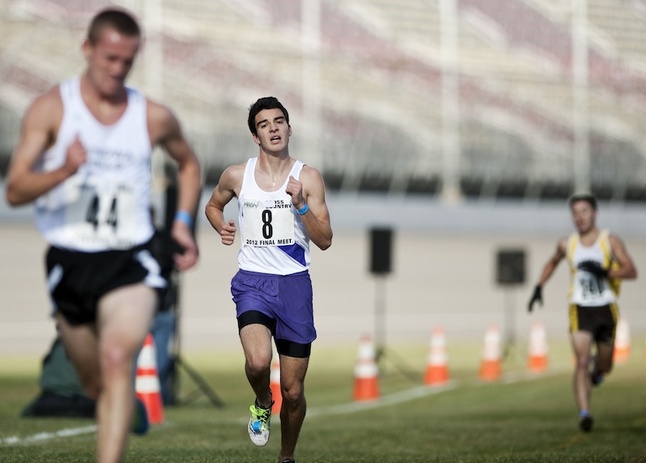 Daniel Brenner | AnnArbor.com
BROOKLYN -- The Pioneer boys cross country team finished tenth at last year's state finals, but there was one problem when it started this year looking to improve on that mark.
"Every single team last year that was in front of us had virtually the entire team coming back from last year," Pioneers coach Don Sleeman said.
So Sleeman and his team knew that if it wanted to move up in this year's standings, it would take more than just hoping competitors had graduated.
And Saturday, against a field that required running 15 seconds faster than last year to make the all-state podium, the Pioneers improved by five places, finishing fifth overall at Michigan International Speedway.
"When we got here we were around eight, nine or ten in the state," Sleeman said. "We finished up number five, that's what we accomplished. Every one of my kids had their best performance of the year, and we did really great and we're really pleased with it."
The Pioneers were one of three Washtenaw County schools to finish in the top eight in Saturday's Division 1 race. Saline finished 12 points and one spot behind, in sixth, and Dexter came in eighth.
Chelsea also recorded a top-ten finish, checking in at sixth in the Division 2 race.
"You've got four teams from our league in the top ten," Sleeman said. "That's just what we're facing all the time. It's very, very competitive for us and for our whole league."
Pioneer was led by junior Costa Willets, who came in sixth overall at 15:22.6, just fifteen seconds behind the overall winner, Brian Kettle of Highland Milford. That marked an improvement of 42 places and nearly a minute from last year, and was tops among male area finishers in any division Saturday.
"Costa's one of these guys that's just like 'I've got to be first, I've got to be first, I've got to be first,'" Sleeman said. "He forces the issue a little bit, then he can't hang on to it, but you can't fault him for being competitive. He's very, very competitive."
Pioneer's Galen Burrell also earned all state honors, coming in 15th overall at 15:36.
For Saline, coming off a regional title, this also marks the second straight top ten finish, after the Hornets finished fourth last year. Grant Praschan was the Hornets' top finisher, coming in 17th place at 15:40.3.
Praschan, a senior in his third state finals, said he was around 27th with 400 meters to go before he found an extra boost of energy to move up ten spots.
"I was just remembering all the years of training I've had and all the dreaming I've done about trying to get up on the podium," Praschan said. "I was like 'I'm not going to lose this now.' I found a sudden surge of energy at the end."
Dexter, after a sixth-place finish last year, finished in eighth, led by a 35th place finish by Matt Greve.
Division 2
(Full results)
Chelsea finished sixth overall, marking its best finish since it came in fourth in 2008. It was an improvement of two spots over its finish from last year when it had the advantage of individual state champion Bryce Bradley.
"We've improved, and I'm really proud of us as a team," senior Austin Horn said. "Every single person did their best today. I'm really happy with where we finished as a team. This has been a great year for us."
Horn, who won an SEC White title last month, came in 12th overall at 15:43.2. He was followed by junior Jacob Stubbs, who came in 25th at 15:57.1.
"This had absolutely no pressure going into it," Horn said. "We made it to state, we won regionals, that's all I really cared about. I was glad I was here."
Milan also qualified for the state finals as a team, finishing 24th overall. Freshman Joey Humes finished 74th at 16:32.1 to lead the way.
Division 3
(Full results)
Manchester senior Matt Kemner was the top area finisher, coming in 40th at 16:45.4. Father Gabriel Richard sophomore Colin McNally came in 62nd, leading an Irish team that came in 26th overall.
Kyle Austin covers sports for AnnArbor.com. He can be reached at kyleaustin@annarbor.com or 734-623-2535. Follow him on Twitter @KAustin_AA.