Posted on
Fri, May 10, 2013 : 11 a.m.
Saline earn big girls soccer win over Dexter and more Thursday results
By Kyle Austin
Girls Soccer
Saline 5, Dexter 0
Story | Boxscore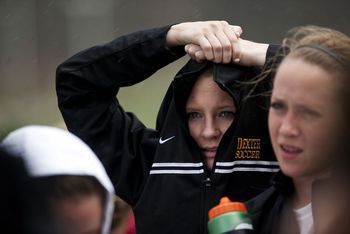 Daniel Brenner | AnnArbor.com file photo
Taylor Mulder led with three goals and an assist as the Saline girls soccer team topped Dexter 5-0 on Thursday.
Saline hasn't defeated Dexter in three years, according to Hornets coach Dana Restrick.
"They're usually a very threatening offensive team, which is a credit to them," Restrick said. "It's a matter of pride for our defense to get the shutout."
Dexter goalkeeper Stephanie Misevich had seven saves.
Pioneer 4, Chelsea 0
Story | Boxscore
After a narrow first half, Pioneer pulled ahead further with three goals in the second half and cruised to a 4-0 win over Chelsea in Thursday girls soccer action.
The shutout was Sofia Gambini's fourth of the season.
"It was nice to see us continue to improve on offense after struggling to score at the beginning of the year," Ann Arbor Pioneer coach Chris Coleman said. "Hopefully we can keep this consistency going into the playoffs."
Katie Matton, Julia Crowe and Audrey Park also had goals for Ann Arbor Pioneer (5-3-1 overall) as Gambini stopped two shots.
Sapp had two assists, and Sam Freshley and Jennifer Fichera recorded one apiece.
Manchester 9, Clinton 2
Story | Boxscore
Sophomore Jessica Manders led the Manchester girls soccer team (9-0) with four goals and an assist, as the Flying Dutchmen topped Clinton 9-2 on Thursday.
Sophomore Sydnie Ahrens and senior Taylor Manders each added two goals, and Ahrens had three assists.
"(Those) three phenomenal forwards just put a tremendous amount of pressure on the defense," Manchester coach Mark Davis said. "Jessica (Manders) has 27 goals this season. Her sister (Taylor Manders) has been feeding her the ball, and Ahrens has been making it really easy to get to the net.
"I'm glad, as a coach, I don't have to defend against them."
Manchester goalies Kendra Beasley and Audrey Dorman had three saves each.
Baseball
Saline 5, Lincoln 2; Saline 6, Lincoln 5
Story | Boxscore
Saline's Eric Berki threw a five-hitter in his team's 5-2 Game 1 win, striking out six in seven innings, while allowing five hits, two walks and two earned runs, and the pitcher improved to 3-0 on the season.
Andrew White earned the win in Game 2, pitching a scoreless seventh inning with one strikeout and one hit allowed.
Saline's A.J. Korzuck led the Hornets offense with four hits, and Joey Sweigart and John Malbone each added three hits, including a double.
Lincoln's Maverick Bristol led the Railsplitters with four hits, including a triple, and Darryl Jordan hit a home run and scored three runs.
Huron 12, Adrian 6; Adrian 5, Huron 2
Story | Boxscore
Huron's Joe Cleary took the decision in the 12-6 Game 1 win, striking out four in six innings, while allowing 10 hits, three walks and six earned runs.
Huron lost the second game 6-2, with Grant Strickler allowing three hits, two walks and four runs over 1 1/3 innings in the loss.
Max Teener and Bobby Knutilla led the Huron offense with two hits and two RBIs apiece.
Adrian's Hunter Hayes led the Maples with two hits and two RBIs, and Brett Bartels added three hits and one RBI.
Dexter 15, Pioneer 5; Dexter 12, Pioneer 1
Story | Boxscore
Jon Haley led Dexter with five hits, two RBIs and four runs scored, as Dexter baseball team defeated Ann Arbor Pioneer 15-5 and 12-1 in a home SEC crossover doubleheader on Thursday.
Greg Goffee had three hits and four RBIs, while Andy McWilliams and Cole Rize contributed two hits apiece.
"Dexter played well and hit the ball well," Pioneer coach Jerry Holley said. "We made our usual mistakes and put too many runners on base. They handled us pretty well in both games."
Kyle Austin covers sports for AnnArbor.com.