Posted on
Sun, May 2, 2010 : 3 p.m.
Pioneer senior is 'all heart' on lacrosse field after two brain surgeries
By Pete Cunningham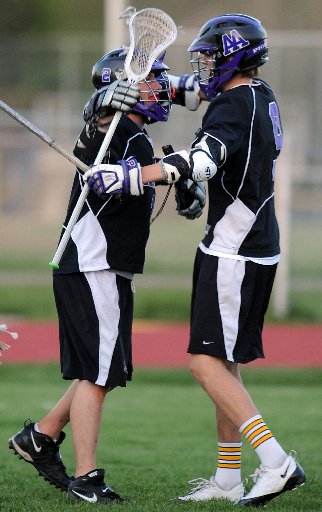 The clock ticked down on what was, in many ways, an inconsequential game. The Pioneer High School boys varsity lacrosse team led by 12 goals in what would eventually be
a 19-2 win over Lincoln
.
Pioneer's players had every reason to just go through the motions last Monday. They didn't. The offense pressed on. When that 12-goal lead was extended, the sidelines erupted. Players swarmed senior Logan Duddy, who scored the 13th goal, looking for high-fives, fist bumps and every other form of congratulations they could possibly bestow. Five Pioneer players registered their first career goals that night. Duddy, a senior, was the only one mobbed by his teammates afterward. That probably had something to do with the fact Duddy still had more career brain surgeries than points.
Pilocytic astrocytoma. It's a fancy way of saying brain tumor, and when Logan Duddy was a 6-year-old, he had one the size of a tangerine lodged in the right side of his brain.
After 14 hours of surgery at the University of Michigan's Mott Children's Hospital, Duddy emerged without vision in the left side of each eye, weakness on the left side of his body and - because the tumor's location made it impossible to entirely remove - the possibility that it could return. "He's had to overcome, since he was 6, a lot of barriers just by virtue of being physically different," says his father, Steven Duddy. "He's all heart. He's never going to be the best player out there because he's got these physical limitations that relate to the tumor and the surgery, but his goal has always been to play varsity lacrosse." Despite the fact he walks with a limp and his left arm is weak, Logan has grown up about as active as anyone can, refusing to let his limitations define him. As if he had a choice? Call his yoga instructor/personal trainer/triathlon coach of a mother, Lisa Hesse and you'll more than likely get a voicemail explaining that she's "outside playing." That could mean training for her 18th marathon. Logan's brother, Sean Duddy, plays hockey at Ohio State University, and Logan's love for lacrosse can be credited to Steve, who played while in graduate school at Wisconsin. Logan's love for the game evolved out of a common-sense approach to his situation. "I could never skate, so I could never play hockey. In baseball, I could never really use my left, and I never figured out how to switch my glove fast enough to be efficient. Lacrosse, it's easy enough to play with one hand." Logan Duddy says. "I've never really been as good or enjoyed any other sport as much as I love lacrosse."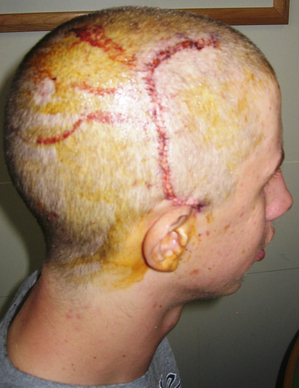 For 11 years, Logan was never far from his lacrosse stick and, by all means, lived a normal life. That is until October 2008, when his annual MRI revealed the tumor had returned.
"We thought we had that sucker licked because it had sat dormant for 11 years," Steve says. "When we found out it came back, it was kind of devastating." Not so much for Logan, who has never wasted time feeling sorry for himself. Most of his questions about the surgery revolved around when he could return to the lacrosse field. "That was really his biggest concern, 'When am I going to be able to play lacrosse again,' " says Hesse. "It was comforting to see him like that because we, as parents, look at it from a different point of view.
"That's the beauty of youth." Scar tissue from Logan's first surgery meant a path to the tumor was basically laid out and Logan experienced no additional complications as a result of his second brain surgery. For this, Steve is quick to credit the surgical skills of Karin Murazko, Hugh Garton and Chris Fox. "He had an amazing surgical team," he says. "Twelve hours of surgery and he came out no worse for wear. It's incredible" Also unscathed was Logan's optimism. "When we visited him at Mott's, he had a huge scar and shaved head. It was hard for me and his teammates to see him that way," says Pioneer coach Darren Millman. "And there's Logan, cracking jokes, going out of his way to make us feel more comfortable."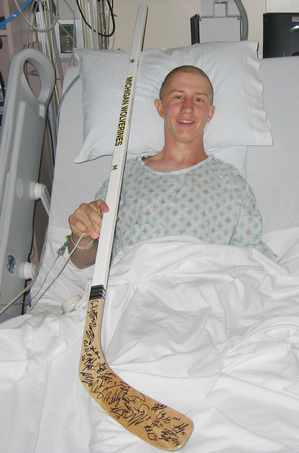 Fox, who won two NCAA hockey titles playing under coach Red Berenson at Michigan, got Logan a stick autographed by the current team. Generosity aside, he couldn't resist talking trash about Logan's Ohio State hockey-playing brother.
Sean, of course, couldn't stay muted about his brother's maize-and-blue clad hospital room, either. "(Fox) was laughing at me because my brother plays for OSU and my brother was chirping me because I've got all this Michigan garb," Logan says with a laugh. "So I was kinda getting it from both sides." No wonder he was back in school within a week.
Most sports are, to some degree, physical. Lacrosse is a few notches above those. It's not exactly the kind of game a mother wants to see a son who lacks peripheral vision on his left side jump into after his second brain surgery. "I definitely was (apprehensive)," Lisa says, gasping as though her worries return every time she's reminded of the sport's brutality. "He's had three concussions. I told him he's on concussion probation. Get another one and you're done." Despite the concussions, despite the surgeries, Logan's doctors cleared him to play, so he was back out for the team the spring of his junior year. "I really had to trust the doctors, be patient and really trusting," says Hesse. "He doesn't have that left peripheral vision, so sometimes when you're watching you just know he's going to get crushed. "He's on his own journey, but it's been my hardest challenge not to put him in a bubble, because that's no way to live life." Making the varsity team at Pioneer, which has reached the Division 1 state semifinals each of the past two seasons, was no easy task. While Logan accomplished his goal of returning to field the spring after his surgery, it would be another year before he made varsity. "It was tough because a lot of guys I played middle school with got bumped up to varsity before I did and there were a few guys that were younger than me that got bumped up," Logan says. A junior on junior varsity, giving up was never an option. "The way I looked at it, if I played hard enough I would be on varsity," Logan said. "So I was like, OK, play hard on JV, stick it out, and eventually get to be on varsity." Logan accomplished that goal this season. "We don't cut kids, but at the same time, you have to earn your playing time," Millman says. "Logan is always the hardest-working player at practice, and I give his teammates credit. We have all-state defenders that he goes against every day. He doesn't want them to take it easy on him and they don't." After Logan accomplished his goal, Millman set one of his own.
"At the top of my list of goals for this season was to put him in a position to score," Millman says. When Logan scored that first goal, the team's reaction made it obvious that Millman wasn't alone. "You would have thought we won the state championship," Millman says. "All the guys, they were stoked. I was like, OK, I just scored my first goal. I was happy, but I wasn't going crazy," Logan says. "It was a relief, but the other guys were jumping up and down and having fun with it." "That's the biggest goal I've ever been a part of," says senior captain Max Zwolan, who led the celebration on the field after Logan's scored. "Everybody was just really happy. I've never seen the team react like that. That's the kind of guy Logan is, he doesn't take a play off, never stops working hard. One of the best teammates I've ever had. Everybody was just really happy for him." Logan's dad, Steve, missed his son's first goal and was beating himself up over it. Two days later, Steve was in the stands for Pioneer's game at Ypsilanti. Logan scored a hat trick. After every goal, Steve says, "the bench was erupting." Pete Cunningham covers sports for AnnArbor.com. He can be reached by e-mail at petercunningham@annarbor.com, or by phone at 734-623-2561. Follow him on Twitter @petcunningham.