Posted on
Sat, Nov 12, 2011 : 5:36 p.m.
Pioneer football team shut down and shut out by Detroit Catholic Central defense
By Pete Cunningham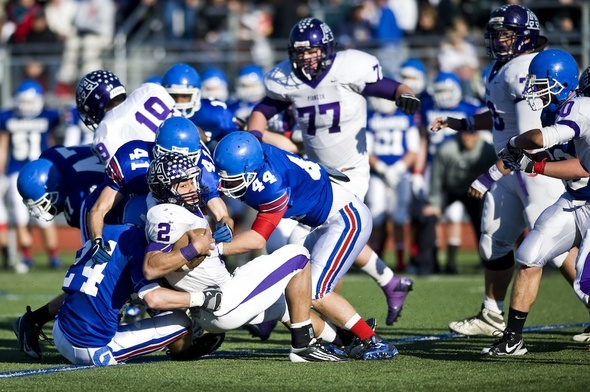 Joe Tobianski | AnnArbor.com
NOVI -- The defense for the Detroit Catholic Central football team didn't want to be known as the one that Drake Johnson broke the state record for rushing yards in a season against.
Mission accomplished.
The Shamrocks dominated the line of scrimmage in the Division 1 regional championship game on Saturday, holding the Pioneer High School star running back to just 43 rushing yards and Pioneer to 32 yards of total offense in a 21-0 victory.
More coverage: Boxscore at MLive.com
Johnson ended the season with 2,800 rushing yards -- 90 shy of the single-season state record -- as Catholic Central advanced to next weekend's state semifinals against Rockford.
Pioneer football related content
"They're physical, probably the best O- and D-line we faced all year," said Pioneer coach Paul Test. "We weren't able to do what we do which is run power and counter (long pause) and run the ball."
The driveway of Detroit Catholic Central's campus is lined with signs in support of the football team. The students and parents yell loudly throughout the game for the team that's been atop the state rankings all season long.
Johnson said he thought his team was "shell shocked" by its surroundings.
"I think when we came out, our whole team was scared at first," Johnson said. "Our team, they were caught in the awe of it. The 'glory' that's DCC."
Johnson wasn't the only one that noticed.
"They were surprised, you could tell, at the way we came out," said Catholic Central two-way lineman Matt Godin, a University of Michigan commit. "We were just more physical than their offensive line."
Catholic Central didn't do anything fancy, just ran in chunks, eating up clock and keeping the ball away from Pioneer.
The Shamrocks (11-1) opened the game with a 13-play, 66-yard touchdown drive that ate up seven minutes, 14 seconds of clock. Catholic Central went up 7-0 after a 3-yard run by Zach Bock, who led all rushers with 96 yards on 14 carries.
The opening drive was more yardage and plays than Pioneer would manage the entire half. Catholic Central took a 14-0 lead into the break after scoring on a 4:10 drive in the second quarter.
Catholic Central came out with a similar approach in the second half, forcing a three and out on Pioneer's first possession, then methodically driving the ball down the field.
"There's no use trying fool too many people at this point in time," said Catholic Central coach Tom Mach of his run-heavy offense. "Until somebody makes us change it, then we'll keep on doing it."
Catholic Central went up 21-0 on a 10-yard run by Anthony Darkangelo with 8:22 left in the third. It was Darkangelo's second touchdown of the game and the plenty more than the Shamrocks would need.
Pioneer would manage just two first downs the entire second half, and three total for the game.
"They didn't want any of it in the second half," Godin said. "You could see it in their eyes. Their offensive line didn't want to hit."
Pete Cunningham covers sports for AnnArbor.com. He can be reached at petercunningham@annarbor.com or by phone at 734-623-2561. Follow him on Twitter @petcunningham.