Posted on
Tue, Dec 18, 2012 : 11:09 p.m.
Pioneer girls basketball squeaks out win over Skyline with dramatic finish
By Matt Durr
In the final seconds of the Pioneer High School girls basketball team's game against rival Skyline, Jenny Fichera stepped to the free-throw line for two attempts with her team trailing by two and just 10 seconds on the clock.
Fichera made the first, but on her second attempt, the ball rattled off the inside of the basket and fell to the right side of the basket. Thankfully for Fichera and the Pioneers, Brianna Worthing was there to pick up the rebound and make a tough basket to give her team a 60-59 win in its Southeastern Conference Red Division opener Tuesday night at Skyline High School.
"She blocked me out on the left and I went to the right and (the ball) went to the right. It was lucky.
"It was her free throw," Worthing said while pointing to Fichera. "I couldn't have done it without her."
More coverage: Boxscore | Girls basketball roundup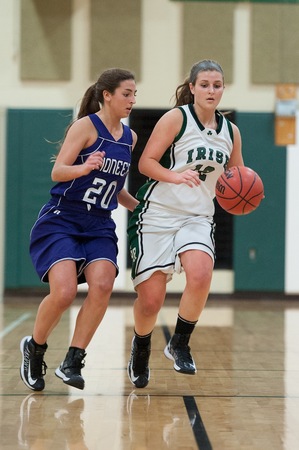 Courtney Sacco | Annarbor.com
The basket silenced a raucous Skyline crowd that had seen its team come back from an eight-point fourth quarter deficit to take the lead with 13 seconds to play.
"I'm very impressed with the way we fought back. Pioneer kind of threw a gut blow at us and got a pretty nice lead," said Skyline head coach Keith Wade. "The girls played their butts off in that press and created some turnovers, got some baskets in transition and we were able to get back in the game."
Mea Morris put the Eagles up 59-57 with a basket in the lane, but after Pioneer inbounded the ball, Skyline (3-3, 0-1 SEC Red) fouled Fichera sending her to the line for the fateful final attempts.
After Worthing's basket, the Eagles managed to get a good shot off, but Mia Morris' (Mia's twin sister) attempt clanged off the rim. Mia led all scorers with 18 points, while Mea added 17.
"They don't play like 10th graders. I'm not saying they are better than other guards, but I would match them up with any guards in our conference and feel comfortable with them going at it," Wade said about the Morris twins.
As the ball fell to the floor, the Pioneers jumped up and down in elation, while the Skyline players laid on the ground, almost refusing to believe how the game ended.
"We love playing Skyline, we were so excited to play this game. It's bigger than Huron for us," Fichera said. "We would have been really disappointed if we lost."
While winning the game was a big deal for the unbeaten Pioneers (5-0, 1-0 SEC Red), it came with a price.
Shortly before halftime, Pioneer starting point guard Emily Turner suffered an injury to her lower left leg and did not return. It was unclear what the injury was exactly or how long Turner could be out. Still head coach Crystal Westfield was already considering what Turner's loss could mean to her team.
"That's going to hurt us if she is going to be out for a few weeks," Westfield said. "We're hoping not. That is a big loss for us because she controls the top for us. That will definitely hurt us and we'll have to find someone to step up and fill that role."
Turner's injury capped off a frustrating first half for the Pioneers who were without Fichera and Desiree Cougill for a majority of it due to foul trouble. Fichera said those fouls changed the way the team approached the game.
"That was the most difficult thing in this game," Fichera said. " We felt like we couldn't really play defense. We were kind of playing hesitant defense and they were getting open shots because we didn't want to foul or we didn't want to press too much."
Sensing her team was struggling, Fichera opened the second half on fire grabbing four rebounds and dishing out two assists in the first two minutes if the second half.
"I felt like we needed a boost," Fichera said.
Fichera led the Pioneers with 17 points to go along with eight rebounds and five assists, while Cougill scored 16 points and grabbed nine boards in limited minutes.
Skyline is now 3-3 on the year and still in search of the program's first conference win. And while he was happy with the team's comeback, Wade says his players have to learn how to finish games as they grow.
"That's something we have to learn. We're going to take some growing pains and they're starting to learn that you can't leave a second on the clock," Wade said. "There's 32 minutes in a game and you gotta play 32 minutes.
"It's December and we've never played a conference game in December and we played Pioneer which is one of our biggest rivals before the break," Wade said. "We got a long season, this is just one game and we get another chance to play them at their place and maybe in districts."
Matt Durr covers sports for AnnArbor.com.