Posted on
Thu, Mar 10, 2011 : 7:10 p.m.
Pioneer swimming coach Denny Hill not going anywhere soon
By Bison Collins Messink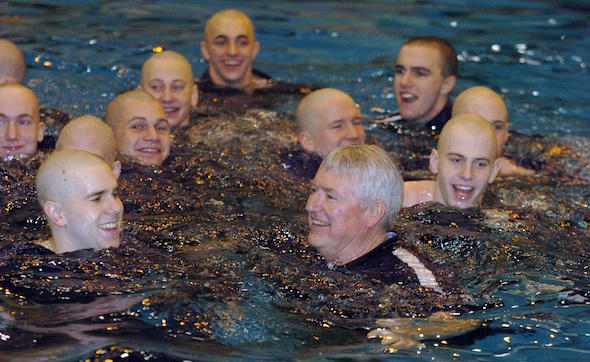 AnnArbor.com file photo
Denny Hill has won 15 state championships in boys swimming in his 42-year coaching career at Pioneer High School. He acknowledges that his 16th title isn't likely to come in 2011.
"I just don't think it's realistic to think we can go after Saline," he said.
Now that Pioneer is splitting students with Skyline High School, membership on Hill's boys swimming and diving team has dipped to 33 this season, down from as many as 60 at its peak.
But Hill has been around long enough to take it all in stride.
Hill, 66, is the first to make a self-deprecating joke about his advancing age and retreating memory, yet his year-by-year recall of his coaching career is impressive.
He can tell tales about his first state championship, in 1977, and list off the stars on the team. And he can recall the ebb and flow of his roster numbers throughout the years.
Decreased turnout due to a new high school is nothing new. Hill came to Pioneer in 1968, just as Huron High School was being built. Pioneer and Huron students shared Pioneer's building—with Pioneer students attending classes in the morning, and Huron students in the afternoon.
It is with those more-than four decades of history in mind that he says, "now, with Skyline, we are feeling that crunch where the numbers are down. But they'll come back and five years from now people won't even remember the hardship that we went through when Skyline was built."
Hill said this period has been hard on his swimmers.
"The problem is that the kids in our program feel that they're letting us down," he said. "That's not the case—they're working hard and doing their best."
Hill points out that after Huron and Pioneer split apart, the Huron boys swim team won two state championships (in 1970 and 1973) before Hill's team won its first.
"Within five or 10 years, Pioneer had its own identity and Huron had its own identity, and people didn't remember those growing up days," Hill said.
This past fall, Hill and his wife and co-coach, Liz, retired from the Pioneer's girls swim team, which won 16 state championships, including nine in a row from 2000-08, during their tenure. The couple's motivation was vacationing on Lake Michigan, which they haven't been able to do in years.
But, Hill says, as long as he and his wife are in good health, they will continue to coach the boys team.
Hill retired as a chemistry teacher at Pioneer in 2007 and says he doesn't miss teaching as much as he thought he would.
"I don't feel as in touch with the kids as I did before, but I can't say I miss it all that much," Hill said. "I play a lot of golf. And sometimes I actually play good golf. With all the problems they're having in education, I don't miss that at all."
Hill was known in his teaching career as a master of the play-on-words.
"Did you get the point?" he would ask students while they sharpened their pencils. And if a student ever asked for help during an exam, Hill would always offer the same response: "Tennessee." (Ten is C, for the play-on-word challenged.)
"It was to make the kids at ease so they could enjoy it," Hill said. "Chemistry was kind of a scary subject, but there are a lot of things with it that could be a lot of fun."
Now, if Pioneer students want to hear one of Hill's groaners, it looks like they'll have a few more years to find him on the pool deck.
Liz can testify, probably better than anyone, to how his humor translates to the pool.
"His favorite line," she says, "when they ask if he ever gets in the water, he says, 'Only if I take a corner too fast.'"