High School Football Preview:

Pioneer tailbacks and more of Washtenaw County's players to watch

Posted on Thu, Aug 26, 2010 : 7:06 a.m.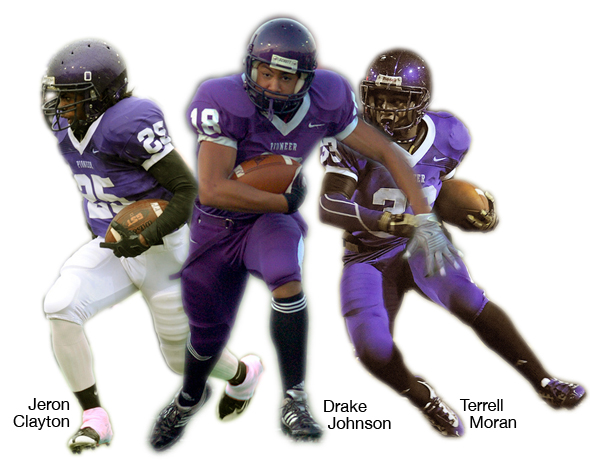 Ladies and gentlemen, come right up close and take a look at Pioneer High School's three-headed tailback. See it to believe it.
Individually they're junior Drake Johnson, the biggest and the fastest of the bunch. And senior Terrell Moran, who joined Johnson on the All-County and All-SEC Red teams last fall. And there's senior Jeron Clayton, who's shown flashes of his talent in two injury-plagued years on the varsity team.
Collectively, they're the best compilation of talent in Washtenaw County for the 2010 season.
"It's a great deal to be a part of when you're a head coach," says Pioneer coach Jeremy Gold. "We have three guys, all more than capable of starting anywhere in the state of Michigan, all on our team … and they can share the love."
Moran (5-foot-7, 170 pounds) rushed for 763 yards and six touchdowns last season. Johnson (6-1, 190) finished with 759 yards and 10 touchdowns. They were nearly interchangeable, with Clayton thrown into the mix frequently when he was healthy. This season, Clayton will also see time at slot back in Gold's effort "to get our best players on the field."
Gold says Johnson has had the group's most impressive offseason, returning to practice bigger, stronger and faster than he was a year ago.
"Drake is the real deal," Gold says. "He's elusive, can run away from you and he'll run over you."
And - considering Johnson was the Division 1 state champion in the 110 hurdles - he can also jump over you.
"He has everything you want in a back," Gold said.
But one thing Gold doesn't want from his backs is to get worn out. That's why having more than one feature back on the team doesn't bother him a bit. He prefers to spread out carries.
"I prefer to spread the wealth. We may have the one guy emerge as the ringleader of the bunch, but we definitely don't want to wear a kid down.," Gold said. "And the guy who had the hot hand that evening will get the rock at the end of the game, when it comes down to winning the game."
The best part of the three-back system, Gold says, is that there's no jealousy within the group.
"We talked coming into the season … it's not good enough to just know your role, you have to embrace your role," Gold said. "The kids are fine, we've got no beef. They're all excited about each other when they get a good carry, or the first to coach each other up when they've done something wrong."
LET'S GIVE THEM A (HEALTHY) HAND What do Saline running back Garrett Gordon and Lincoln wide receiver Kendall Thompson have in common? First, they're the leading returners at their positions in Washtenaw County.
Gordon rushed for 802 yards and 10 touchdowns out of the Hornets' spread offense in 2009. This season, coach Mike Glennie returns to his wing-T roots, meaning the senior should see more than the 16 carries he averaged each game a year ago.
Thompson averaged nearly 20 yards on 37 receptions for Lincoln and scored eight touchdowns. Coach Chris Westfall says Thompson should be more dangerous this season because the Railsplitters will have more talent at the receiver position, meaning he'll be double-teamed less often.
But there's one other thing the two players have in common: Both of them spent a large percentage of last year playing with a cast on a broken hand. An injury-free season should make them even more of a Player to Watch in 2010.
KYLE BAKER, THE TFL MAKER Huron coach Cory Gildersleeve says senior Kyle Baker has that presence on game film that grabs the eye of coaches. Including some college coaches. At 6-foot-6 and 215 pounds, Baker is one of those new-style "freak" athletes that are equally adept lining up as a defensive end or drop back to an outside linebacker position.
"He's very athletic for his size, moves well, has great body control," Gildersleeve said. "We're looking for him to make a lot of big plays for negative yards this season."
A NEW COPP IN TOWN Andrew Copp has been preparing to be Skyline High School's first varsity quarterback for quite a while now. After starting at the freshman and junior varsity levels the past two years, leading the Eagles' spread offense to a 50-point scoring average along the way. He'll take Skyline's first ever varsity snap Friday at Hartland High School.
"Andrew is a good athlete, a two-sport guy (hockey) that threw for 30 touchdowns last year, so he can throw," coach Randy Hutchison said. "And when we use a five-wide package with five receivers that average 6-foot-3, we have the ability to create some matchup problems."
HE'S REILLY, REILLY GOOD Reilly Quigley was part of that logjam at Pioneer's tailback in 2008, his sophomore season. In 2010, he has set himself apart as a team leader and a two-way returning starter. Now a slot back, safety and kick returner, Gold calls Quigley "the heart and soul of our team, the guy we count on through thick and thin. I'm really excited about him on both sides of the ball"
LEADING TACKLER X 3?
Ypsilanti's leading tackler in 2008: Sophomore linebacker
Marquez Gollman
. In 2009: Junior linebacker Marquez Gollman. In 2010: Senior Marquez Gollman would probably be a good bet.
Gollman, who's listed at 5-foot-11 and 175 pounds, will play a key role for a Phoenix defense that'll hope to continue the improvement it showed throughout the course of 2009. In the team's first five games, opponents scored an average of 44.4 points. In the last four, opponents scored 15.3.
A NEFF IS ENOUGH Manchester's Dylan Neff loves to play defense, and he's pretty good at it, too. The three-year starter on the defensive line has 13 career sacks, four short of the Flying Dutchmen's team record.
While the defensive side of the football is where the 6-foot-1, 280-pound senior feels most at home, he's also Manchester's most dominant offensive lineman. "Everybody and their brother knows that when we need a yard, we're going behind him," coach Wes Gall says.
Gall thinks Neff has the size and strength to play Division 1 college football. He bench pressed 225 pounds 21 times and dead-lifted 300 pounds 37 times. This year they'll work together on improving his speed for the next level.
"He has good agility, but enough for Division 1?" Gall says. "I do know he'll be pretty dominant in his senior year of high school."
GET 'ER DUNN Milan's Joe Dunn showed his abilities as a bruising tailback in last year's season opener against Ypsilanti, rushing for 250 yards. But after suffering an injury, he was never the same, finishing the season with 651 yards.
But the injury didn't prevent Dunn - a 6-foot-1, 216-pound senior that coach Steve Robb says "is pretty special" - from being a force at linebacker, making 48 tackles last year.
Robb prefers not to have players go both ways, but Dunn is back, healthy and contributing on both sides of the ball.