Posted on
Tue, Feb 26, 2013 : 8:08 p.m.
Pioneer tops Huron in hockey playoff opener and more Tuesday results
By Kyle Austin
This file will be updated throughout the night
Six area boys basketball games have been postponed from Tuesday to Thursday due to winter weather conditions.
AnnArbor.com Washtenaw County Scoreboard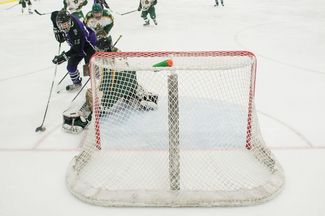 Courtney Sacco | AnnArbor.com file
Boys Ice Hockey Pre-Regionals
Pioneer 4, Huron 2
Story | Boxscore | Bracket
Pioneer built a 45-13 advantage in shots at the Ann Arbor Ice Cube, helping an early two-goal lead stand up in a Division 2 pre-regional game.
Cal Stripling, Niko Michos, Austin Caryl and Will Rudberg each scored a goal for Pioneer (18-7-1), which led 2-0 after the first period to keep Huron at arm's length.
Pioneer's Anthony Moran recorded two assists, while Caryl, Stripling and Rudberg also enjoyed two-point nights. Goalie Karl Gage stopped 11 shots in the victory, which advanced Pioneer to a regional semifinal matchup with Ann Arbor Skyline on Thursday.
Glen Camfield and Michael Ficaro scoredfor Huron (8-17-1). River Rats netminder Bobby Coulter made 41 saves to keep Pioneer within reasonable striking distance for most of the night.
Chelsea 3, Father Gabriel Richard 2 (OT)
Story | Boxscore | Bracket
Connor Carry forced overtime late in the third period and Brody Layher buried the game-winner early in sudden death to lift Chelsea in a Division 3 pre-regional game at the Arctic Coliseum.
Gabriel Richard (18-8-0) snagged a 2-1 lead just 10 seconds into the third and seemingly had a spot in the regional semifinals locked up. However, Carry scored a season-saving goal with two seconds left in regulation to set up Layher's heroics.
Twenty-three seconds into overtime, Eric Newman set up Layher, who also recorded an assist earlier in the night.
Chelsea's Joey Olmsted got the only goal of the second period to tie the score 1-1. Jacob Ryan assisted on all three goals for the Bulldogs, who outshot Gabriel Richard 50-16.
Chelsea goalie Charlie Miller stopped 14 shots. The Bulldogs (17-5-2) take on Jackson Lumen Christi at 6:30 p.m. Thursday in the regional semifinal round at the Arctic Coliseum.
Skyline 4, Carleton Airport 1
Story | Boxscore | Bracket
Skyline used three third period goals to earn a shot at rival Pioneer in Thursday's Division 2 regional semifinal.
Three different Skyline players scored in the third period of Tuesday's pre-regional in Dillon Baker, Blake Hill and Jeremy Bourque, who also added two assists for a three-point night.
The win sends Skyline (12-14) into a 7:30 p.m. game at the Ann Arbor Ice Cube against Pioneer.
"One thing our team has done is the second time we've played someone we've been much-improved," Skyline coach Mike Hagen said. "Pioneer will be a big hill to clilmb."
Yishai Ribon had given Skyline a 1-0 first period lead, while Ryan Eyler scored for Carleton Airport in the final period.
"It took us a while to get untracked," Hagen said. "We talked between the second and third period and told the kids we had to come out flyinig, that this was a playoff game and we responded. We played like individuals in the second period, but went back to moving the puck like we can in the third."
Jackson Lumen Christi 5, Dexter 1
Story | Boxscore | Bracket
Jackson Lumen Christi came back from a 1-0 deficit after the first period, shutting out Dexter 5-0 in periods two and three, led by Patrick Campbell, with three goals.
Marko Gleeson scored once and added three assists, and Michael Todd made 16 saves to earn the win for Lumen Christi.
"We had a lackluster first period, but we really turned up our play in the second and third periods," Lumen Christi coach Mike Wartella said.
Patrick Gronvall scored the single goal for Dexter, on an assist from Derrick Smith to open the game.
Zach Richards played strong in the net, making 23 saves for Dexter.
Boys Basketball
Greenhills 61, Arbor Preparatory 49
Recap | Boxscore
Greenhills played its strongest in the third quarter, outscoring Ypsilanti Arbor Preparatory 22-10, led by Andrew Khouri with a game-high 22 points, going 11 for 13 from the free-throw line.
The high-pressure man to man defense that Arbor Prep deployed, caused a few issues for Greenhills, putting a number of its players into foul trouble, but the Gryphons bench provided quality backup.
"Kijani Reed did a nice job coming in and playing under control, and playing defense," Greenhills coach Andrew Wright said.
Adrian Harrison scored 15 points to lead Arbor Prep, and Tariq Stinson added 11 points in contribution.