Posted on
Fri, Nov 4, 2011 : 11:34 p.m.
Drake Johnson runs, throws Pioneer past Temperance Bedford in district final
By Jason Idalski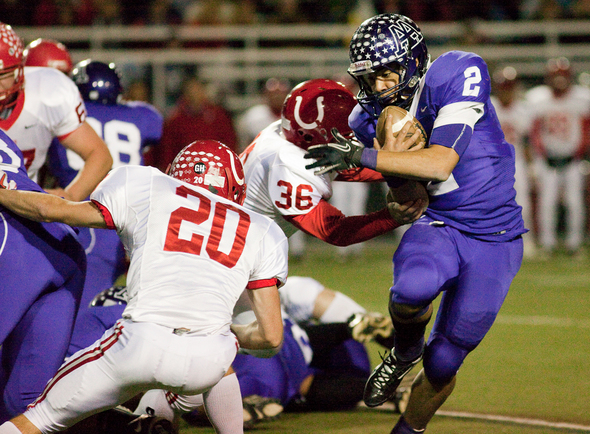 Chris Asadian I for AnnArbor.com
Big numbers have become an expectation for
Drake Johnson
.
The Pioneer High School running back had more eye-popping statistics in the Pioneers' 35-10, Division 1 district final win over Temperance Bedford on Friday night at Hollway Field: 36 carries for 348 yards and four touchdowns.
However, Johnson's 42 passing yards impacted the outcome almost as much.
Pioneer led 14-10 early in the fourth quarter, but faced a 3rd-and-15 at their own 29. The Pioneers had attempted one pass in the game, which went incomplete.
Pioneer coach Paul Test called a play that almost worked in the teams' regular-season meeting, a 38-14 Pioneer win on Sept. 30.
More coverage: Boxscore at MLive.com | Photo gallery
Johnson took a pitch, rolled right and threw a 42-yard completion to Anthony Radu, behind two Bedford defensive backs, to keep the drive going.
"That's the play that we use if nothing else is working," Johnson said. "Typically it never works, hasn't worked once this year, just works the one time we need it to."
An excited Johnson described the play from his vantage point:
"It was a duck, and I was like, 'This is going to end up bad,' I'm like, 'It's gonna get intercepted, it's gonna get dropped.' I'm like, 'This is awful.' And then all I hear is our cheers, all our fans go "Yeah!" and all them go "Doh!" And I'm like, 'He must've caught it.'"
He must've, after dropping the ball when the play was run earlier this year.
"Radu redeemed himself. That was a huge play at the time," Test said. "That was huge."
Bedford (7-4) coach Jeff Wood was left to lament how football is a game of inches.
"Our kid makes a great play on it, and (Radu) came up with the ball. All he had to do was get a fingertip on it, swat it away, and he missed it," Wood said. "We don't believe in momentum at Bedford, but if you want to point at one ... sure, you can point at that one."
Upon getting to see Radu with the ball, Johnson said of his reaction: "I'm like,'Oh, OK, fantastic. We got it, so let's keep running the drive and let's score."
And score they did to make it 21-10.
Dewan Olive came up with one of his four interceptions on Bedford's ensuing drive to give the Pioneers the ball at their own 2. After a quarterback run gave Pioneer (9-2) breathing room, Johnson's 95-yard touchdown run put the game away.
"All them, they're the reason why I do it all," Johnson said, referring to his offensive linemen. "They made a gaping hole, I just had to make one cut and make a guy miss and it was off."
Pioneer will play at the winner of Saturday's Canton vs. Detroit Catholic Central game next weekend in regional play. Either way it sets up an interesting matchup.
"Our kids got literally demolished the last two years by Canton in the playoffs," Test said of 56-26 and 60-24 losses to the Chiefs in its past two first-round games.
Pioneer started this season 0-2 with back-to-back losses to Warren De La Salle and Birmingham Brother Rice. Months ago, Test (who played on a state champion at Dearborn Divine Child) joked that throwing in Catholic Central would mean the Pioneers would play "the holy trinity" of Detroit Catholic High School League teams. Now, it's a possibility.
The win was Pioneer's first district title since 2002.