Posted on
Tue, Apr 16, 2013 : 11:34 p.m.
Pioneer sweeps crosstown rival Skyline in track and field dual meet
By Andrew Kuhn
The Pioneer High School boys and girls track teams swept their crosstown rivals Skyline on Tuesday at a dual meet at Pioneer.
Pioneer's boys team won 91-46 and the girls team won 110-27.
"It was competitive in many areas even though score was 91-46," Pioneer boys coach Don Sleeman said. "Skyline had some very competitive kids."
Dan Heeter led the way for Pioneer winning the 400-meter dash, leading the winning 3,200 relay team and coming from behind on the anchor leg to give the Pioneers a win in the 1,600 relay.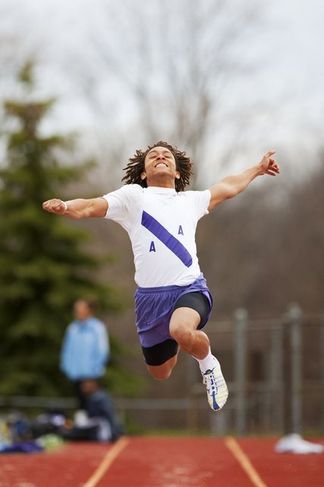 Andrew Kuhn for AnnArbor.com
Cole Taylor also had a big day, winning the long jump, running in the winning 4x200 relay and helping close the gap for Heeter as the third leg of the 4x400.
"(Taylor) made it easier for Dan Heeter to close it out," Sleeman said.
In the girls meet, Pioneer's Brittany Thomas won the 100 (13.11 seconds), the 200 (27.26) and was a part of the winning 400 relay team (51.15) as Pioneer took the top three spots in both the 100 and 200.
"I think the fact that we swept the 100 meters and swept the 200 meters shows that our runners our doing well," Pioneer girls coach Bryan Westfield said. "The kids finally had a chance to run in some decent weather."
Lauren Halpern won the 800 (2:28.85) and the 1,600 (5:27.72) for Skyline.
Westfield said despite his team's strong showing, he'd like them to be more prepared at this point in the season.
"We still have a long way to go," Westfield said. "We're not even close.
"We have to get as many people qualified for states as possible."
-- Compiled from staff reports.
Andrew Kuhn is a freelance photographer for AnnArbor.com.