Posted on
Sat, Sep 24, 2011 : 12:45 a.m.
Skyline quarterback sets state passing record, but Pioneer wins crosstown shootout
By Pete Cunningham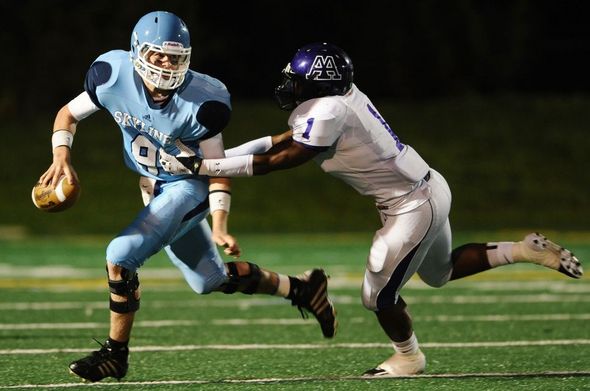 Melanie Maxwell | AnnArbor.com
The Skyline High School football team trailed cross-town rival Pioneer 52-49 with 32 seconds remaining and two timeouts at their disposal.
The way senior quarterback Andrew Copp had been throwing the ball all night, that wasn't just ample time for a couple desperation Hail Mary passes. It was plenty for a sustained drive.
After two quick completions, the Eagles were at the Pioneer 37 with 10 seconds left, well within Copp's range. He took two shots to the end zone, one intended for Theron Wilson, the other for Jordan Woods. Both had a chance to be caught, but both were batted down by Pioneer defenders.
More coverage: Boxscore at MLive.com | Photo Gallery
As Copp walked off the field with his head down, he didn't look the part of a quarterback who'd just thrown for a state record 557 yards. He looked the part of a quarterback still searching for his team's first win in front of a home crowd. One who'd trade the state record for just 37 more yards.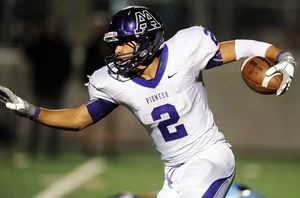 "It's heartbreaking right now," Copp said. "I didn't want a track meet, I didn't want to have to score every time. That's what ended up happening.
"I thought we played well, offensively and defensively, even though there were a few big plays. They battled and that's all you can ask for."
Pioneer running back Drake Johnson, meanwhile, celebrated wildly among the Pioneer student section, which had long since emptied the bleachers onto the Skyline field.
He didn't look the part of a back who'd just carried the ball 30 times for 394 yards and six touchdowns. The energy was afforded to the winning side.
Pioneer's final drive was representative of the entire night. Trailing 49-45 with 2:18 left in the game, Johnson returned a Skyline kick 52 yards to the Skyline 40-yard line. Then, Pioneer went to Johnson on five straight running plays, taking the lead on a 10-yard run up the middle.
"I can't do anything without this team behind me," said Johnson, who had a hand in batting down Copp's final pass. "I was nervous, but coach was like, 'Drake, I need you to play quarterback for a bit.' So, I was like, 'OK coach, I'll do whatever you want.'"
Johnson's coach is Paul Test, who left the field impressed by both teams.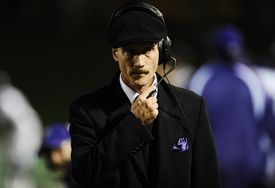 Melanie Maxwell | AnnArbor.com
"(Skyline is) a good football team," Test said. "Those guys can score any way, any time and we stopped them when we needed to."
Pioneer's most effective running play in the second half came on plays that didn't start with Johnson as the ball carrier. Quarterback Aedan York would hand the ball to Seth Harshberger, who would then hand to Johnson on the inside going the opposite way. Johnson said the team noticed the play working on tape from Skyline's loss to Monroe last week and decided to adopt it.
"That's the same play Monroe had," said Skyline coach Rod Jones. "For whatever reason, it was our Kryptonite. ... I don't know what it is about that play, but we can not stop it."
Both teams marched down the field with ease on the game's first two possessions, but the defenses began to make difference in the second quarter. Pioneer defensive back Chris Rollin came up with interceptions on back-to-back possessions.
"I just tried to play the ball," Rollin said. "I didn't care who they were I just tried to go get the ball."
Pioneer (3-2, 3-0 SEC Red) scored after both interceptions, getting a 30-yard Eric Kristensen field goal and a 46-yard Johnson run to go up 23-14.
After the Pioneer defense forced Skyline (2-3, 0-3 SEC Red) to a three-and-out -- the first of the game -- it looked like Pioneer would pad its halftime lead, but Alex Belanger picked off York in the end zone with 2:40 left in the half.
"That was huge," Jones said. "That play right there was what I thought was the tide turning for us, to bring us back."
That was plenty of time for Copp and the Eagles to drive 80 yards. Copp utilized four different receivers on the drive and closed the gap to 23-21 by hitting Wilson for a 15-yard touchdown with 1:02 left in the half.
It looked like the defenses might play a larger factor in the second half as both teams scored just seven points apiece in the third quarter, but it proved to be a calm before the craziness of the 43-point fourth quarter.
Woods finished with nine receptions, 216 yards and two touchdowns. Jack Clark had 12 catches for 121 yards and a score and Wilson had five catches for 147 yards and four touchdowns.
Pete Cunningham covers sports for AnnArbor.com. He can be reached at petercunningham@annarbor.com or by phone at 734-623-2561. Follow him on Twitter @petcunningham.