Pioneer's Garrett Halpert is Washtenaw County Boys Tennis Player of the Year
Posted on Thu, Nov 18, 2010 : 5:57 a.m.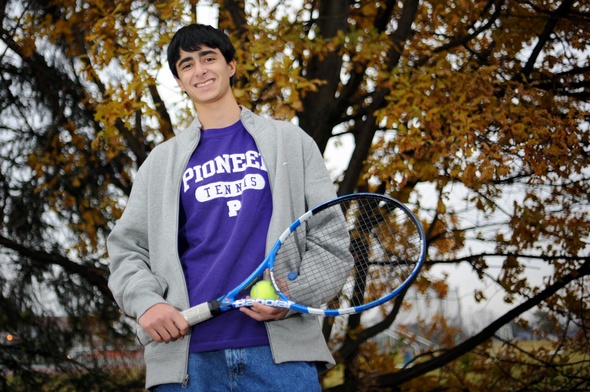 Melanie Maxwell | AnnArbor.com
The season was young, yes, but Pioneer High School's Garrett Halpert had already made his mark.
At the Huron Invitational on Aug. 30, Halpert, a three-star college recruit according to TennisRecruiting.com, defeated four-star recruit Alek Davila of Midland Dow in a top-tier No. 1 singles bout.
"It was my first big match of the season that let me know I could really do this," said Halpert, AnnArbor.com's Boys Tennis Player of the Year. "It was a nice way to start the season. I believed in myself that I could do big things along the way."
Witnessing the junior's win courtside, Pioneer coach Tom Pullen also saw the seeds of a big season being planted by Halpert, whose win helped Pioneer win the highly-competitive tournament.
"The Huron Invitational, that kind of set the tone for this season and how it was going to go (for Garrett)," said Pullen. "That was an outstanding performance early in the season."
And Halpert kept the pace.
The junior, who has played No. 1 singles for Pioneer since he was a freshman, rattled off 14 straight victories. During that streak, Pioneer earned a No. 1 Division 1 ranking in the Michigan High School Tennis Coaches Association poll.
More importantly for Halpert, Pioneer defeated its cross-town rival Huron, ranked No. 2 at the time, on the road in dual competition.
"Beating Huron was definitely the highlight of my year," admitted Halpert. "Especially when you've never done it and you do it twice in one year. That's something special that I'll always take away from this year."
The Pioneers once again edged Huron in the Southeastern Conference Red Division tournament, where Halpert won a league title. After wrapping up league play, Pioneer turned its focus toward the ultimate prize.
"Our main goal was to win state," Halper said. "There wasn't something (else) that could completely satisfy us."
The Pioneers fell just short of that goal, finishing two points behind Division 1 champion Detroit Catholic Central at the state finals. They settled for a regional co-championship with Huron - Halpert took the No. 1 singles title - and a runner-up finish at the MHSAA finals.
"I couldn't think of anything we could have done differently," said Halpert, who was beaten 6-4, 6-1 in the quarterfinals by Grand Ledge's Trevor Stoimenoff.
"I ran into an opponent that was playing too well for me that day," he said. "We put it all on the court, but things didn't turn out for us to win. I believe this team played their hearts out and played the best that they could on that day."
Halpert finished with a Washtenaw County-best 28-4 record at No. 1 singles and was named first team All-State.
"Garrett was tough all the way through (the season)," said Pullen. "He provided great leadership, certainly, by example - a very sound competitor."