Posted on
Wed, Feb 2, 2011 : 2:25 p.m.
Pioneer's Kyle Foster headed to Syracuse and more local athletes confirm college plans
By Pete Cunningham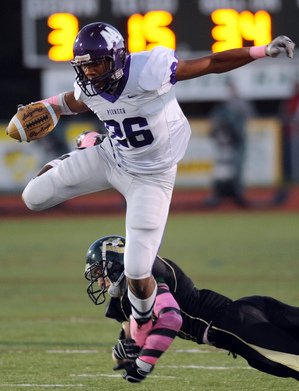 AnnArbor.com file photo
The so-called Snowmageddon that hit Ann Arbor delayed today's national signing day event at Pioneer High School, where senior Kyle Foster was supposed to make his college plans official.
There's a name for days like that in the place Foster will be playing his college football … Wednesdays.
Foster is headed to Syracuse, where there are no strangers to the type snowfall that hit Michigan this week.
Foster is the only Washtenaw County football player to accept a Division I scholarship offer. In 2010, the area produced four Big Ten players in Pioneer's Ricardo Miller (Michigan), Huron's Jeremy Jackson (Michigan), Saline's Joe Boisture (Michigan State) and Chelsea's Nick Hill (Michigan State).
The 6-foot-2, 200-pound wide receiver had 40 receptions for 511 yards and six touchdowns last season for the 5-5 Pioneers and was rated as a two-star recruit by both Scout.com and Rivals.com. He was a first-team all-Southeastern Conference selection as a receiver and linebacker.
Several other schools had shown interest in Foster, including Appalachian State, Central Michigan, Western Michigan, Wayne State and Memphis.
"Syracuse was for me because it was a full-ride and I kind of want to get away from home, and from the very beginning coach (Tyrone) Wheatley was very honest, always telling me the truth," Foster said.
Wheatley - the former Michigan great and current Syracuse running backs coach -is a longtime acquaintance of Pioneer coach Jeremy Gold. The two met through Gold's brother, Ian Gold, a former Michigan and NFL linebacker, and have kept in contact during Wheatley's coaching stints at Dearborn Heights Robichaud and Eastern Michigan.
Gold sent Foster's highlight tape and Wheatley contacted Foster in December to let him know that he liked what he saw. But it was Wheatley telling Foster that there were no scholarships available that Foster appreciated the most.
"(Wheatley) was not blowing smoke," Foster said. "Not giving me false hopes."
"When the scholarship wasn't available to (Wheatley's) credit, he told him so, but also told him that he was a player he could see wearing the Syracuse orange," Gold said. "Then, when it was available, he never hesitated. That goes a long way in my book, when a coach walks in the door and is honest about the situation to the athlete like that."
Last week Wheatley told Foster that a scholarship was available and head coach Doug Marrone visited Foster the next day to formally make an offer.
Foster didn't ask what had changed in the last couple of weeks, be it another player de-committing or the coaches simply reevaluating their needs.
"It doesn't matter to me," Foster said.
"Kyle had a great attitude. He was always like 'hey coach I'm gonna play wherever you put me,'" Gold said. "He excelled both offensively and defensively for us and that's why he was able to be all-conference on both offense and defense and the reason why he's getting the opportunity to take his skills to Syracuse University."
MORE FOOTBALL COMMITMENTS
Photo Courtesy of Emma Jackson
Marquez Gollman, Ypsilanti:
Gollman will continue his playing career at Grand Valley State. A 5-11 173 pound linebacker, Gollman had 97 tackles, 76 of which were solo, 11 sacks and two interceptions for the Phoenix. Ypsilanti coach Jason Malloy called Gollman "one of the best high school linebackers I've seen." Also caught 18 passes for 368 yards and five touchdowns. A first team All-SEC White selection and Division 3-4 All-State honorable mention. GVSU has played in the Division II NCAA Championship game six times since 2001, with four championships.
Mason Borders, Chelsea: Border will continue his playing career at Ferris State. A 6-4, 175 pound receiver, Borders caught 32 passes for 755 yards and eight touchdowns, accounting for more than half of his team's receiving yards and exactly half of its receiving touchdowns. His single season yardage ranks as the third most in school history. He was a Division 3-4 All-State honorable mention and a first team All-SEC White selection.
Logan Yordanich, Chelsea: Yordanich will continue his playing career at Northwood University. A 6-1, 205 pound linebacker, was the Bulldogs' second leading tackler and had the most tackles for loss on the team with 14.
Spencer Mykala, Chelsea: Mykala will continue his playing career at Alma College. A 6-1, 185 pound defensive back. Mykala had 52 tackles for the Bulldogs, 35 of which were solo hits, two interceptions and two fumble recoveries and was a first team All-SEC White selection.
Brandon Hammonds, Pioneer: Hammonds will continue his playing career at Marian University Indianapolis. A 6-3, 260 pound offensive lineman, Hammonds was a first-team All-SEC Red selection.
Charlie Hess, Chelsea: Hess will continue his career at the Albion College. A kicker, Hess was 3-of-4 on field goals this year, 3-of 5 last year and 30 percent of his kickoffs went for touchbacks.
GIRLS SOCCER Caitlin Brown, Father Gabriel Richard: Brown will continue her playing career at Iowa. Brown scored seven goals and had seven assists as a junior, was an all-state honorable mention and was all-Catholic High School League Selection.
Anna Rode, Chelsea: Rode will continue her playing career at Indiana University-Purdue University Indianapolis (IUPUI). This fall will be Rode's fourth year on varsity for the Bulldogs and this will be her second as captain. Rode has 47 goals and 30 assists all-time through and needs just two goals and three assists to be the leader in both. As a junior, Rode scored 21 goals had 15 assists and was a first-team all-state selection.
BOYS SOCCER Mahamoudou Kaba, Lincoln: Kaba will continue his playing career at South Carolina. The AnnArbor.com Player of the Year, Kaba had 10 goals and 11 assists for the Railsplitters who won the SEC White and and a district title for the first time in program history. Kaba's club team, Vardar Academy, won the club national championship last summer.
Matt Ybarra, Huron: Ybarra will continue his playing career at the University of Detroit Mercy. Ybarra led the regional finalists River Rats with 15 goals and 19 assists. He was a second-team Division 1 All-State selection.
TRACK AND FIELD
Photo Courtesy of Emma Jackson
Dynasty McGee, Ypsilanti:
McGee will compete in track and field next year for Penn State. McGee was the MHSAA Division 1 state champion in the 400-meter dash and fourth in the 200 as a sophomore at Flint Southwestern. She also ran a leg on the Southwestern state champion 800-meter relay team and fourth place 1,600 relay team. As a freshman, McGee was runner-up in the 400, fourth in the 200 and ran a leg on Southwestern's fourth place 1,600 relay team. At this summer's AAU Junior Olympic Games, Dynasty finished fourth in the young women's 400 and she has twice earned All-America status at the Nike Indoor Nationals. Dynasty ran for Lincoln High School last year, but did not compete at the state championships.
(Signing day video)
FIELD HOCKEY Emy Guttman, Pioneer: Guttman will continue her playing career at Michigan. Guttman was a member of Pioneer's state championship squads in 2008 and 2009 and was a senior captain of the 2010 state runner up team. A two-time all-state selection, Guttman was second in scoring for Pioneer as a junior with 15 goals and led the team in scoring as a senior with eight.
Grace Wilson, Pioneer: Wilson will continue her playing career at American University. As a junior, Wilson was an all-state selection with nine goals and nine assists. She did not play her senior year due to an ACL injury.
Clanci MacKenzie, Pioneer: Mackenzie will continue her playing career at Missouri State.
VOLLEYBALL Cassie Castro, Saline: Castro will continue her playing career at Madonna University. Castro was a Class A All-State honorable mention and All-SEC Red first team member as a senior. Castro was the Washtenaw County's top defensive player, tallying 549 digs for the Hornets. She served at nearly a 90 percent rate with 65 aces and maintained nearly a 90 percent serve reception level all season.