Posted on
Thu, Mar 10, 2011 : 7:16 p.m.
Pioneer diver Nick Nemetz to vie for second state title this weekend
By Kaleb Roedel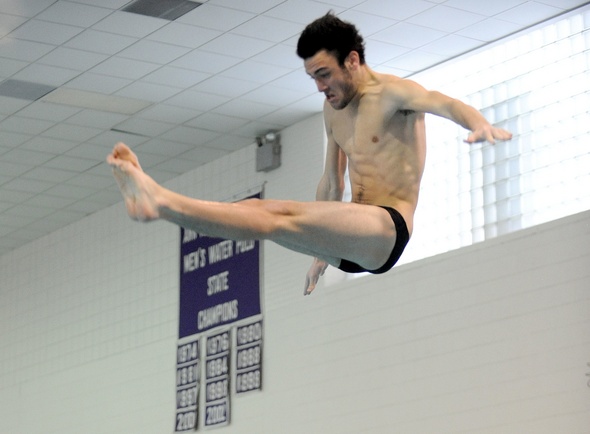 AnnArbor.com file photo
Hours upon hours of work have turned Pioneer diver Nick Nemetz into an All-American. He'll have at least four more years to add to his already impressive resume when he moves on to compete collegiately at Notre Dame.
But he only after more shot at an MHSAA state championship this weekend.
Nemetz doesn't hold any Pioneer team records. A lineage of eight individual diving champs - including 1984 Olympic silver medalist Bruce Kimball - make that a pretty tough list to crack. But his score of 523.80 while winning Tuesday's regional set the Huron pool record. He already owns the records at Saline and Chelsea.
"It's really nice to just see your name on the (record) board - it feels good," said Nemetz.
Nemetz was a state champion as a sophomore. After finishing third last year, he's hoping to reclaim his spot as the state's best diver Friday and Saturday at Oakland University.
"Yeah, I'm looking to win," said Nemetz. If he does, he'd be the fourth Pioneer to have won twice, joining Kimball (1980, '81), Andrew Sivulka ('98, '99, 2000), and Eric DeMarco ('02, '03).
Nemetz joined the conversation with those elite Pioneer divers through natural ability paired with top-notch instruction from current Pioneer diving coach, Mandy Eby.
"I just remember he always had this amazing ability to jump, but he couldn't' really spin, though," said Eby, who started coaching Nemetz seven years ago at the Huron Valley Swim Club and Club Wolverine Swimming. "Now he knows how to spin and put it all together. He's got an amazing amount of spatial awareness, more than I've ever seen.
"He's fun to watch. He's really worked hard for the past six or seven years or so."
Nemetz knows he has to be at his best to claim his second title at the Division 1 finals. Though the reigning champion - Clarkston's Jordan Zendejas - has since graduated, Zeeland's Tyler Keelean, who edged Nemetz for runner-up honors, and Northville's Kevin Bain, who wasn't far behind in fourth, will be among those competing for the top spot. "Consistency," Nemetz said is his primary focus. "I just need to not mess up on anything. If I do my dives how I usually do them, I should be good."