Posted on
Wed, Nov 16, 2011 : 2:19 p.m.
Pioneer's Travis Maezes signs with Michigan baseball and more local recruits
By Pete Cunningham
Pioneer High School senior Travis Maezes has been committed to the University of Michigan baseball team since he was offered a scholarship before his junior season.
That commitment became official last week when he signed his National Letter of Intent.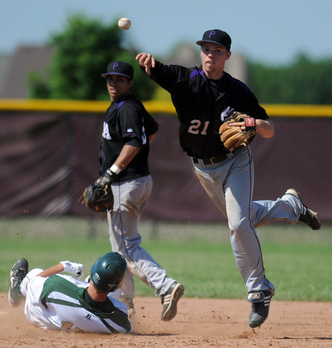 AnnArbor.com file photo
"It's great that it's finally official," said Maezes. "I'm just excited for the opportunity to play at the University of Michigan."
The NCAA early signing period ended today.
Maezes (6-0, 190) was one of seven players to sign with Michigan. He helped Pioneer to a Division 1 state title as a sophomore and was selected to the Michigan High School Baseball Coaches Association Dream Team last year. His summer team, the Ann Arbor Travelers, qualified for the Connie Mack World Series.
Maezes would be the fourth Ann Arbor high school player on the Wolverines roster, joining redshirt junior Bobby Brosnahan (Pioneer) and freshmen James Borque (Huron) and Donnie Eaton (Father Gabriel Richard).
"(Maezes) could have attended any number of schools and decided to stay home, which is great for us," Michigan coach Rich Maloney said in a statement.
Maloney spoke highly of the recruiting class.
"Only time will tell how good any recruiting class is, but on paper this one appears to be like our 2005 class that featured Zach Putnam, Jason Christian, Adam Abraham, Mike Wilson and Kevin Cislo to name a few," Maloney said.
That class won three straight Big Ten titles and Putnam, Christian and Abraham were all selected in the 2008 Major League Baseball Draft. Being drafted this June is a very real possibility for Maezes -- the state's top-rated prospect according to MichiganBaseballProspects.org.
"I haven't put too much thought into (being drafted)…That'd be something I'd have to sit down with my family and talk about," Maezes said. For now, Maezes said, "I'm going to Michigan and valuing that degree highly."
Maezes has mostly played shortstop in high school and for the Travelers. He is projected as an infielder or outfielder at the college level because of his combination of speed, quickness, arm strength and power at the plate.
Maezes said it doesn't matter to him much where he ends up in the lineup, just that he hopes to come in and contribute immediately.
MORE SIGNINGS
VOLLEYBALL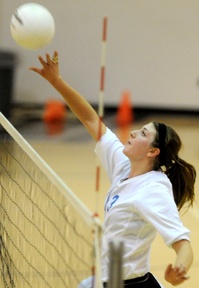 AnnArbor.com photo file
Maggie Halloran, Skyline:
Halloran became Skyline's first athlete to sign a National Letter of Intent when she agreed to continue her playing career at Michigan State. She finished her senior season with 484 kills, 350 digs, 46 aces and 103 blocks. The 6-foot, 2-inch Halloran had 428 kills, 99 blocks, 379 digs and 41 aces while maintaining an 86-percent service efficiency as a junior. She also helped her club team, Premier Academy, take runner-up this summer in the AAU Under-17 Club National Championship, and made the tournament All-Star team.
GIRLS SWIMMING
Anna DeMonte, Huron: DeMonte will continue her swimming career at the University of Tennessee. DeMonte has won four individual state titles at Huron and was the state swimmer of the year as a sophomore. DeMonte has exceeded the All-American standard in multiple events many times and has an Olympic Trial-qualifying time in the 200-meter backstroke. She will compete in the Olympic Trials in Omaha, Neb., this July in an attempt to qualify for the 2012 London Olympics. The Tennessee assistant coach who recruited DeMonte, Jennifer Woodruff, swam with Huron coach Jenni Wilkening at the University of Michigan
Nikki Flynn, Saline: Flynn will swim at Oakland University. The Hornets swimming and diving team has won two team state titles in Flynn's career and she has been all-state eight times.
BOYS BASKETBALL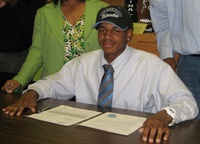 Andre Bond, Huron:
Bond will continue his playing career at Northwood University in Midland. Bond (6-1) averaged 5.3 points for Huron as a junior, playing mostly as a sixth man and change-of-pace guard. After the graduation of Division I talents A.J. Mathew and Dante Williams, Bond stands be a more prominent focus of Huron's offense this winter.
GIRLS BASKETBALL
Logan Sims, Huron: Sims, a 6-0 center/forward can play the post and step to the outside to shoot 3-pointers, which Huron coach Steve Vinson drew the attention of Missouri-St. Louis.
"From what I understand they needed somebody that could help them down low and so they looked at Logan and in addition to that Logan can step out to the 3-point line," said Vinson. "That diversity helped he get looked at."
Sims said she's happy to get the decision behind her.
"Now I can focus on the team in general and know that I have a place to go after high school," Sims said.
GIRLS TENNIS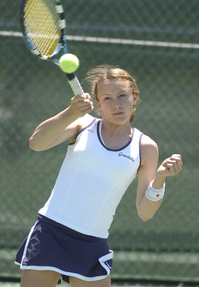 Kasey Gardiner, Greenhills:
Gardiner will continue her playing career at Wake Forest. As a freshman, she won the Division 4 No. 1 singles title without surrendering a set. As a sophomore, she was ruled ineligible for the state tournament after playing in more than the allowable non-MHSAA events during the season. Gardiner did not play high school tennis as a junior, but has indicated she will play this coming season. She is the top-rated player in the state and 30th in the nation according to
tennisrecruiting.net
.
SOFTBALL
Adraya "Dray" Garrett, Milan: Garrett will play at the University of Detroit-Mercy. Garrett -- a catcher -- will be the third Big Reds player to join the Titans, along with former teammates Kat Hoffman and Vanessa Garcia, who are currently freshmen with the team.
Cheyenne Brierly, Milan: Brierly will continue her play at Eastern Michigan as a catcher/utility player.
BOYS LACROSSE
Dylan Swanson, Pioneer: Swanson will play at Detroit-Mercy. There are currently two former Pioneer players playing for the Titans, Adam Nolan and Max Zwolan.
GIRLS ROWING
Ty Wellik, Huron/Community: Wellik will continue her rowing career at Michigan. Wellik, who attends Community High, is a four-year letter-winner for the Huron rowing team. She took a silver medal in the women's high school single scull at the 2010 Michigan Club Championships and in 2010 won the gold medal and state title at the 2010 Michigan State Scholastic Championship.
Pete Cunningham covers sports for AnnArbor.com. He can be reached at petercunningham@annarbor.com or by phone at 734-623-2561. Follow him on Twitter @petcunningham.