Posted on
Sun, Sep 1, 2013 : 5:30 a.m.
'Loser Lincoln' days of old still motivate Railsplitters football team
By Kyle Austin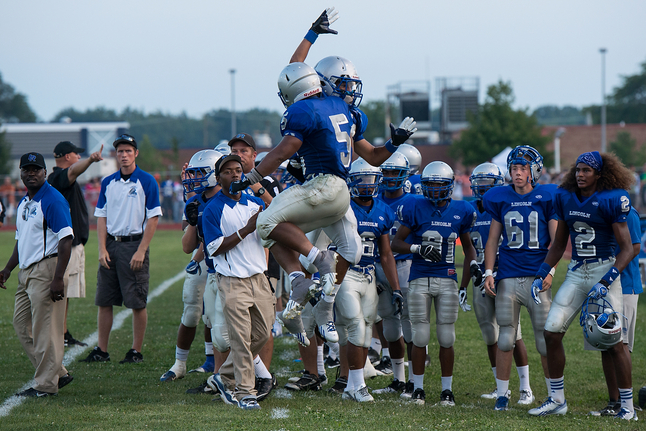 Courtney Sacco | AnnArbor.com
In the moments after Lincoln's season-opening win over Belleville Friday night, there was little hooting and hollering, little fanfare. The Railsplitters acted as if the result was expected.
Memories run short on Friday night.
High school football players spend two or three years on the varsity level. Most don't know much about what happened in the years before they got there. They exist in their brief time in the varsity uniform.
And so it is that Lincoln, a team that won five games in nine years before 2012, now comes into every week expecting to win.
"Very quickly, our kids don't remember the 'Loser Lincoln,'" Railsplitters coach Chris Westfall said. "They don't know it. I've had to tell them some of the stories."
For Westfall, the difference between what his players remember and what they don't is vast.
"We don't have a single kid in our program that's had a losing season," Westfall said. "When we first got here, there wasn't a single kid in here that had won a high school game, freshman, JV, varsity."
That amnesia can work as both a positive and a negative. Lincoln plays without the weight of losing expectations, without the memories of blowout losses and winless seasons. What this group of players remembers is the 11 wins in the past two years, not the zero the year before that.
But they also might not know how much that success means for longtime Lincoln followers, who vividly remember the excruciating years. So Westfall tells them about the "Loser Lincoln" moniker. He tells them how long it's been since Lincoln has won a league title (not since1987), or beaten Chelsea (not since 1997).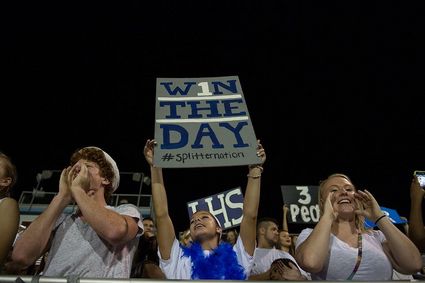 Courtney Sacco | AnnArbor.com
That's where this Lincoln team wants to exist: with the knowledge of the "Loser Lincoln" days, but not the memory of it.
So when you ask a player what it would mean to beat Chelsea, they know the history, but also believe they're part of the group that can change it.
"We haven't beat them in 20 years," senior linebacker E.J. Shaah said. "So that's a big key for this year, beating Chelsea and teams like Adrian, the teams that are competing for SEC titles every year."
It's actually 16 years, but the point is taken. It's been a while.
But more than just beating Chelsea, Lincoln's sights this year are set on something it hasn't won in 26 years: a league title.
It's a realistic goal. Lincoln looked far from perfect Friday night: it fumbled three times and threw an interception. It struggled to establish the run, as multiple backs played hurt.
But the talent is there -- a young talented quarterback, big receivers, a talented offensive line and defenders who can get to the ball.
We'll find out in the next seven weeks if this team has what it takes to take home the long-awaited SEC title.
And if that day does come, Lincoln will appreciate how far it's come -- even if the memories of the nadir have left the field.
Kyle Austin covers sports for AnnArbor.com. He can be reached at kyleaustin@annarbor.com or 734-623-2535. Follow him on Twitter @KAustin_AA.