Posted on
Tue, Oct 25, 2011 : 9:16 a.m.
Lincoln football has Pioneer roots, week 9 leaderboard and more playoff notes
By Pete Cunningham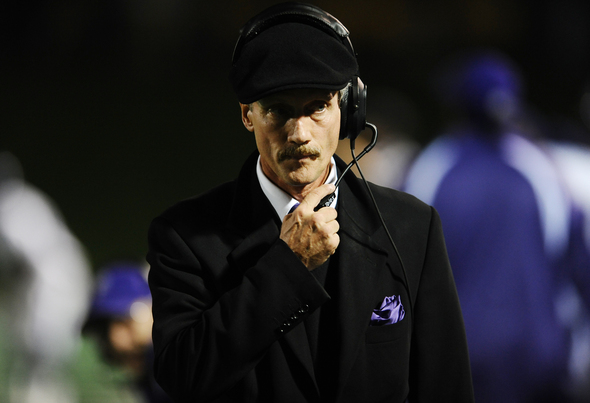 AnnArbor.com file photo
Count Pioneer High School football head coach Paul Test among those rooting for the resurgent Lincoln football team.
Lincoln coach Chris Westfall and defensive coordinator George Michos played for Test at Pioneer.
FOOTBALL TOP PERFORMERS, OCT. 21, 22
PASSING YARDS
201 - Michael Mioduszewski, Dexter (15 of 32, 2 TDs, 3 INTs)
193 - Kareem Lovelace, Willow Run (10 of 18, 1 TD, 0 INT)
182 - Nate Bossory, Manchester (1 of 21, 1 TD, 1 INT)
176 - Alex Hassan, Huron (17 of 24, 1 TD, 1 INT)
150 - Reece Dils, Saline (10 of 18, 1 TD, 1 INT)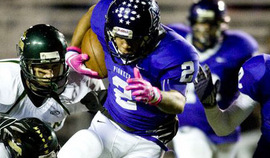 RUSHING YARDS
275 - Drake Johnson, Pioneer (30 carries, 3 TDs)
87 - Mark Jenkins, Whitmore Lake (5 carries, 1 TD)
75 - Devon Thompson, Ypsilanti (7 carries, 2 TDs)
72 - Berkley Edwards, Chelsea (16 carries, 0 TDs)
67 - Nick Pauze, Gabriel Richard (9 carries, 1 TD)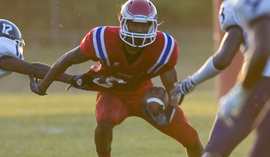 RECEIVING YARDS
135 - DeShawn Gohl, Willow Run (6 receptions, 0 TD)
105 - Devin Jose, Manchester (4 receptions, 1 TD)
73 - Jordan Woods, Skyline (4 receptions, 1 TD)
70 - Josh Finley, Manchester (4 receptions 0 TD)
66 - Jay Lewis, Dexter (3 receptions, 0 TD)
66 - Sam Paniccaci, Whitmore Lake (5 receptions, 0 TD)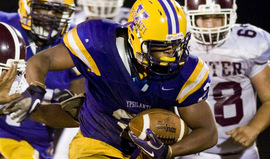 TACKLES
12 - Brandon Jordan, Ypsilanti
12 - Robert Kanitz, Milan
11 - Jordan Magenta, Saline
11 - NyShaun Marks, Willow Run
10.5 - Anthony Catalina, Chelsea
10.5 - Andrew Grafton, Dexter
-- Compiled by Matt Durr and Jason Idalski
Michos was on Pioneer's 1987 Class A state championship team when Test was defensive coordinator under Chuck Lori. Westfall played and coached under Test during his first stint as head coach for the Pioneers from 1991-94.
Westfall was Pioneer's offensive coordinator and a candidate for the head coaching position that opened in 2007 following the resignation of Chuck White. Pioneer hired Jeremy Gold, paving the way for Westfall and much of Pioneer's staff to head to Lincoln.
"I'm very proud of (Westfall) and the job he's done," said Test. "They're both doing a fantastic job turning that program around."
The influence Test may have had on Westfall can be seen in the head coach's sideline attire every Friday. Both lead their teams from beneath sweater vests and ties.
Test isn't the only Pioneer supporting the Railsplitters. Pioneer alumnus and current University of Michigan defensive lineman Will Heininger called in when Westfall was a guest on WTKA's "High School Huddle" to personally congratulate him.
Heininger noted that anyone who would have suggested Lincoln was playoff-bound would have been laughed at when he was in high school from 2003-07.
No one's laughing now.

12th man

The Chelsea High School football team will be challenged by more than the 8-1 Riverview football team in its pre-district Division III playoff game on Friday. The field at Riverview HIgh School -- which does not have a reputation as the best place to play -- will present a challenge in itself.
"It's nasty," said Milan coach Jesse Hoskins, whose team lost at Riverview 35-14 in Week 7.
What Chelsea coach Brad Bush has seen on tape backs up Hoskins' sentiments.
"On film, it's the worst I've ever seen," Bush said. "They'll do everything they can, but they play soccer and football and with the weather we've had, there's not much grass left.
"There's not much you can do about it," he said.
Though Chelsea played six of its nine games and practices on artificial turf, Bush doesn't see the field conditions as a home field advantage for the Pirates.
"I don't know if it's to anybody's advantage. They have two tailbacks with great quickness and speed, so I don't know if it helps them either," Bush said. "The only advantage is that they've played on it before."

Second round home games

Pioneer, Manchester and Father Gabriel Richard all have first round home playoff games, but they might not be the only teams to play at home this postseason.
If Chelsea beats Riverview and Adrian beats Carleton Airport on Friday, Adrian would play at Jerry Niehaus Field next week because the Bulldogs have more playoff points (82) than the Maples (55.56). If Airport and Chelsea win, Chelsea hits the road as the Jets have 86.78 points.
If Pioneer (87.33) beats Monroe, it will play another home game if Temperance Bedford (76.33) beats Brighton (101.11), but not vice versa. Gabriel Richard will play at home again if it beats Capac and Clawson (52.78) beats Almont (83.44), but not the other way around. If Manchester beats Leslie, the Flying Dutchmen need Hillsdale (56.44) to beat Grass Lake (86.22) to play at home in the second round.
Lincoln has the lowest point total in its region and therefore has no possibility of hosting a second-round game.

Final power rankings

After spending the entire season atop the AnnArbor.com power rankings, Chelsea dropped to the No. 2 spot behind Pioneer in the final unofficial, in-house poll of the season. This was motivated by Pioneer's 20-0 win over Livonia Franklin, and Chelsea's 24-13 loss to Haslett.
These teams should never go a regular season without playing each other again.
Rank, School (Record), Latest result (Previous week's rank)
1. Pioneer (7-2) def. Livonia Franklin, 20-0 (2)
2. Chelsea (7-2) lost to Haslett, 24-13 (1)
3. Saline (4-5) lost to Novi, 42-21 (3)
4. Lincoln (6-3) lost to Hartland, 14-13 (4)
5. Skyline (3-6) lost to Dearborn, 30-27 (6)
6. Father Gabriel Richard (7-2) lost to Pontiac Notre Dame Prep, 38-7 (5)
7. Manchester (8-1) def. Hillsdale, 26-13 (7)
8. Dexter (3-6) lost to Pinckney, 37-14 (8)
9. Huron (1-8) lost to Flint Carman Ainsworth, 38-7 (9)
10. Willow Run (4-5) lost to Ida, 21-20 (10)
11. Milan (1-8) lost to South Lyon East, 24-7 (11)
12. Ypsilanti (2-7) def. Detroit Community, 50-0 (12)
13. Whitmore Lake (1-8) lost to Petersburg Summerfield, 35-12 (13)

Pete Cunningham covers sports for AnnArbor.com. He can be reached at prepsports@annarbor.com or by phone at 734-623-2561. Follow him on Twitter @petcunningham.