Posted on
Fri, Dec 16, 2011 : 11:43 p.m.
Ypsilanti holds off Huron comeback in battle of defending SEC champions
By Pete Cunningham
Jeff Sainlar | AnnArbor.com
Early in the second quarter, the Huron High School boys basketball team began to chip away at what seemed an insurmountable lead.
Trailing Ypsilanti from the opening minute of the game and falling behind by as many as 22 points, the River Rats chipped and chipped until finally, with four minutes left to play, Yante Jackson hit a jump shot to take a 55-54 lead.
The comeback was finally complete, but unfortunately for the River Rats, there was half of a quarter still to play.
Ypsilanti ended the game on 12-2 run, including six from Mamadou Ba, and walked away with a 66-57 win in a Southeastern Conference crossover match between last year's Red and White division champions.
With 2:15 remaining in the game, and with Ypsilanti ahead 59-55, Phoenix guard Tristan Simmons had a wide-open shot on the baseline, without a defender in sight. Instead of the easy bucket, Simmons drove at Huron forward Mike Lewis -- who was playing with four fouls.
It was a lose-lose situation for Lewis, who fouled Simmons hard to prevent him from making it a three-possession game. Huron's attempted comeback fell short as its best player sat on the bench.
Simmons finished with a team-high 16 points and Ba added 14.
"That's what we expect a senior to do," Ypsilanti coach Steve Brooks said of Simmons' willingness to take the punishment from Lewis to get him out of the game. "And Lewis -- hat's off to him -- fouled him without trying to save himself…that was two great plays from two great players.
"Most kids would have let him have the basket and stay in the game, but Lewis still tried to win."
Even when his team was up 28-6 in the second quarter, Brooks knew a win over Huron wasn't going to come easy.
"This is a proud program, Huron, so I knew they were going to fight back," Brooks said. "I think we kind of got tired. ... As a coach, I knew the lead was too early."
Ypsilanti built its early lead with hot shooting, starting the game 8-of-10 from the field, including hitting three of its first four 3-pointers, while Huron made just two of its first 13 shots and committed seven turnovers.
Ypsilanti built on its 19-4 first quarter lead from the free-throw line in the second quarter, making 7-of-8 from the line during a 9-2 run to start the second.
An 8-0 River Rat run helped begin to make the deficit manageable by halftime as Huron began to create offensive opportunities off of turnovers.
Trailing 33-21, Huron committed just one turnover to Ypsilanti's eight in the third quarter and began shooting the ball with precision, as well. After missing all 10 of its 3-point attempts in the first half, Kendal Thomas started and ended the frame with 3-pointers with two in between.
Ypsilanti's lead was just 48-42 heading into the fourth.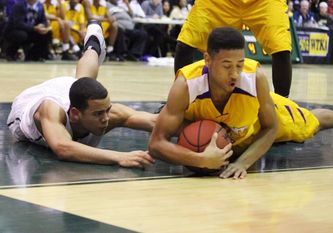 Jeff Sainlar I AnnArbor.com
"You get down like that, you have to just keep the kids believing that we're going to get back in it with our defense," Huron coach
Waleed Samaha
said. "And a lot of our offense (in the third quarter) was created by our defense, that's Huron basketball"
After having to sit out much of the third quarter with foul trouble, Derrick Richardson came back in the game for Ypsilanti with four fouls, and played like he didn't care about picking up a fifth. Richardson made it tough for any Huron ballhandler coming up the court and was on the floor scrapping for loose balls.
"When I came off the bench, Coach talked to me. He said, 'Don't worry about the foul call, just play defense,'" Richardson said. "When I went back out there, I just had confidence to not let my team down."
Richardson finished with 11 points, two blocks and four steals.
"(Richardson) is real good at (defending with without fouling). We're always confident with leaving him in," Brooks said.
Though his team was greatly outsized by Ypsilanti, Samaha was disappointed in Ypsilanti's dominance down low.
"When you don't have length, you gotta be physical and we weren't physical enough tonight," Samaha said. "We relied on our athleticism too much tonight and you're not out-jumping 6-7, 6-8. You're just not going to do that."
Pete Cunningham covers sports for AnnArbor.com. he can be reached at petercunningham@annarbor.com or by phone at 734-623-2561. Follow him on Twitter @petcunningham.