Posted on
Tue, Oct 2, 2012 : 5:45 a.m.
Berkley Edwards to visit Pac-12 country, Pioneer and Milan close to league titles and Week 6 rankings and leaders
By Kyle Austin
Daniel Brenner | AnnArbor.com
Former Michigan wide receiver
Braylon Edwards made a stink because Michigan wasn't recruiting his younger brother
-- Chelsea running back,
Berkley Edwards
-- last year.
FOOTBALL TOP PERFORMERS, SEPT. 28, 29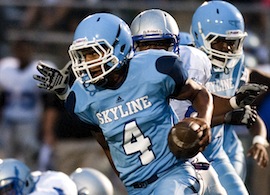 PASSING YARDS
205 - Askaree Crawford, Skyline (7-of-10, 2 TD, 0 INT)
182 - Josh Jackson, Huron (17-of-31, 1 TD, 0 INT)
167 - Justin Aceves, Milan (7-of-10, 1 TD, 0 INT)
153 - Tyler Palka, Saline (21-of-33, 0 TD, 0 INT)
153 - Matt Mitchell, Dexter (15-of-34, 0 TD, 0 INT)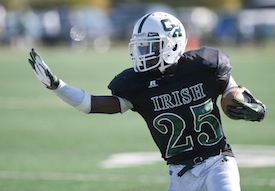 RUSHING YARDS
269 - Arthur Dukes, Milan (25 rushes, 3 TD)
226 - Berkley Edwards, Chelsea (33 rushes, 4 TD)
218 - Ashton Hundley, Gabriel Richard (25 rushes, 3 TD)
175 - Kevin Gross, Saline (25 rushes, 1 TD)
174 - Jim Kurasz, Manchester (15 rushes, 1 TD)
RECEIVING YARDS
92 - Daniel Hugan, Huron (9 receptions, 1 TD)
86 - Jack Clark, Skyline (3 receptions, 0 TD)
86 - Percell Franklin, Skyline (3 receptions, 2 TD)
85 - Tyree Waller, Lincoln (5 receptions, 0 TD)
70 - Demetrius Sims, Huron (6 receptions, 1 TD)
*Whitmore Lake, Ypsilanti and Willow Run stats not available.
Berkley has let his play do the talking so far this season, especially over the past two weeks with a combined 434 rushing yards and seven touchdowns. He has 716 yards and 12 touchdowns on the season.
That production, plus his 1,500 yard season as a junior has Edwards garnering interest from several big-time programs. After Chelsea's 41-20 win over Lincoln on Friday, Edwards said he will take a visit this week to the University of California. But don't expect to hear a lot more about his recruiting process in the coming weeks.
Edwards said he doesn't plan to make a commitment during the season, and didn't list any finalists among the schools he is considering.
According to Scout.com the senior has 10 scholarship offers, including two from the Big Ten: Minnesota and Iowa.
Wrapping up league titles
Heading into Week 7 of the high school football season, there are two Washtenaw County teams who remain undefeated in their respective leagues: Pioneer and Milan. Both can lock up shares of conference titles with wins on Friday.
The Pioneers are 4-0 in Southeastern Conference Red Division play and the Big Reds are 5-0 in the Huron League. Because both the SEC and Huron League end conference play in Week 8, and both are the only teams perfect in their leagues, they can win a share of their leagues with wins on Friday.
Pioneer faces a tough test against 5-1 Monroe. The Trojans fell from the ranks of the undefeated last week with a 20-13 loss to Saline. Pioneer, meanwhile, beat Temperance Bedford 14-13 for its second one-point SEC Red win of the season and took sole possession of first place in the league.
On paper, Milan's road to a share of its league title seems much easier with 2-4 Riverview standing in the way. But the record don't tell the entire story as the teams have a back-and-forth rivalry with the Pirates holding a 6-4 edge in their last ten meetings.
Still in control of their own destinies in their league races are Chelsea (SEC White), Manchester (Cascades) and Father Gabriel Richard (Catholic AA) all of whom will win or share league titles if they sweep league play the rest of the way.
Saline and Lincoln are still alive in the SEC Red and White races, but need other teams to lose in order to have a chance.
Record tying performance
At halftime of Skyline's win over Huron on Friday night, senior receiver Percell Franklin seemed well on his way to breaking the school record for touchdowns in a game.
Franklin tied the record in the first two quarters alone with four touchdowns. The senior wide receiver bookended the half with kickoff returns of 97 and 82 yards on the first and last plays. He also had a pair of receiving touchdowns - of 35 and 19 yards - in between.
Skyline led 41-13 at the break and Franklin looked like he would easily surpass the record set by Theron Wilson in a 52-49 loss against Pioneer last year.
"I wasn't trying to be selfish or anything, I wanted the team to win, but I wanted to break that record with five touchdowns," Franklin said after the game with a smile.
But Huron mounted a comeback in the second half, and Skyline's offense stalled. The Eagles did hang on to win, 41-34, but Franklin didn't get the record.
That was just fine by him.
"We did good, I'm all about the team. I'm just happy we got the win," Franklin said after the game.
Kicker into punter
Macomb Lutheran North features one of the best kickers in the state in J.J. McGrath. The senior hit a 57-yard field goal in Week 1, and had makes of 54 and 53 yards in Week 2. According to the MHSAA record book, the 57-yard kick is the third longest in state history and just two yards shy of the record long. According to the record book only 18 field goals of 53 yards or more have ever been made before this season.
But Saturday, Father Gabriel Richard did its best turning him into a punter instead of a kicker.
McGrath nailed a 40-yard field goal on his team's opening drive, but didn't attempt another the rest of the day.
Over the next three quarters, three Lutheran North drives advanced into FGR territory, and all three were stopped outside the 30. McGrath was forced to punt all three times.
And late in the game, when Lutheran North was going for touchdowns, not field goals, the Irish defense forced two turnovers on downs deep in their own ends.
"They did a good job of getting them off the field," FGR coach Brian Lemons said. "They gave up some yardage early in downs, but we got them off the field and that's a big deal."
Playoff watch
Milan became the first Washtenaw County team to earn a playoff bid last weeked, when the Big Reds improved to a perfect 6-0.
Saline's win over Monroe made the Hornets playoff-eligible at 5-1, and Father Gabriel Richard's Saturday win over Macomb Lutheran North made the Irish playoff eligible as well.
None of the other ten Washtenaw County football programs became playoff eligible this week, but five more can still get to the five-win plateau with three weeks left to play.
Washtenaw County Power Rankings
Lincoln coach Chris Westfall has said all season that he didn't want the Railsplitters ranked ahead of the Bulldogs, even when his team was 3-0 and Chelsea was 0-3 because he thought the Railsplitters hadn't "earned it" yet.
We didn't listen, put the cart before the horse, and moved Lincoln ahead of Chelsea in last week's poll. Chelsea proceeded to beat Lincoln the following Friday, 41-20.
This week's rankings are the result of that and few other lessons learned.
Rank, School (Record), Latest result (last week's rank)
Pioneer (4-2), def. Temperance Bedford, 14-13 (1)
Saline (5-1), def. Monroe, 20-13 (2)
Milan (6-0), def. Flat Rock, 42-10 (3)
Chelsea (3-3), def. Lincoln, 41-20 (5)
Gabriel Richard (5-1), def. Macomb Lutheran North, 24-10 (6)
Lincoln (4-2), lost to Chelsea, 41-20 (4)
Skyline (2-4), def. Huron, 41-34 (8)
Huron (0-6), lot to Skyline, 41-34 (7)
Manchester (4-2), lost to Grass Lake, 38-13
Ypsilanti (0-6), lost to Adrian, 34-6
Willow Run (2-4), lost to Detroit Westside Christian, 28-0 (10)
Dexter (0-6), lost to Tecumseh, 49-0 (12)
Whitmore Lake (1-5), lost to Clinton, 61-0 (13)
Game of the Week
We had a slow start to this week's poll, but voting was starting to pick up Monday afternoon, with Gabriel Richard-Dearborn Divine Child taking the lead. The poll closes at 6 p.m. Tuesday.
Kyle Austin covers sports for AnnArbor.com. He can be reached at kyleaustin@annarbor.com or 734-623-2535. Follow him on Twitter @KAustin_AA.