Posted on
Tue, Nov 20, 2012 : 6:57 p.m.
Prosecutors will not charge Pioneer assistant who struck Huron head coach in football brawl
By Pete Cunningham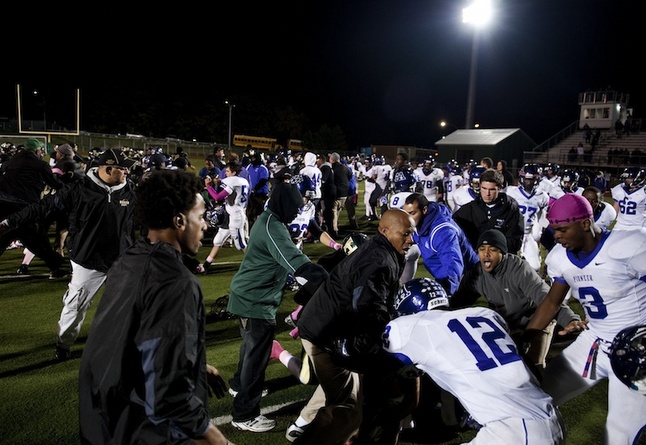 Daniel Brenner | AnnArbor.com
Vincent Wortmann
,
the Pioneer High School
assistant football coach who struck Huron head coach
Cory Gildersleeve
prior to an on-field
brawl
between the teams, will not be charged for his role in the Oct. 12 incident.
"We have spent countless hours reviewing video, photographs, and written reports regarding this incident," said Washtenaw County first assistant prosecuting attorney Konrad L. Siller in a denial of charges statement, dated Monday, Nov. 19. "Based upon that review, I have determined there is insufficient evidence to prove beyond a reasonable doubt that Vincent Wortman (sic) did not act in lawful defense of Pioneer Head Coach Paul Test."
AnnArbor.com obtained the denial of charges statement Tuesday through a Freedom of Information Act Request.
Gildersleeve and Test were involved in a heated verbal exchange during the postgame handshake during which -- according to the MHSAA's official referee's report, and Wortmann and Test's account -- Gildersleeve pushed Test. This is in conflict with accounts given by Gildersleeve and Huron athletic director Dottie Davis of the events.
The denial of charges doesn't shed light on whether there was pushing, but states it's reasonable to believe that Wortmann believed Test was in danger and used a minimal amount of force to remove the threat. Wortmann was fired for his actions by Ann Arbor Public Schools.
"Wortman's use of force was limited to a shove or push rather than a punch or kick. Moreover, there is no evidence that Wortman pushed or shoved Coach Gildersleeve more than once," Siller's statement reads. "The available evidence indicates Wortman's limited use of force was the kind of force that was appropriate and necessary to protect Coach Test."
Wortmann's actions were evaluated in light of Criminal Jury instruction 7.22, use of non-deadly force in self defense or defense of others, which grants leeway for the use of force in consideration of certain circumstances including how the circumstance appeared to Wortmann.
In an email to Pioneer athletic director Eve Claar the morning after the brawl, Wortmann stated that he feared for Test's safety, and that his fears were exacerbated by the fact that Gildersleeve is considerably larger and younger than Test.
Wortmann declined to comment when reached by AnnArbor.com on Tuesday.
Siller's statement said the fact that the official referee's report portrayed Gildersleeve as being visibly demonstrative toward Test and the fact that Gildersleeve is larger and younger than Test were taken into account.
Davis reported that contact was made with her during the melee and that she believed it was Wortmann who was responsible, though she stated she did not see who contacted her. The denial of charges saw the contact as insufficient to warrant charges as well.
"Furthermore, Wortman's use of force did not continue for a period of time beyond what was necessary to protect Coach Test," Siller's statement reads. "It appears that any contact Wortman possibly made with Athletic Director Davis was unintentional as his use of force was intended for Coach Gildersleeve,"
Charges are pending against other individuals involved in the incident.
Pete Cunningham covers sports for AnnArbor.com. he can be reached at petercunningham@annarbor.com. Follow him on Twitter @petcunningham.