Posted on
Mon, Jan 28, 2013 : 8:06 p.m.
Rare disease doesn't slow down 6-year-old gymnast Faith Falzon, thanks to generosity of Ann Arbor gymnasts
By Kyle Austin
Six-year-old Faith Falzon spends hours each day doing gymnastics around her Dexter home. She'll put on a leotard, and with her stepfather acting as announcer, do handstands and cartwheels around the carpet and jumps from the furniture.
Some days, she'll spend three or four hours in a leotard. But now, she says, she'll be spending "20 times more" time jumping around the house, thanks to the generosity of some local teenagers,
Falzon has a rare intestinal disease, Hyperganglionosis, that gives her stomach pain, trouble eating, using the bathroom and absorbing nutrients. She's been in and out of C.S. Mott Children's Hospital her whole life, often staying there for extended stretches.
She loves gymnastics, but her condition doesn't allow her to take group classes regularly at the gym. So a group of gymnasts from Gym America in Ann Arbor held a fundraiser and bought Falzon gym equipment for her home.
They presented that equipment to her Monday afternoon as a surprise.
When the group of a dozen gymnasts lifted a parachute and revealed a new balance beam, bar, floor mat and wedge mat, Falzon looked in disbelief. A few seconds later, she was walking across the bar to a grand applause.
"They're great," her father, Brian Falzon, said. "Thanks to the gymnastics, she's gotten to know all the girls. It was very nice of them to do that for her."
Faith Falzon took up an interest in gymnastics last year, one that was piqued watching Team USA win gold at the Olympics in London.
She soon found a group of girls at her school, Light of the World Academy in Pinckney, that took gymnastics classes. But when she asked her mom if she could join, the answer was no. The group setting was too hazardous for Falzon, who is susceptitle to disease.
Falzon would watch the girls practice gymnastics on the playground, wishing to join in.
"All of the girls there were in gymnastics, and she would just sit on the side and look sad," her mother, Mary Ann Bell, said.
One day 15-year-old Amelia Moorehouse was visiting her mother -- Kathy Moorehouse who works at Light of the World -- and saw Falzon sadly watching her classmates. Moorehouse, a gymnast herself, decided to find a way to teach Falzon the sport. She approached Bell and offered to teach Falzon basic gymnastics in a one-on-one setting that her immune system could handle.
"She was so interested in it and it broke my heart that she wasn't able to do a class, and I wanted her to be able to experience what it's like for a gymnast to get a new skill," Moorehouse said.
Soon, the two were working out at Falzon's school in Pinckney, learning handstands and cartwheels. They hit it off quickly.
"She's just really fun and I like her a lot," Falzon said of Moorehouse.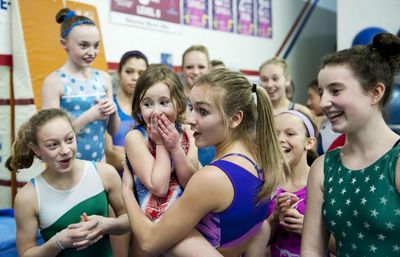 Daniel Brenner | AnnArbor.com
The best part, Moorehouse said, is seeing Falzon complete something new and get "that twinkle in her eye." Then comes the inevitable hug.
"She's an Olympic hugger," Moorehouse said.
After working with Falzon, Moorehouse would go to her own gymnastics class and talk about her new pupil. Her fellow gymnasts got interested, and soon they invited Falzon to Gym America.
Falzon loved it, and left with a foam cube that she's since been sleeping with.
"She says this is her happy," Bell said. "It's what she looks forward to doing. She loves doing gymnastics."
Looking for a way to help her, the gymnasts held a flip-a-thon last month -- soliciting pledges for each flip performed in a 15-minute span. In the end, they raised $700.
The gym's owner, Claudia Kretschmer, spoke to a supplier and was able to get the equipment at cost.
That equipment was in the middle of the gym floor Monday afternoon, with a smiling Falzon near it.
Soon, it will be back in her Dexter home, where the gymnastics routine will kick into a new gear.
"The house has been a mini gymnasium, so with the new stuff I can't imagine what it's going to be turned into," her stepfather, Dennis Fithian, said.
Faith at C.S. Mott Children's Hospital:
Kyle Austin covers sports for AnnArbor.com. He can be reached at kyleaustin@annarbor.com or 734-623-2535. Follow him on Twitter @KAustin_AA.