Posted on
Wed, Nov 16, 2011 : 7:23 p.m.
Reclassification saturates talent pool at Division 1 swimming championships
By Pete Cunningham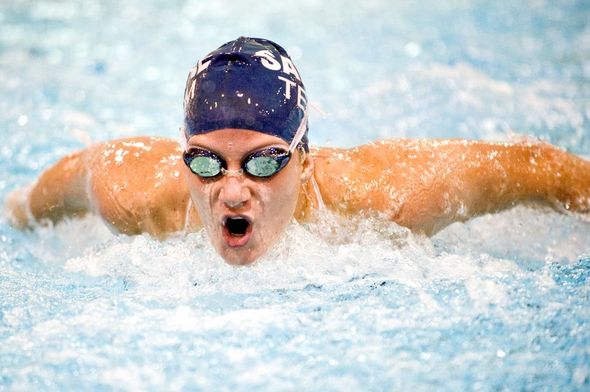 AnnArbor.com file photo
The Saline High School girls swimming and diving team has won back-to-back Division 1 team state titles.
Farmington Hills Mercy has won four in row in Division 2.
This year, there will be no message board debates about which is the more dominant team. The argument will be settled in the pool this weekend when both compete in the Division 1 MHSAA state championships at Eastern Michigan University.
Because of constant changes in enrollment, schools forming new programs and others shutting down, the MHSAA reclassifies schools annually. This year's reclassification brought the Division 2 powerhouse, Mercy, up to Division 1.
More coverage: Psych sheets show strong Washtenaw County presence at swimming and diving championships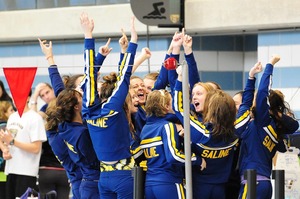 Photo courtesy of Christine Sisken
"It's going to make things pretty fun. I anticipate things being pretty interesting," said Saline coach
Todd Brunty
. "It'll be exciting, and it'll be fast."
Mercy isn't the only team that moved up. Hudsonville, Skyline and Temperance Bedford -- teams that finished fourth, sixth and ninth, respectively, at last year's Division 2 finals -- are now Division 1 competitors. The four new teams had 63 all-state medals between them at last year's championships, and now they're all in Division 1.
There are only so many medals to go around.
Brunty said in year's past he had a pretty good gauge on how the state meet would play out. Not so this year.
"It's made the D1 meet just a completely different swim meet than it was in the past," Brunty said.
Brunty said he tries to have his team not get caught up in who they're swimming against. He'd rather they focus on producing their own best times. But even he admitted going head-to-head with Mercy is an exciting proposition.
"It'll be nice to see where we stand against a perennial powerhouse like them," Brunty said.



SWIMMING STATE CHAMPIONSHIPS
Saline is one of several Washtenaw County teams likely to bring home its share of hardware from the Division 1, 2 and 3 swimming and diving state championships over the weekend. Here are some local story lines to follow at each of the meets.
DIVISION I

Where: Eastern Michigan University.

When: Friday and Saturday.

Local teams: Huron, Pioneer, Saline and Skyline.

Local story lines: As detailed above, Saline is going for its third straight state title, something Huron senior Anna DeMonte can relate to. The two-time 200 individual medley champion and 2009 swimmer of the year will try to make it a three-peat while leading the seventh-ranked River Rats this weekend. Skyline's first class of seniors will be in familiar waters. They competed in the Division 3 and 2 state meets at Eastern in 2009 and 2010.

DIVISION 2
Where: Holland Aquatics Center.

When: Friday and Saturday.

Local teams: Dexter and Milan.

Local story lines: After placing third in Division 3 last year, Milan will have a chance to prove itself among the stiffer competition of Division 2. The Big Reds will be going for their third straight 200 freestyle relay title and will have three of their four legs from their previous teams to do so in Anna Hargrove, Heather Kiger and Lauren Cook. Kiger is also a two-time Division 3 champion in the 100 butterfly.

DIVISION 3
Where: Oakland University.

When: Friday and Saturday.

Local team: Chelsea.

Local story lines: It will be a busy day for Chelsea junior Talia Dyerly, who qualified for three separate events for the young Bulldogs.
Pete Cunningham covers sports for AnnArbor.com. He can be reached at petercunningham@annarbor.com or by phone at 734-623-2561. Follow him on Twitter @petcunningham.