Posted on
Tue, Nov 6, 2012 : 10:05 p.m.
Record-setting Huron volleyball season ends with regional semifinal loss to Northville
By Kyle Austin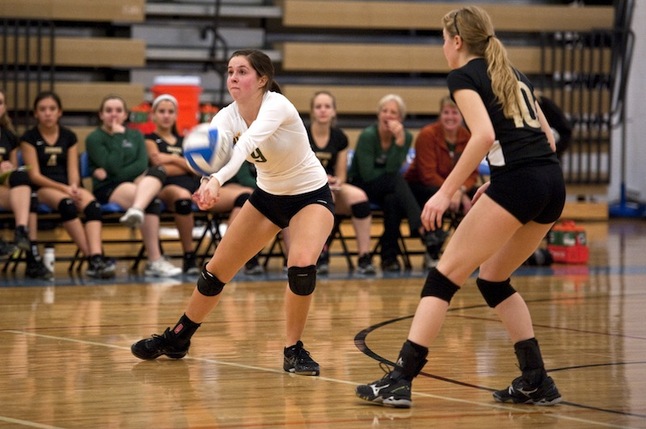 Joseph Tobianski | AnnArbor.com
The winningest Huron volleyball team in school history walked off the court Tuesday night in Brighton knowing they left nothing on the table.
The River Rats lost a down to the wire 3-2 regional semifinal match to Northville, 21-25, 25-15, 21-25, 25-13,15-12 at Brighton High School Tuesday night, ending a season that saw the team record its most regular season wins, 47, and win the school's first district title since 1993.
"I think if we play tomorrow night and do the exact same thing, I think we probably win," Huron coach Toney Cummer said. "I think anytime we play that team, that's what you will get from us."
More coverage: Boxscore | Bracket | Volleyball roundup
The River Rats appeared in control of the match after closing out the third set on a three-point run, capped off by a Sarah Edwards kill. That gave Huron a 2-1 lead in the match.
But Northville rallied to go up 11-0 early in the fourth set, before taking it, 25-13.
"After that second timeout at 10-0, I said we have to start now, we may need to be planning on a fifth set," Cummer said.
The River Rats fell behind again in the fifth set, 3-0, before tying the score 7-7. They trailed through most of the set before cutting the deficit to one at 13-12. But Huron hit it into the net and had an illegal hit on the last two points.
"It was a back-and-forth match, there was some things in that fifth set that could have easily gone our way and changed the complexion of the set completely," Cummer said. "But you can't argue those things."
Junior Kristen Vyletel led Huron with 21 kills and 21 digs. Kelsey Aaronson had 16 digs, and Kara Vyletel had 15 kills and 11 digs. Alyssa Miller had 43 assists.
Cummer admitted the night was emotional for him. It marked the culmination of a three-year process, after he said his players bought into a journey that started in 2010. It ended with a 49-6-4 record in 2012.
"This program is about maximizing their experience and their potential," Cummer said. "I think we did that, I don't think we could have gotten any better than we were this year. I think their experience was a good one."
Tuesday marked the end for five Huron seniors, including four who had been around since that 2010 team. Cummer spent a long time after the match talking to his team, and he hopes they will soon be able to look past Tuesday's disappointment to appreciate what they accomplished this season.
"It's tough saying bye to our seniors who fought so hard for everything," Cummer said. "But based on what we've done this season, you can't complain. I'm so proud of them. It's an emotional night for me, I can't complain. It's the best team I've had, ever. I told them I'd be extremely lucky and fortunate to ever have a team close to them again. And I hope that I do, but if I don't, I always have this one to remember."
Kyle Austin covers sports for AnnArbor.com. He can be reached at kyleaustin@annarbor.com or 734-623-2535. Follow him on Twitter @KAustin_AA.