Posted on
Thu, May 23, 2013 : 8 a.m.
Regional champions fill track and field top five
By Kyle Austin
Andrew Kuhn | AnnArbor.com file
Washtenaw County boys track and field teams went to three different regional sites to compete last weekend. And they came away with a clean sweep.
Saline, Chelsea and Father Gabriel Richard all won regional titles, with Saline taking a title at home, Chelsea winning at Livonia Ladywood and Gabriel Richard winning at Erie-Mason.
All three teams appear in this week's AnnArbor.com spring rankings. While Saline keeps its spot up top, Chelsea moves up after proving how well it stacks up in its Division 2 regional and taking its first regional title in more than four decades. Gabriel Richard enters this week at No. 5.
"We've come close to winning a couple of times since I took over and we found a way to screw it up," Chelsea coach Eric Swager said Friday. "This year, we came in with the goal of doing what we could across the board. There were no downsides from our boys today."
The girls side had a strong showing as well, with the Hornets girls taking a regional title, the Chelsea girls finishing runner-up and the Gabriel Richard girls coming in third.
Boys Track
1. Saline: The Hornets took a regional title Friday at home. Their 3,200-meter relay won a regional title by more than 17 seconds.
2. Chelsea: The drought's over, Chelsea won a regional title for the first time since 1969.
3. Pioneer: The Pioneers were regional runner-up in Saline with a pair of individual regional champions.
4. Lincoln: The Railsplitters came in 5th at the regional behind some good jumpers.
5. Gabriel Richard: Sean Donnellon won both throwing events as Gabriel Richard won a regional title.
Girls Track
1. Saline: It's tough to get more convincing than a 201-76 margin for a regional title.
2. Pioneer: The Pioneers finished runner-up and took the last regional title of the day: the 1,600-meter relay.
3. Ypsilanti: Endia Francois took home an impressive three regional titles to help the Phoenix finish in third at Saline.
4. Chelsea: Laura McGrath won the 100-meter dash and Talia Dyerly won the pole vault as the Bulldogs finished as runner-up.
5. Skyline: Anita Vandermeulen was top three in three events: long jump, 400 and 200 to help the Eagles girls finish fourth at regionals.
Baseball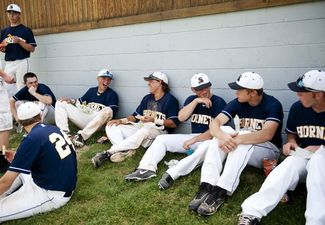 Daniel Brenner I AnnArbor.com
1. Saline: It took a long bus ride and two innings of play, but the Hornets are SEC Red champions after winning a Bedford make up Tuesday.
2. Skyline: The Eagles are 3-3 in their last six before a Wednesday matchup with Huron.
3. Dexter: The Dreadnaughts wrapped up a second-place finish in the SEC White by sweeping Chelsea Monday.
4. Father Gabriel Richard: The Fighting Irish split with Skyline Monday after finishing out its Catholic League slate.
5. Huron: The River Rats had lost three of four going into Wednesday, but still have doubleheaders against Skyline and Milan on the books for this week.
Softball
1. Saline: The Hornets went 4-1 in the University of Michigan tournament over the weekend, and stayed unbeaten in SEC play Monday against Pioneer.
2. Chelsea: The Bulldogs have won seven of eight in league play.
3. Dexter: A chance to move up: Bulldogs and Dreadnaughts faced each other on Wednesday.
4. Manchester: At 20-3, the Lady Dutch have topped everyone on their schedule except Grass Lake.
5. Lincoln: The Splitters have won four straight over the last week.
Girls Soccer
1. Skyline: The AnnArbor.com Team of the Week topped Monroe Tuesday and can win the SEC Red outright against Huron Thursday.
2. Huron: A 2-1 Tuesday win over Saline moves the Rats up in this week's rankings.
3. Saline: The Hornets were on a roll before falling to Huron.
4. Dexter: A Thursday showdown with Chelsea will decide the SEC White title.
5. Pioneer: The Pioneers are 7-0-1 since losing to Skyline last month.
Kyle Austin covers sports for AnnArbor.com. He can be reached at kyleaustin@annarbor.com or 734-623-2535. Follow him on Twitter @KAustin_AA.