Posted on
Sat, Aug 31, 2013 : 11 p.m.
Robert Kanitz returns from injury, lightning delay, to lead Milan to win over Ypsilanti Community
By MLive Media Group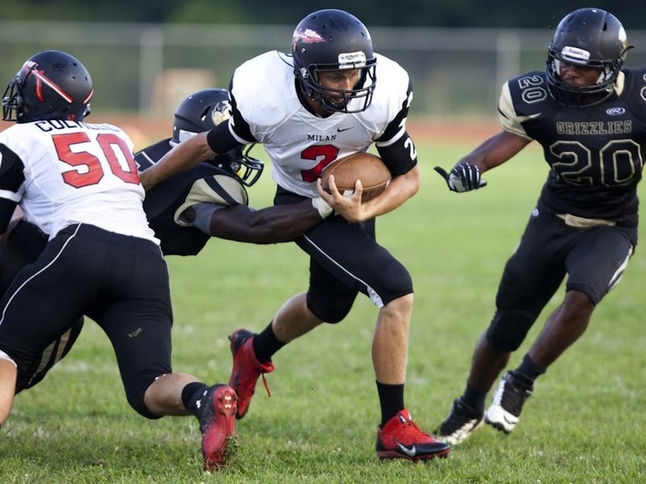 Patrick Record | AnnArbor.com
by Ryan Loren
Milan quarterback Robert Kanitz returned to the field one day after exiting against Ypsilanti with a leg injury before the game was postponed by lightning, and led the Big Reds to a 13-6 victory Saturday at Ypsilanti Community High School.
Kanitz previously had left on the first play of the game and was replaced by backup Steven Phifer, who immediately connected on a 12-yard touchdown pass to Devin Miller. Ypsilanti responded on their next possession, but failed to complete the free kick that would have tied the game.
More coverage: Boxscore | Friday night story: Inclement weather puts first ever Ypsilanti Community game on hold with Milan up 7-6
Milan returned Saturday with 4:47 remaining in the third quarter and Kanitz back under center. Kanitz secured the victory in the fourth, leading a scoring drive capped by 16-yard pass to Miller.
"Kanitz coming back and playing today after the shot he took in the knee and head yesterday was pretty remarkable," Milan coach Jesse Hoskins said. "[Kanitz] is a returning all-state kid, not just some random quarterback, so it was a pretty shocking thing. Phifer stepped in and did an admirable job. He made some mistakes but he really did a nice job filling in."
Kanitz finished 4-for-8 for 42 yards and a touchdown, while Phifer went 2-for-4 for 12 yards and a touchdown.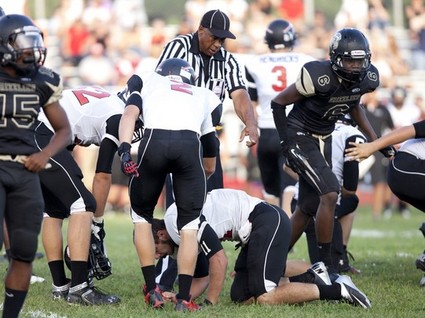 Patrick Record | AnnArbor.com
The Grizzlies aggressively pushed the envelope from the start — finishing Friday night with 140 penalty yards —but returned Saturday hoping to find their composure.
"We wanted to eliminate some of our mistakes, which we did, but we just didn't execute on our plays," Ypsilanti coach Rufus Pipkins said. "Some of their offensive fronts we didn't adjust to and we were caught sleeping."
Ypsilanti's physical play resulted in two more casualties for the Big Reds, who lost one player to a shoulder injury while another absorbed a potentially season-ending concussion.
"It was just a fiasco at Ypsilanti. It was unorganized and dirty," Hoskins said. "There were tons of penalties, and tons of helmet to helmet contact. I told my team that I've been involved with a lot of football and this was probably the biggest victory I've been a part of. The guys were challenged and they showed their true character."
Pipkins refuted the notion that either team played rougher than the other.
"For the first week, you're not used to a lot of the hitting," he said. "It was definitely a physical contest. We were physical, they were physical. We delivered a lot of hits, and we took some. It was a physical brand of football."
Milan (1-0) travels to Riverview (1-0) on Friday, and Ypsilanti (0-1) travels to Saline (1-0).
More Saturday results
Whitmore Lake 32, Stockbridge 22

Nine hours after their game was called delayed due to lightning, the Whitmore Lake and Stockbride football teams returned to the field on Saturday. The Trojans scored 19 points in the fourth quarter to give Todd Pennycuff a win in his coaching-debut for the Trojans. (Story | Boxscore)