Posted on
Mon, Dec 3, 2012 : 5:45 a.m.
Chelsea boys basketball coach Robin Raymond steps down after 31 years and more preseason notes
By Kyle Austin
Updated at 11:45 a.m. Monday to include information about Ypsilanti's Lavonte Davis committing to Northwood
Rourke Skelton takes over the Chelsea High School boys basketball program this season wanting to make his own mark, but also knowing a solid foundation has been set by his predecessor, Robin Raymond, who coached the team for the last 31 seasons.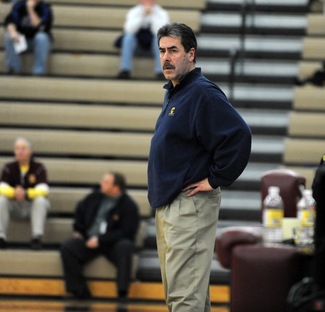 AnnArbor.com file
"It's kind of a double-edged sword because there's a lot of things that are set," Skelton said. "There's a good platform, a good basis of morals in the program.
"For me, it's just tweaking things the way I want them tweaked, as opposed to a major overhaul."
Raymond stepped down as Chelsea's head coach after 31 years at the helm in June. The district hired Skelton to replace him in July.
Raymond retires with a 384-309 career record, including two regional titles. His last district title came in 2007. The 2011-12 Bulldogs went 9-13 and 4-8 in the SEC White.
Skelton played basketball for Raymond at Chelsea, graduating in 1999, before going on to play college football at Mount Union. He came back as a varsity assistant in 2003, before moving over to the girls program in 2007.
Along the way, he played for and coached with a multitude of different coaches. But what he took away most from Raymond is the importance of developing relationships with players.
"That's one of the biggest things I took away from him, how to cultivate those relationships," Skelton said.
ANNARBOR.COM HIGH SCHOOL BASKETBALL PREVIEW

Ready for the high school basketball season to begin? Be sure to check out AnnArbor.com's team-by-team breakdown of every team in Washtenaw County, available online and in print on Thursday.
From stage to court
Pioneer coach Rex Stanczak considers the point guard position to be "always the key" to a successful season.
And this year, his leading candidate to take over that spot in the lineup was plucked from the school play.
Dwane Simpson-Redmond's journey to the Pioneer backcourt has been a twisting one. After starting his high school career at Lincoln, Simpson-Redmond transferred to Pioneer as a sophomore, but got injured while playing junior varsity.
When his knee trouble lingered, he sat out his entire junior season.
But during the offseason, Stanczak saw Simpson-Redmond in a school play, and decided to recruit him back to basketball.
"Basically, I saw him in a school play jumping around on a stage, and said 'You look healthy enough to return to basketball,'" Stanczak said.
Now, Simpson-Redmond is expected to see significant time at the point for Pioneer.
"He kind of got thrust this summer into the starting point guard job after basically not playing," Stanczak said. "We're excited about how he's developed."
Tre Wallace, a transfer from Jackson High School, is also in the mix in the backcourt. The Pioneer point guard job is open this year after the graduation of Jimmy Holman, who is now at Case Western.
Committed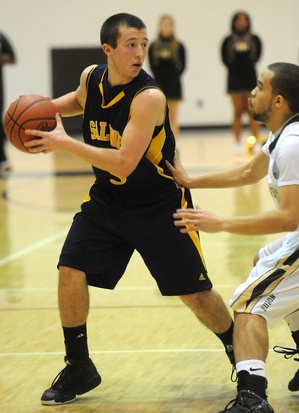 AnnArbor.com file photo
Three area players made offseason commitments to GLIAC schools.
Reece Dils
of Saline committed to Ohio Dominican,
C.J. Turnage
of
Milan
committed to Saginaw Valley State and Ypsilanti's
Lavontae Davis
committed to Northwood.
Dils' commitment comes after sitting out his entire junior season with a hip injury suffered during the 2011 football season.
"He's 100 percent," Williams said. "He did really good with rehab and has been back the entire summer and into the fall."
Coaching Carousel
Of the 20 Washtenaw County high school boys basketball teams, six will be entering the year with new coaches.
In addition to Chelsea, two other SEC schools will have first-year coaches. Rich Marion takes over at Lincoln after four years at Pioneer, three as a varsity assistant and the last as the JV coach.
The easiest transition could be for Eric Williams, who moves up to take the varsity reins at Saline, after coaching junior varsity and freshman before that. Three of his players will have been coached by Williams at all three levels.
"I've been in the program, have gotten to know all the kids," Williams said. "In my eyes, it's a pretty seamless transition."
Three non-SEC teams also underwent coaching transitions. At Willow Run, Tim Cain steps into the head coaching position after several assistant stints at various Washtenaw County schools.
Most recently, he was an assistant for new Willow Run athletic director Matt Seidl last season at Saline. He takes over a team that has been through multiple coaching changes in the last year, after George Woods was fired in January and Anthony Davis coached the team through the rest of the season.
Combine that with the uncertainty of the upcoming Willow Run-Ypsilanti merger and there's a lot to process.
"We're taking it one day at a time," Cain said. "Their heads are kind of spinning right now because we're just loading them up with information."
Eastern Washtenaw Multicultural Academy will also have a new coach in Reza Hafeza, who coached the program in its first year of existence, while Dan Benefiel takes over at Saline Washtenaw Christian.
Players to Watch
Jaylen Johnson (jr., F), Ypsilanti: Johnson is being courted by several Division I programs, but the 6-8 forward has yet to be a force at the high school level after splitting time with Ypsilanti's loaded roster last year. This season will be the beginning of Johnson's time to shine.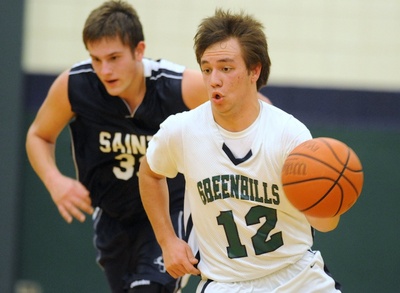 AnnArbor.com file photo
Andrew Khouri (jr., G), Greenhills:
Led Washtenaw County in scoring at 22.8 points per game. Scored more than 20 points in 12 of the 19 games he played before an injury ended his season.
C.J. Turnage (sr., F/G), Milan: The 6-5 hybrid guard/forward averaged 14 points per game despite seeing fourth-quarter action in just five games.
Reece Dils (sr., G), Saline: Sat out his junior year after undergoing hip surgery for an injury suffered during football. Had double digit scoring averages as a freshman and sophomore.
Michael Steinhauer (jr., C), Chelsea: Averaged 11.6 points and had three double-doubles as a junior.
Game of the Week
Vote for AnnArbor.com' Game of the Week for the week of Tuesday Dec. 11-Friday Dec. 14.
The winner will receive our blanket coverage for the game, including a preview, multiple reporters covering the game from multiple angles, plus photos and a live chat from the site.
Kyle Austin covers sports for AnnArbor.com. He can be reached at kyleaustin@annarbor.com or 734-623-2535. Follow him on Twitter @KAustin_AA.